The Bryant freshmen Hornets would continue their strong start to the Central Arkansas Junior High Conference season Tuesday night, posting their second shutout in a row. The Fr. Hornets dominated the Lake Hamilton Jr. Wolves 35-0 to improve to 3-0 on the season, 2-0 in the CAJHC. 
The Fr. Hornets picked up right where they left off last week, jumping out to a 21-0 lead after the first quarter. Freshman James Martin would take the opening kick 45 yards to the Lake Hamilton 25-yard line. Martin would score on the opening play from scrimmage, running it in for the TD. After a missed extra point, the Fr. Hornets would lead 6-0. 
After the first of six straight three-and-outs for Lake Hamilton's offense, the Fr. Hornets started to pile it on. Starting in Lake Hamilton territory, the Fr. Hornets would only need two plays to score. Martin would take it in from 10 yards out. Gideon Motes would find Mytorian Singleton for the 2-point conversion, giving the Fr. Hornets a 14-0 lead halfway through the first quarter.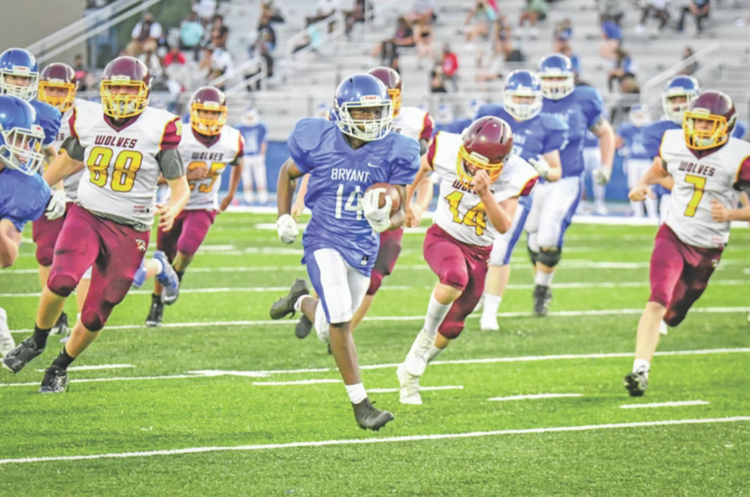 The Fr. Hornet offense would have great field position thanks to their defense. Only needing two plays to score, yet again. Singleton would take a screen pass from Motes 32 yards for the TD. The Fr. Hornets would lead 21-0 after the first.
The Fr. Hornet offense would flex their muscle to open the second quarter. Motes would find Cason Trickey for a 54-yard TD, but it would be called back due a block-in-the-back penalty. On the next try, Motes would find Martin for a 44-yard TD, but that would be called back due to a holding penalty. Finally, Jaden Ashford would run 50 yards for a TD that wouldn't be called back. 
That would be it for the Fr. Hornet starters, as the second unit would come out to try and end the half. Aiden Hughes would find Aaron Granado for a 45-yard catch. On the ensuing play, Chelton Murdock would run 22 yards for the TD, to complete the Fr. Hornet scoring for the game. 
With the sportsmanship rule of leading by 35 points in the second half in effect, the second half went quickly. Neither team would be able to get anything going offensively, leading to a Fr. Hornet 35-0 victory. 
Bryant will have eight days until they travel to Wildcat Stadium next Thursday to take on the North Little Rock Fr. Charging Wildacats. Kickoff is at 7 p.m.