The Bryant freshman Hornets kept their undefeated Central Arkansas Junior High Conference season alive on Thursday night by rolling over the Conway freshman Wampus Cats 48-7. The Fr. Hornets would improve to 4-0 overall, 3-0 in the CAJHC with their 15th straight victory overall, dating back to last season's conference championship. 
"We made big plays and capitalized on turnovers," said Fr. Hornet Head Coach Kenny Horn. "Overall a really good performance and I'm just really proud of our guys." 
The Fr. Hornets would get off to a slow start defensively, giving up three third-and-long conversions on the opening drive, leading to a Fr. Wampus Cat touchdown. However, that would be the only points given up by the Fr. Hornet defense the rest of the night. 
Trailing 7-0 halfway through the first quarter, the Fr. Hornet offense would only need three plays to answer. James Martin would rush it in from 18 yards out to tie the game at 7-7 with 4:21 in the quarter. The Fr. Hornets wouldn't look back.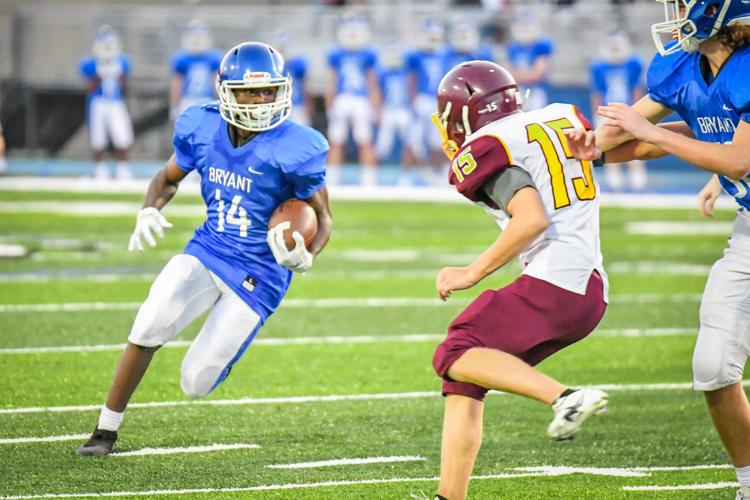 On the next Conway drive, the Fr. Hornet defense would capitalize on a bad snap as T.J. Lindsey would recover it in the end zone to go up 13-7. On the ensuing kickoff, Conway would fumble again, and Nick Gibbs would fall on it for the Fr. Hornets. 
The Fr. Hornets would begin to blow the game wide open as Carson Trickey caught a pass from Gideon Motes and take it 41 yards for the touchdown, Martin would score the 2-point conversion to make it 21-7. 
Yet again the Fr. Hornets would recover the ensuing kickoff after a Conway fumble, allowing Martin to score his second touchdown of the game to end the first quarter with the Fr. Hornets up 28-7. Conway would struggle the rest of the way, as Mytorian Singleton would pick off an errant pass to give the Fr. Hornets the ball back. 
After a steady dose of Singleton and Martin, Motes would connect with Drake Fowler on a 13-yard touchdown pass with 3:26 left in the half. The Fr. Hornet defense would get a stop and allow the offense to have a chance to score before halftime. On the final play of the half, Fowler would catch a 33-yard pass from Motes in the end zone, giving the Fr. Hornets a 42-7 lead at half. 
With the sportsmanship rule in effect, the Fr. Hornets would score once more, a Jaden Ashford 5-yard rushing touchdown. Conway would fail to score, giving the Fr. Hornets a 48-7 win. 
The Fr. Hornets will be in action next Thursday against the Little Rock Catholic Freshman Rockets. Kickoff is at 7 p.m. at Hornet Stadium.