Cruising to the 5A Central Conference girls doubles match, Benton senior Ashlyn Gibbs and junior Alyssa Carter ran into a glaring problem, literally, going up against Sheridan's Caswell and Crouse Tuesday at Chenal Country Club in Little Rock. 
During their 4-6 first set defeat to Sheridan in the title match, Benton Coach Melanie Kiker asked her doubles duos what the deal was after first explaining a very important strategy. 
"Oddly enough, it was 1 o'clock in the afternoon when they started the match," Kiker said. "Alyssa is a lefty and Ashlyn is a righty. My husband and I used to play tennis and he's a lefty, and you never have to serve in the sun if you play with a left-handed player because they face the opposite direction. At the beginning of the match you just figure out which direction the sun is for each of you and just don't serve on that side."
After being reminded of this, Gibbs and Carter swept the floor with Sheridan, sweeping the next two matches 6-0, 6-0 heading into the 5A State Tournament, which begins Monday at Lakeside High School for the girls.  
"I've told them that, Ashlyn and Alyssa, and I started talking to them in the middle of the first set when they were down and said, 'What's going on? Y'all don't play like this normally," Kiker said. "Ashlyn said, 'I can't see the lines after I serve. I asked why she was serving in the sun. They switched and they rolled them 6-0, 6-0. I asked them what made the difference and they said, 'Not serving in the sun.' Once they switched they didn't have a problem after that."
Seeded No. 1, Gibbs and Carter rolled to a 6-3, 6-0 win over Sylvan Hills' George and Brown before handling Dadlini and Justis of White Hall 6-1, 6-2.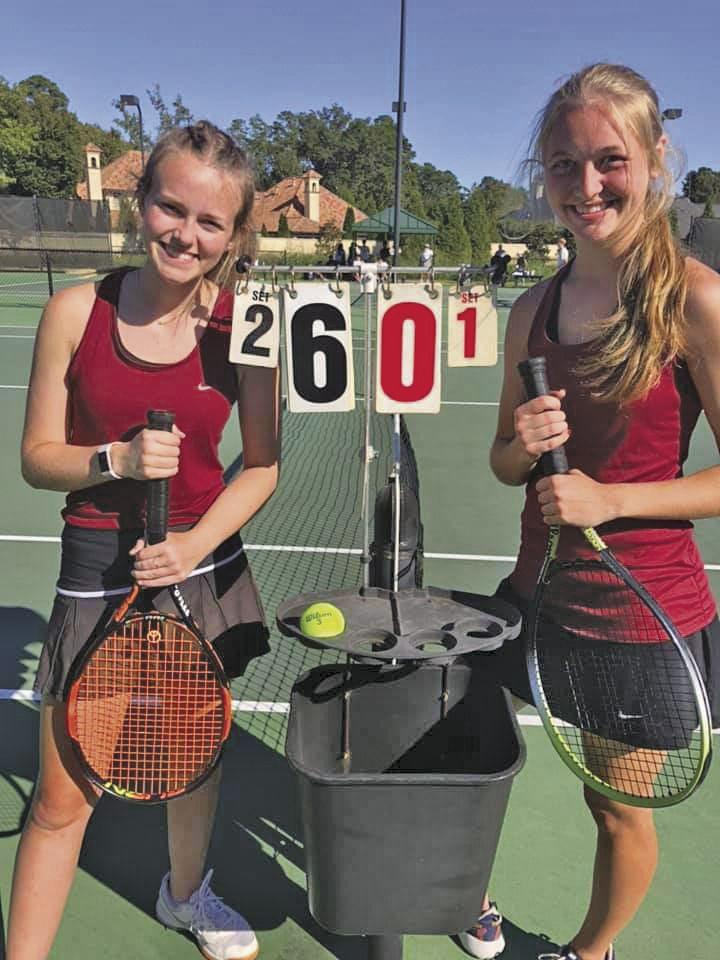 Also in girls doubles, juniors Allison Hall and Shealyn Horton would pick up a 6-4, 7-5 victory over White Hall's Leder and Smith before falling 6-1, 6-4 to Sheridan's Caswell and Crouse in the semis. The Hall/Horton duo picked up a win after just coming together the week before. 
"They tried. They lost the first set pretty handedly and they really hunkered down and tried to pull it out," Kiker said. "But, they literally had been a doubles team for one week, so they did pretty good for getting to the semis."
Hall and Horton would end up winning the third-place game 9-7 over White Hall's Dadlini and Justis, also qualifying for state. 
The Benton boys will also be sending a doubles team to state after sophomores Peyton Shipp and Luke Pelton made the finals vs. Sylvan Hills' Person and Riley before falling 3-6, 6-4, 4-6 in the title match.  
"They struggled a little bit in the finals because these boys (Sylvan Hills) were really, really consistent and aggressive," Kiker said. "We kind of left a little door open so we're going to work on that (Thursday) and this weekend so we aren't weak in that area."
Shipp and Pelton picked up a 6-4, 4-6, 6-0 victory over White Hall's Brown and Ward before taking a 6-1, 6-4 win over Sherida's Kuttenkulev in the semis, despite not playing as partners all year.  
"We spent most of the season trying to figure out who worked well in what position," Kiker said. "I started off the season with Peyton playing with Eli Rose because they played together last year as ninth-graders. Luke played singles last year in conference. Luke just doesn't work as well in singles and so putting him with a strong net player, because Luke's a baseline hitter. He hits the prettiest baseline top-spin forehand. He has the best technical form on the court any time he plays, but can't go to the net well. So I put him with a net player with Peyton, and Peyton just runs to the net as fast he can and dominates at the net and then Luke sets him up."
Benton will also send a couple singles players to state as sophomores Marcelles Nash and Rylee Sisco advanced with their fourth-place finishes. 
In boys singles, the No. 1 seeded Nash defeated Sheridan's Cole Ardent 6-3, 6-4 before falling 7-6, 1-6, 2-6 to Sylvan Hills' Caleb Bynum. Nash fell to Sylvan Hills' Scott Thomas in the third-place game. 
The Benton boys will also play Monday at the state tourney at Hot Springs Country Club. 
In girls singles, Sisco defeated Sylvan Hills' Anna Barranco 6-1, 3-6, 7-5 in the first round before falling to White Hall's Sadie Guy 2-6, 0-6. Sheridan's Jalisa Berrieum downed Sisco 8-2 in the third-place game. 
Also in girls singles, junior Erin Welch fell 1-6, 0-6 to Sheridan's Gloria Chorico, the eventual singles champ. In boys singles, freshman Blake Covert fell 2-6, 1-6 to White Hall's Alex Bowman, again the eventual singles champ. 
In boys doubles action, junior Nathan Williams and sophomore Eli Rose fell 6-7, 0-6 to Persson and Riley, the boys doubles champs.  
"We're a young team this year," Kiker said. "Most of the kids that played were 10th-graders so we were really just trying to find our way figuring out who worked together. We'll be strong next year."