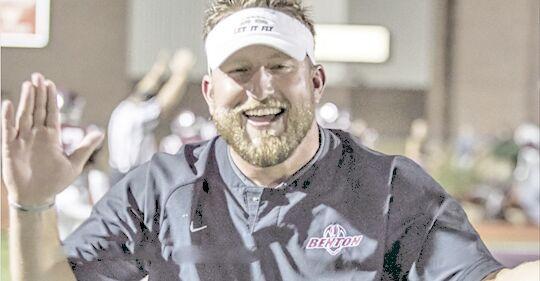 Saline County received some shocking news earlier this week when it found out one of its own was taken too soon. A Bryant High School graduate, Michael Mcclellan, 37, died in his sleep Tuesday night of an apparent heart attack. 
Mcclellan, who played football at Henderson State University, was the defensive coordinator at Jacksonville High School, but it was for the Benton Panthers where he spent most of his coaching career. 
"He had a heart attack in his sleep and didn't wake up," Benton Athletic Director Scott Neathery gleaned from Mcclellan's father. "That's about the extent of what I know. I know whenever he was at Benton he had some blood pressure issues. I don't know if he was still having issues with that. His dad didn't know if he was having issues or anything. Just a weird deal — a freak deal. He passed away in his sleep."
Prior to being at Jacksonville the past two years, Mcclellan was a Panther coach from 2009 through 2017.  
"He was a big part of turning the Benton football program around," Neathery said. "The kids loved him, he loved them. For us, he was a spark plug, just one of those guys the kids gravitated toward. I had a lot of players text me, call me, contact me … they're heartbroken."
Serving time as the Benton defensive coordinator and defensive line coach under the leadership of Neathery at the time, Mcclellan was also the strength and conditioning coordinator for the Panthers, which helped Benton to two state weightlifting titles.
Current Benton Head Coach Brad Harris was not expecting that sad phone call. 
"I'm shocked," Harris said. "I had just talked to him a week or so before that. We still stayed in touch even though he was in Jacksonville. He would call me about football stuff or just call to talk every now and then. 
"He kind of had some minor health stuff, blood pressure and stuff, but I didn't think anything about it. It's sad for his two boys. I just hate that for them. He was a good one. I'm going to miss him. He always had a lot of energy every time you talked to him and he brought it every day to practice for us."
It was Harris in 2014 who took over the defensive coordinator reins, but Harris said he felt no ill will from Mcclellan, who moved over to coach the defensive line, his position in college. 
"He was just a good guy," Harris said. "I was kind of worried coming in and being the DC and he had been that guy. But, he didn't have an ego about it. He welcomed me in and bought into everything we were doing. He had a great relationship with all the kids, brought energy, talked fundamentals and technique, and did a great job. Awesome guy and a great coach. 
"The D-Line was kind of his specialty. That's where he played in college and he really, really did a good job with our guys. He really worked with them a lot, really perfected their craft, so to speak. Our D-Line has always been good when he was here. Coach Mac just related to those kids real well. He did a great job for us." 
Official cause of death is yet to be determined.