With questions about fall high school sports on most everyone's minds, Arkansas Gov. Asa Hutchinson announced Friday that they will go on as scheduled.
"My message for the football players for Monday is to grab your helmet and be ready for practice," Hutchinson proclaimed. "And after practice, I want you to grab your mask so that you can protect others you might be around. This is very important as we enter into this season. The risk is not just on the practice field, but the risk is also as we go about the community. Our coaches, our trainers need to emphasize this to the players and they need to set the example for their peers."
With non-contact sports golf (Aug. 3) and tennis (Aug. 10) already cleared by the Arkansas Dept. of Health and Arkansas Activities Association, Monday, Aug. 3, was also the day football players were to begin non-contact helmet only football walkthroughs. Football practice helmets and shoulder pads begins on Wednesday, while full pad practice can start on Saturday, according to the AAA.
The AAA's COVID-19 Update went as follows: After the Governor's announcement (Friday), we have been given the approval to proceed according to the 2020-2012 AAA calendar and handbook regarding practice and competition for all sports. We continue to expect compliance with all directives as issued by the Governor and Department of Health. More information related to directives will be issued as soon as it is released.
AAA President Lance Taylor emphasized Hutchinson's inclination of wearing masks to help keep the fall sports season alive.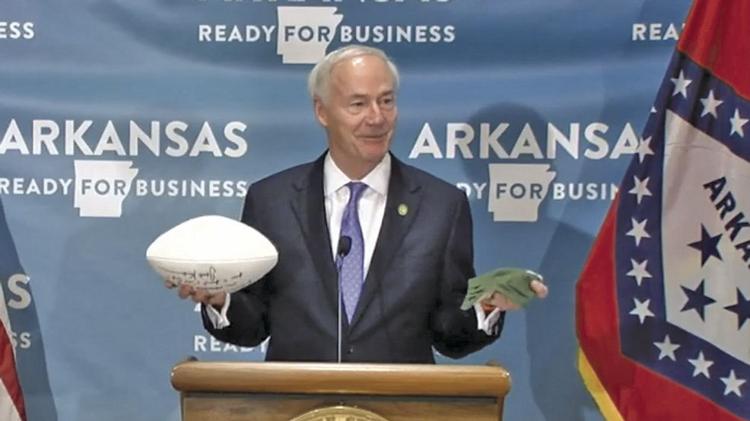 "I hope you were listening, coaches, because you were just challenged," Taylor said. "I know you're going to hit the field Monday and you're going to be preparing for the season. But this right here (holding up a mask) is probably the most important thing you can do and you're going to have to stress this with your athletes. I know there are athletes and parents listening to this, too. This (the mask) is what's going to let us play this year. This is going to determine conference championships, regional championships and state championships. We have to help get our numbers down."
Those numbers are currently high as the governor announced 752 more positive COVID cases Friday to put the total in Arkansas since the pandemic began at 42,511. With 30 days down in July, there have been 21,114 positive cases for a 703.8 per-day average in the month. Hutchinson announced 11 more deaths to put Arkansas' total at 453.
Per Hutchinson's Directive Regarding Community and School Team Sports for June 1, high school teams have been able to have social-distancing drills and walkthroughs, as well as weight training. Friday's announcement answered the long-awaited question if there would be delays to the schedule, as the Southeastern Conference announced pushing back its start to the football season to Sept. 26 on Thursday, or if there would be a season at all.
"I'm encouraged by what I'm hearing," Bryant Athletic Director Mike Lee said. "I see an effort on behalf of Gov. Hutchinson, the Dept. of Health and the AAA, I see a collaboration and a concerted effort towards keeping fall sports on the original schedule as seen on the AAA calendar. We still have work to do, we being coaches, players and parents. Everybody is involved in this. We still have a job to do, which is to take care of ourselves away from practice, but I see an effort to start on time and play full schedules for our fall sports offerings."
It's not only football for the fall as volleyball, cheer and cross country are set to start on time, as well, with band and choir possibly needing some "tweaking," per acting Arkansas Secretary of Health Jose Romero, of recommendations.
"I think it did give a little hope that they're looking in the direction of possibly getting started," Harmony Grove Athletic Director Ricky Mooney said of Friday's announcement. "They do realize the importance of it. It keeps kids in school, it keeps kids wanting to make their grades and it's just a positive impact on kids. We need it. I think we're going in the right direction."
With several schools across the state having to shut down its drills and walkthroughs due to coronavirus outbreaks in the past two months, Lee said Bryant has had to do the same, but for more proactive reasons.  
"We have had instances to where we have shut down a day for some intense cleaning and disinfecting," he said. "We have not had an incident where there was a multiple-type outbreak where we had to shut a team down for several days or a week. We haven't experienced that. We have had an episode where an adult or a kid has been in close contact with someone that has tested positive. We took it upon ourselves to be proactive and skip a day to go above and beyond with disinfectant."
Mooney, too, said the Cardinals have had to isolate and quarantine students, but haven't had to shut down practices because of it.  
"We've had a few that have had to sit out and be quarantined until they got tested because they had been around someone that had it, but they all came back negative," Mooney said.
And with the monotony of doing the same thing through the workouts and weight training the past two months, Lee is happy change is on the horizon.
"We needed something, we being athletics in the state of Arkansas, high school athletics, junior high athletics, we needed something different," he said. "What we received when we were able to begin June 1 was good, but man it had become mundane. Now, the on-field activity won't look a lot different than what we've been doing this next week. We are getting to wear the head gear in football and the promise of what could happen the following week is a real shot in the arm for Bryant athletics."