Though the Benton Panthers got off to an excellent start to the season, beginning 8-0 in nonconference action, Benton would finish the remainder of the year 6-13 and miss out on the state tournament with an overall record of 14-13, including 4-10 in the 5A South Conference. 
"I was really proud of the start we had," Benton Coach Dexter Hendrix said. "We won a lot of close games, tough games against good competition. I was really proud of the way we started going into conference play. We had different guys step up throughout the nonconference schedule and played well for us.
"We knew it was going to be a challenge playing so many guys that were kind of inexperienced, but they really stepped up in the nonconference schedule and did a lot of good things."
Sitting at 10-2 after a win over Warren, the Panthers would open the new year with a loss to rival Bryant, which turned into a three-game losing streak, and Benton wouldn't win back-to-back games the rest of the year, suffering another three-game skid in the middle of conference.  
"When we got started in conference play, it was just another very competitive conference season," Hendrix said. "We felt like we were able to play everybody very close all conference season (Benton lost their first three South games by a combined nine points) and were able to get some wins, we just had trouble finishing some games and had trouble on the offensive end of really scoring and taking care of the basketball. I thought that was our biggest issue this year." 
Though this season didn't net any postseason honors, the Panthers earned a lot of experience going into next season, though they will be losing their top three scorers – Ethan Hilkert (8.9 points per game), Jalen Cox (8.5) and Colton Phillips (7.3) - to graduation, not to mention seniors Michael Green and Jaden Nash.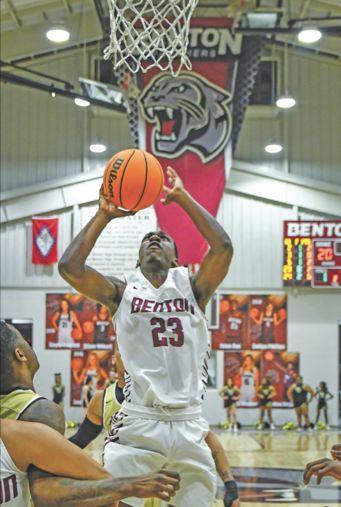 "Our seniors did a lot of really good things for us, stuck in there and were good teammates," Hendrix said. "We're very thankful for what our five seniors did for us, but at the same time we played so many young guys … we played more underclassmen this season than we've played since I've been at Benton. That's a good thing. Those guys got a lot of experience. All four of our juniors which will be seniors next year started multiple games for us at times of the year. We have two sophomores, Cameron Harris and Gabe George, that played a lot of minutes and started games for us as well."
Harris and George both averaged 5.0 points apiece on the season and the juniors – Russ Hooks (5.5), Chase Ramsey (5.1), Jaylen Bell (4.2) and Colby Payne (1.7) – all played prominent roles for the Panthers this past year.  
"That's six guys right there that have started games and are coming back," Hendrix said. "We're really excited about that."
Bell upped his game on the offensive end toward the end of the season, averaging 7.8 points the last six games, but it was his defense all year which really paid off for the Panthers. Since Hendrix has been the Benton head man since the 2014-15 season, and since assistant coach Dwaine Fishburn's almost 20-year tenure in Benton athletics, neither has seen a player take as many charges as Bell did his junior year.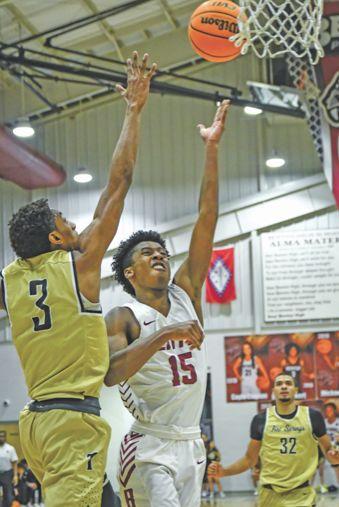 "He took more charges than any player we've ever coached," Hendrix said. "He took 36 charges. He has a special talent for that. He's such a special defender. He takes them every kind of way. He'll be help-side defense, he'll be guarding the basketball, he'll beat you to a spot and take it. He does a great job on the defensive end."
Not only will the Panthers have experience returning next season, but Benton will also receive the services of sophomore-to-be Jamarius Morgan, who led the Freshman Panthers in scoring this past year.  
"Jamarius and those guys were in a very competitive conference in the freshman league," Hendrix said. "Jamarius just has a tremendous motor and does a great job for us. He's a guy that can continue to get better. His attitude and work ethic are just outstanding, along with some other guys on that freshman team we look forward to coaching. We'll be young again at some places, but at the same time we'll have more experience than we've had in the past few years."
There will also be some conference changes next season as the Panthers move from the 5A South to the 5A Central, a conference Hendrix says will be even tougher than the South.  
"There's no question we're in the most competitive league in the state next year in boys basketball with Little Rock Parkview, Little Rock Hall, Jacksonville, Sylvan Hills, Maumelle, Little Rock Christian, Beebe," Hendrix said. "Every single night it's going to be such a high level of competition. We know we're going to have to keep getting better to compete next year."