VILONIA — The Benton Lady Panthers made short work of Vilonia on Tuesday, winning 14-3 on the road.
Benton jumped ahead with three runs in the first two innings before scoring eight in the third.
The game would be called after five innings of play.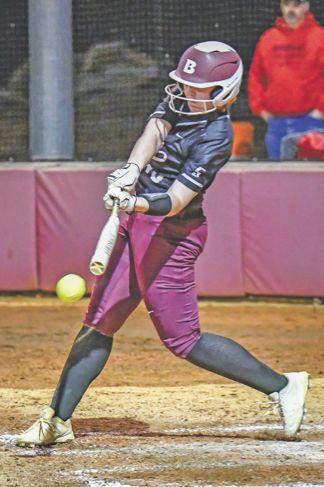 Following back-to-back inning-opening singles and an RBI ground out, Riley Gilmore would have a bit of deja vu as she went deep for a 2-run shot in the first inning to put Benton up 3-0.
In the season opener a year ago, Gilmore sent the Benton faithful home victorious with a walk-off homer.
A 2-RBI double from Gracie Redmon in the second would put the Lady Panthers on top 5-0 before Gilmore doubled home Redmon a hitter later.
Cayla Clayton quickly made it 7-0 in the third with an RBI single, followed by and RBI knock from Elana Scott and a 2-run triple from Aubree Goodnight later in the inning.
Redmon would make it 11-0 Benton with a sacrifice fly as well.
Still hitting in the third, Arys Hart yanked a homer to left field, making it 14-0 Benton after two and a half.
Vilonia finally scored in the bottom of the third, using an RBI double and 2-run homer in the process. But damage had been done as the Lady Panthers moved to 1-0 on the year.
Scott, Gilmore and Hart all finished with three hits each, combining for eight RBIs and six runs.
Goodnight finished 2 for 3 with two RBIs and a pair of runs scored as well.
Of the team's 16 hits, seven went for extra bases in Benton's win.
In the circle, Scott tossed a complete game, allowing three unearned runs on two hits while striking out six and walking two.
Benton will open its home schedule Friday against Cabot. First pitch is set for 5 p.m. at Lady Panthers Park.