After 14 Hornet football players signed to play at the next level during the February signing period, Bryant senior linebacker Tristan Sehika made it 15 recently after signing with the Hendrix College (Conway) Warriors. 
"The main part was the academics because it's very prestigious," Sehika said of signing with Hendrix. "I want to be successful, not just play football in college. That was the main part that sold me. And they gave me a really good deal."
Sehika was thankful for that deal after thinking he wouldn't be playing football at the next level at all.  
"I was just going to go to Arkansas Tech and chill out and not play football until I visited Hendrix," he said. "That just turned me around. Hendrix kind of saved me on that in a last-minute thing, so I'm very glad."
Sehika might have to settle for a letdown after being a part of a team which has dominated the state the past two seasons in winning back-to-back state titles. The Hornets had its best season in history with a 13-0 mark, including breaking 25 individual and team records, and is currently on a 17-game win streak. Sehika has been right in the middle of it.  
"He's been a big impact player," Bryant Coach Buck James said. "He's been a guy who has been very unselfish. He's a guy that's worked extremely hard. He puts the team first. He's a guy who excelled on special teams for us. He was a great outside linebacker where we had a lot of depth there. He was in a rotation where he had to be very unselfish for that."
Sehika concurred with James in the linebacking depth.  
"We had some great players," Sehika said. "Daylon (Land), I think, was the best player on the team. Then we had Hart (Penfield), Cameron (Scarlett), Catrell (Wallace), Kobe (Melton), they were all great. We could have played anyone of them at any time and we were set at linebacker."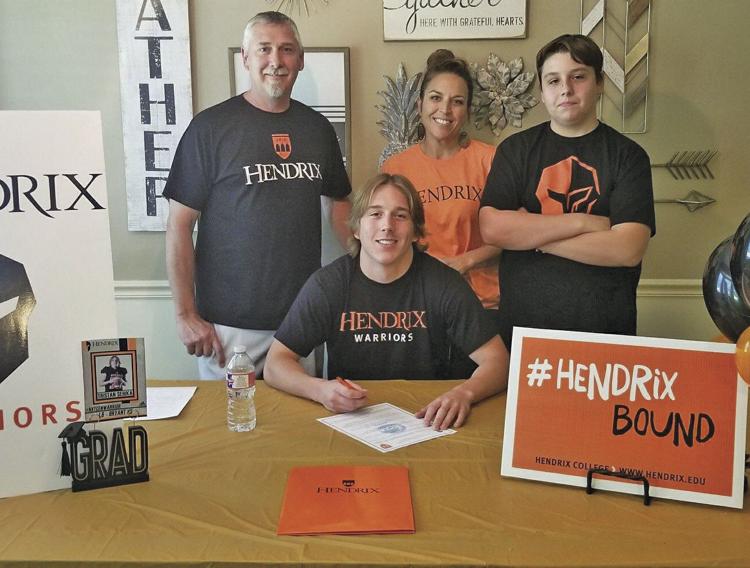 Sehika definitely took advantage of his time in that rotation, finishing with a career-high 35 tackles and four sacks his senior season, and finishing with 60 tackles, two for loss, in his career.  
"He's a kind of guy that is the backbone and glue of our football team," James said. "We have several guys who had to take that role. He understood that role, executed that role to a high level and he's a guy who exemplifies why we had the success we've had the last several years. Guys make a commitment to our team over themselves. He played with high energy and played for the football team first."
It definitely paid off for the Hornets as they have went to the semifinals in all four of James' years as coach, including the last two being state titles.  
"It does not get any better," Sehika said of the Hornets success. "It was disappointing sophomore year (falling in the semifinals), but you can't win it every year. I was very glad for the coaches. They saw something in me and put me on special teams every year. 
"I played a lot as a sophomore and got better. Junior year I started to see more playing time on defense. I was in the rotation but I wasn't like a great asset in the rotation, but I was trying to be while being on all special teams. I got a lot more playing time on defense once I was a senior. I had a lot of fun."
As far as his education, Sehika has an idea on what he will study, but will also take a wait-and-see approach.  
"I'm going to definitely minor in Spanish," he said. "I've liked Spanish for a long time. I'm not completely sure on my major. I'll be undecided right now, but I'm going to take classes based on pre-law and biology and see which one I'd rather study more. 
"Either one would be a very fun career for me, but it boils down to which one I'd rather spend years studying in college. I'll figure it out along the way."