The Bryant Hornets (5-0, 2-0) return to the road tonight, traveling to Quigley Stadium in Little Rock to take on the Central Tigers (4-1, 1-1).
"It is a tough task," said Head Coach Buck James. "Anytime you go into Quigley and play the Central Tigers it can be a tough night for you. They have some athletes and are much improved. They are 4-1 and they are in the middle of trying to play for a (7A Central) Conference championship and with all that comes worry for the opponent for sure."
The Tigers are coming off a 42-35 win over Fort Smith Northside in Week 5.
For Bryant, the top-ranked Hornets demolished their fifth straight opponent last week, defeating Little Rock Catholic 56-7. The win marks the ninth straight win for Bryant and moves the Hornets to No. 21 in the country, according to maxpreps.com.
Starters, once again, only played the first half, but put up big numbers in the Week 5 win for Bryant.
Quarterback Austin Ledbetter completed 15 of 21 passes for 267 yards and two touchdowns, but did throw his first interception of the season.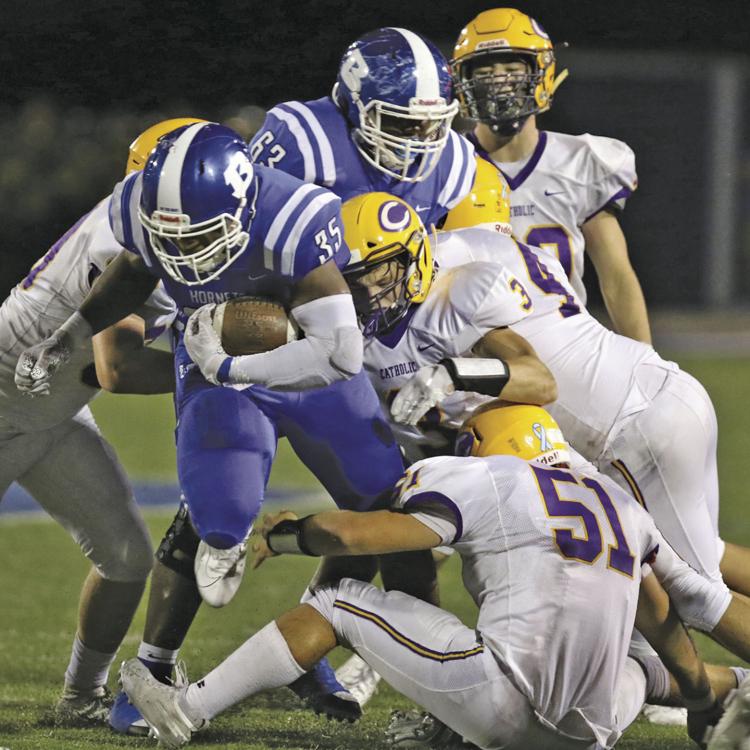 On the ground, running back Ahmad Adams rushed 10 times for 104 yards and a pair of TDs, currently leading Saline County in rush yards, yards per carry and TDs. Junior back Tanner Anderson added 11 carries for 91 yards and two scores as well.
After the game, James said the pair are "thunder and lightning" in the backfield, referencing Adams' power and Anderson's speed.
"That is a plus look for us, for sure," James said about having the two backs. "I think all of our backs are doing well. Xavier Foote Tayvin Jones have done a great job, too, this year. If you look at our stat charts they've all carried the ball about the same amount of times. I think Tanner's speed is better than the rest of them, but he gives us an aspect that definitely is a game-changer edge ... he can score on any play from anywhere."
As for what James and company expect to see from the Tigers on both sides of the ball, he said he expects it to be tough against Central.
"They can smash-mouth football you," James said. "They can throw the football. Their tailback is a really good runner and their quarterback can run and throw. They've got some tall, long receivers and they have a big offensive line.
"Defensively, they are big on the defensive line and athletic at linebacker and secondary, and they can run."
Kickoff is set for 7 p.m.