The challenge was going to be hard enough without Bryant junior standout Camren Hunter out with an ankle injury in Thursday's first-round 6A State Tournament game against the West No. 6 seed Van Buren Pointers at Hornet Arena in Bryant. 
The Central No. 3 seed Hornets (17-11) would trail 42-37 to the Pointers (10-17) after the third quarter and senior standout Treylon Payne had to ride the pine for the majority of the second half due to picking up his third foul late in the first half, but Bryant turned to senior AJ Jenkins in the fourth and the Hornets absolutely dominated in the final stanza, outscoring the Pointers 21-5 for a 58-47 victory and punching their ticket to the quarterfinals tonight against the West No. 2 seed Fayetteville Bulldogs (19-8) at 8:30.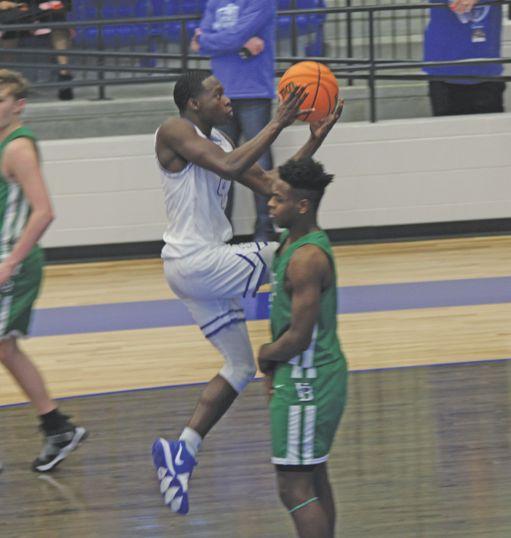 "A common phrase in athletics is 'next man up,'" Bryant Coach Mike Abrahamson said. "(Thursday), it was the next few men up and the kids rose to the occasion. I couldn't be prouder of them."
The Hornets also had an extra man in the stands as Abrahamson credited the Bryant students for a ton of support. 
"I have to give a shootout to our students," he said. "They sold like 600 tickets at school for them to come out and get to this game. They really provided a great environment." 
The Hornets led 27-25 at the half with Payne's 15-foot jumper with six seconds left giving them the edge, but it was all Pointers in the third quarter, outscoring Bryant 17-10 for the five-point lead going into the final stanza. 
"I tried to tell our team how good Van Buren is," Abrahamson said. "When I figured out who we were playing Friday night, I went home and started watching film, and I was going, 'Oh my gosh, how are they the six seed?' They're big, they're athletic, they've got shooters. They're really good and they're a really tough team." 
But, Bryant junior Aiden Adams nailed a 3-pointer assisted by senior Austin Schroeder to open the fourth, starting a 15-0 run and the Hornets never looked back. Jenkins drove through the lane for two straight buckets and Adams hit another three, this one assisted by Jenkins. Jenkins followed with 2 of 2 free throws before Payne hit 2 of 4 for the 52-42 lead with 2:32 left to go. 
"We started pressing a little bit to try to speed the pace of the game up," Abrahamson said. "And then we made some adjustments on offense. We opened that lane up for Arlen (Jenkins) to run in there. And the charges (Jenkins three, Adams two) we took, those are game-changing plays. We kind of wore on them a little bit."
Van Buren senior 6-5 post Brayden Gilmore stopped the bleeding with a bucket a possession later, but 2 of 2 free throws from Payne got those points back. After a basket by Pointer junior Gary Phillips, Payne closed the scoring out with two free throws and a layup for the 11-point win. 
But, if it wasn't for Bryant junior Khasen Robinson in the first half, the Hornets' season may be finished. Though not scoring a point in the second half, Robinson kept Bryant alive in the first scoring 14 of the Hornets' 27 first-half points, including hitting 4 of 6 from behind the arc. 
"Huge," Abrahamson said of Robinson's play. "We believe in Khasen and I'm not surprised by it at all. It was huge for our team. We needed it, we need it early. It kept us right there to give us a chance late."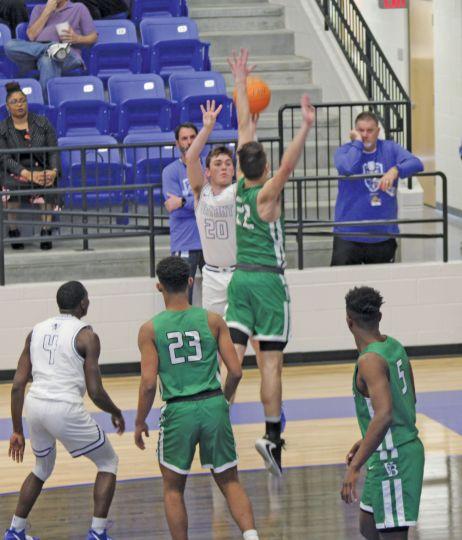 Robinson scored Bryant's only points in the first quarter with two threes for the 6-6 game, and it was Robinson putting the Hornets up 19-15 and 22-17 with 3:13 left after two threes. But, Van Buren junior Jaiden Henry hit a three to start a 6-0 run to put the Pointers up 23-22. Schroeder hit 1 of 2 free throws and Robinson a 10-footer to put Bryant back on top 25-23 before 2 of 2 free throws from Pointer Damarius Newton tied things up. Payne's jumper late gave the Hornets a two-point lead. 
Robinson led Bryant with 14 points, with Jenkins adding 13 points and five assists. Adams also hit four threes for 12 points, adding four rebounds and two assists, while Payne's 11 points and four rebounds wrapped Bryant's double-figure scoring. Schroeder and freshman Cory Nichols scored four each. For Van Buren, Phillips led all scorers with 15 points, while Newton added nine points and 13 rebounds. 
As for Fayetteville tonight, Abrahamson said, "They're big, they're athletic, they've got shooters. In my opinion they're the most talented team in the West, and that's no offense to Har-Ber (West champs). They've got a big that's tough to handle. They've got other bigs alongside of him. They're deep, they're athletic and well-coached. It's going to be tough."