The Bryant Hornets will be on their home turf tonight, sporting a 2-0 record in 2020 and a 19-game winning streak.
However, different from all the years past, the Hornets will have an out-of-state opponent on the opposite side.
While Bryant will be unfamiliar with Trinity Christian from Cedar Hill, Texas, at least one familiar face will be on the opponent's sideline — Deion "Prime Time" Sanders.
The Dallas Cowboys great and NFL Hall of Famer will man the sidelines as offensive coordinator for the Tigers.
"They are very athletic and they are big," said Head Coach Buck James. "Their offensive line averages 6-4, 6-5 and 340 pounds. They've got very powerful wideouts and good running backs. And their quarterback is a 4-star quarterback. Offensively, they are loaded and I don't see a weak spot on their team."
Leading the team will be Sanders' son, Shedeur Sanders, a four-year starter at quarterback for the Tigers.
Sanders has committed to Florida Atlantic University in Miami. Coming into 2020, Sanders was the 14th-ranked quarterback in the country by 247Sports. He received offers from Alabama, Arizona State, Baylor, Florida, FAU, Florida State, Georgia, Georgia Tech, Houston, LSU, Michigan, Oregon, Penn State, South Carolina, Tennessee, UCF and UCLA, among others.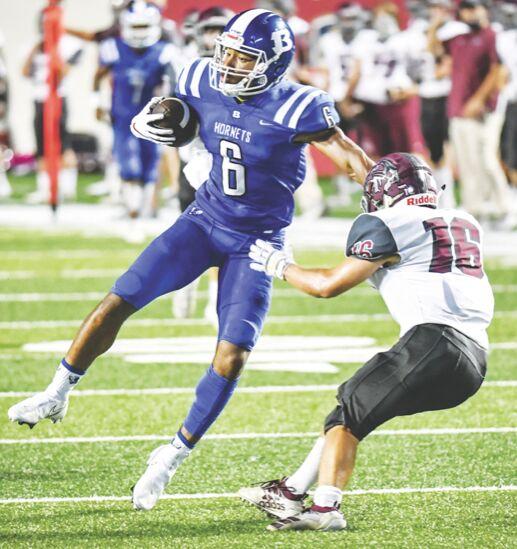 Sanders also took to social media recently, posting pictures of him working out with longtime New England Patriot and current Tampa Bay quarterback Tom Brady.
As a junior last season, Sanders completed 244 pass attempts for 3,477 yards and 47 touchdowns. He only threw four interceptions.
Not much of a threat to run, Sanders did add 11 touchdowns on the ground in 2019, going for 225 yards on 94 carries.
In his career, he has logged nearly 9,000 passing yards coming into this season, with 123 passing TDs and 554 completions.
As for the Tigers defense, James said they are big, tough and a secondary "that can flat burn it. They can really run."
"They have lightning in the bottle on the back end," James added.
Looking at what Bryant's offense is focusing on this week, James said his team has to keep the ball away from the Tigers.
"We have to drive the ball deep into their territory or score. We have to have a lot of opportunities to score on offense," James said. "Defensively, we have to be able to stop the big play. That's what they do. They don't have a series where they go eight or 10 plays. They usually score in five plays or less. They are a big-play, big-strike team. We have to make the quarterback hurry where we can cover their wideouts."
James said his team is "healthy as we can be" coming into Week 3 after rolling past Benton and Marion thus far in 2020.
The Tigers have not been beaten this year and are coming off of a 13-1 showing in 2019.
Bryant has not lost since 2018 and will look at pushing its winning streak to 20 tonight.
Kickoff is set for 7 p.m. at Hornet Stadium in Bryant.
Tickets have sold out, however, patrons can watch the game via pay-per-view for $20.