After reaping honors, including the All-Arkansas Preps Football Coach of the Year and the National Federation of State High School Associations Arkansas Coach of the Year, Bryant Coach Buck James brought home yet another after leading the Hornets to back-to-back state championships.
James led the Hornets to a 13-0 record, it's best record in school history, on the way to the state title and was recently named the All-Arkansas Preps Coach of the Year for all sports. 
"I obviously have great players. We have great coaches," James said. "When you have a really good football team and the support staff that we have, I get the awards, but I guess it's the same thing if everything went bad, I'd get the (blame), too. It's just accumulation of really great players and great coaches working together and having a magical season."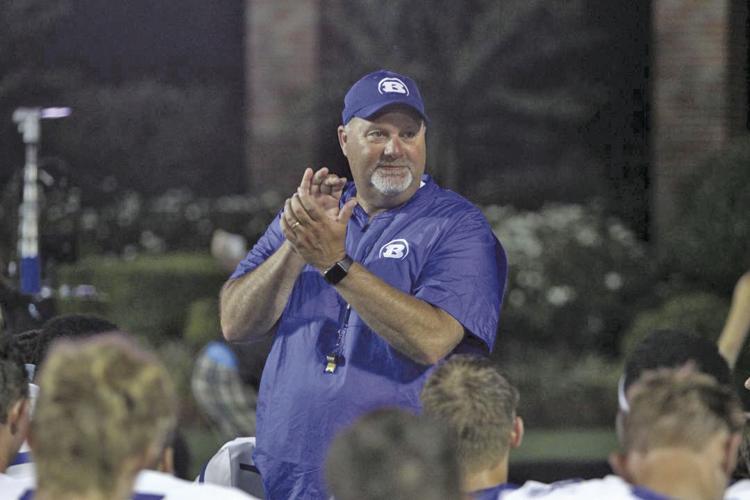 James is 43-8 overall (.843 winning percentage) and 24-4 (.857) in conference play since taking over the reins in 2016. This past season, the Hornets broke 25 team and individual records and are currently on a 17-game win streak dating back to 2018, while downing North Little Rock in the past two championship games. 
But, Bryant, like most teams across the country, will be off to a slow start for next season as Arkansas high school sports have been shut down since March 12 due to COVID-19, with the dead period ending on May 31. The Hornets would have just finished spring ball yesterday if the pandemic didn't cancel it. 
"We would just be wrapping up," James said. "(Friday) was our last scheduled day of spring football. Our coaches have been sending them (players) stuff on Hudl, have done some Zooms and have been sending them workouts, but really we're limited with what we can do. It's really if they have access to weights and equipment to be able to do anything at all. I hope that they're running, doing pushups, planks, mowing their yards and stuff like that to give them a chance to ready themselves for when we do it. We'll definitely have to have an acclimation period reintroducing them to that kind of stuff."
James doesn't think the acclimation will take long with teenagers. 
"Kids are very resilient and they're going to bounce back and be ready to go," he said. "They just need a few weeks to re-acclimate and I think they'll be fine. Hopefully the people who make the decisions make the proper decisions to give us a chance to keep our kids to stay healthy and get back to be able to compete at a high level when we're ready to play."
But while there was no spring practice, James and staff have been keeping busy.  
"I've been trying to work out myself," James said. "I've been trying to keep myself in shape. We've done a facelift on our indoor facility. We've got new turf, we've put up some walls, painting, cleaning offices, inventory, throwing stuff away, just general maintenance. Stuff we really never have time to do, but we have time to do it now. Our coaching staff led by Coach (Kirk) Bock has really done a phenomenal job of making that place look like a top-notch facility."