The Benton Jr. Lady Panthers did something Thursday night they haven't done in 30 years. Benton dominated North Little Rock in the Central Arkansas Junior High Conference championship game at Buzz Bolding Arena in Conway, winning 40-28 to reach the 20-win plateau and giving the Jr. Lady Panthers their first league title since the 1989-90 school year. 
"It was incredible," Benton Coach Kelly Scott exclaimed. "I knew we were ready on Tuesday because we had the best practice we have had all year, and this team always practiced well."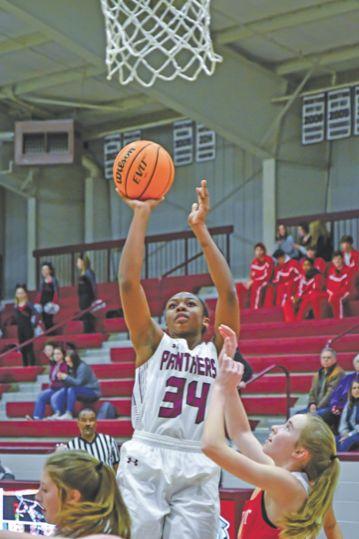 After finishing 6-2 in the CAJHC for the No. 3 seed in the tournament, the Jr. Lady Panthers (20-4), which won their seventh straight game on Thursday, opened the tourney with a 39-28 win over No. 6 seed Cabot North before edging past No. 2 seed Conway Blue 43-41 in overtime in the semis. 
On Thursday, Benton jumped on No. 1 seed NLR when freshman Alyssa Houston scored a bucket and Presley Chism hit a three for the early 5-0 lead. 
"We dominated from the opening tip on Thursday night and continued that domination throughout the game," Scott said.  
The Jr. Lady Panthers would lead 14-6 after one quarter and "we continued in the second quarter playing well and executing on both ends of the floor," Scott said.   
Benton had a big finish at the end of the half as the Jr. Lady Panthers broke NLR's pressure and Addison Davis hit a 3-pointer to end the half up 25-12. The third was much of the same with Benton outscoring NLR 9-5 to take a 34-17 advantage after three. The Lady Panthers built their lead to 20 at one point before NLR cut it down late in the fourth. 
"The game was never in doubt," Scott said.
Houston led the Lady Panthers with 14 points, with Madison McIntire also scoring in double figures with 11. Chism added six, Davis five and Wesleigh Ferguson had four.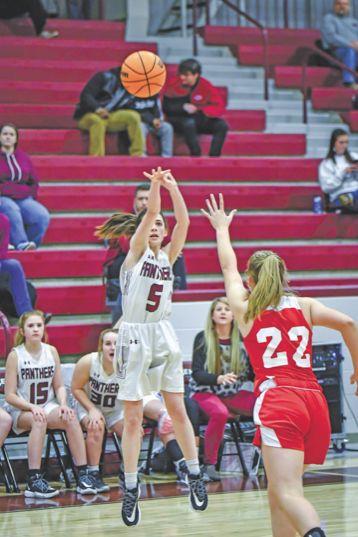 "This group has been so fun to coach throughout last summer and all the way through this season," Scott said. "I am so proud of them on and off the court and they deserved to be known forever as Central Arkansas Junior High Conference Tournament Champions.   
"They beat some great teams this year and were so easy to coach in practice and in games. I feel very fortunate to have been able to be a part of this team. They are a very special group. It's been a blast."