With fall sports now a go per Arkansas Gov. Asa Hutchinson Friday, winter sports are still a few months away. But, just like all team sports able to begin limited workouts and weight training per the governor's order on June 1, basketball also began their walkthroughs at the beginning of June.
With high school basketball teams usually attending camps and competing in offseason tournaments in the summer, the coronavirus COVID-19 nixed those plans, limiting squads to social-distancing drills, workouts, etc.
"There are so many unknowns," Bryant Lady Hornets Coach Brad Matthews said. "We were all (not playing) for so long. The rest of March, all of April and May. I was just so happy to be able to get back in the gym. I think all our kids were happy to be back in the gym. I missed going to the gym every day and practicing. I missed preparing to practice. I think when our kids came back the first of June, it was good to see they had missed it as much as I had.
"We do have restrictions, but we'll live with those restrictions as long as the health experts, the governor and AAA (Arkansas Activities Association) say so. We'll abide by all the rules that they set forth. We're just happy to be in the gym and working, trying to get better, working as a team and seeing our kids really work hard."
Matthews explained the process since he was able to get his team back from hiatus.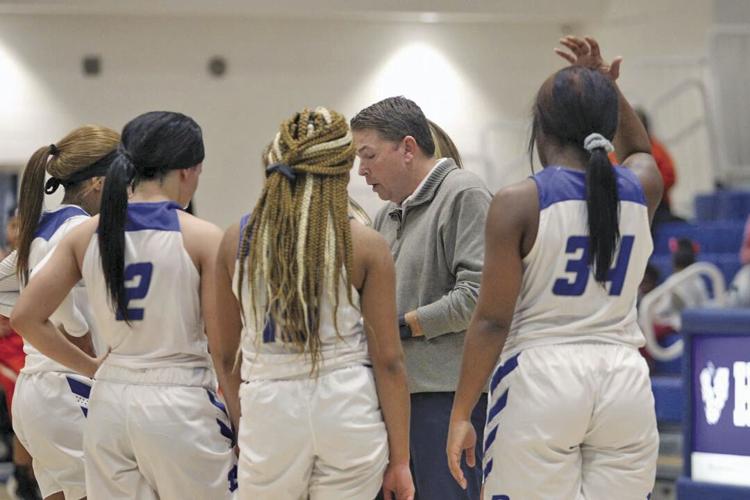 "Since June, six, seven weeks now, we've been going three days a week, going for an hour and a half really working on our shooting, working on our ball-handling and trying to get stronger in the weight room," he said.
"Coach (Chris) Jordan, Bryant's strength and conditioning coach, helped us come up with a plan dealing with the restrictions. There are so many cleaning protocols you have to follow to make sure we're as safe as we can be in that situation. Coach Jordan did a great job designing some workouts for us where we can be spaced, but still provide our kids the opportunity to get stronger."
Matthews went into more detail.  
"Coaches are always in masks 100 percent of the time and players are in masks entering the building, exiting the building and when they are not doing a specific activity. When they're not shooting, when they're not dribbling, when they're not ball-handling. We do our best in terms of practice preparation to make sure there is very, very, very little of that. That way we fully engage our kids the whole time we're there. That's one reason we only go an hour and a half."
Of course, it never hurts to have a little help from friends, aka his assistant coaches.
"We have a great staff," Matthews said. "Coach (Joanna) Scott, Coach (Nathan) Castaldi, Coach (Sontreka) Johnson, we've all been in the gym together working our kids out. I've been very fortunate the last three or four years to really surround myself with really good basketball coaches. I try to put them in a spot where they're coaching. They're working hard every day to make sure our kids are getting better."
And with COVID giving the Lady Hornets a longer break than usual from after the winter season ending in March, they have have kept their energy the past two months despite the monotony of not able being able to guard their teammates in close-contact drills, according to Matthews.
"Our kids have just worked so hard," he said. "We had a workout (Tuesday) … it was great. Their intensity and focus, the energy level was really high. That's really good to see after six or seven weeks of kind of doing roughly the same thing. We've tried hard not to get monotonous because the restrictions are there, but our kids are still working hard and the coaches have done a great job being as creative as we can within the structure and protocols that are in place. We love basketball so we're excited to do anything we can."
Though the basketball season is still several months away, Matthews is most definitely looking forward to the 2020-21 season despite losing eight seniors who led the Lady Hornets to a 17-11 overall record and 8-6 in a very, very tough 6A Central Conference this past season.
"We've won a lot of games the last two years and I think if you take into who we've played it's even more impressive," he said. "It's all about our kids. We've had a great group of seniors.
"We did lose a lot, however. Coach Scott, Coach Castaldi, Coach Johnson, myself, we are extremely excited about what we've got on this roster. We've got some young kids we think have a really high ceiling. We've got some really young kids who are going to be sophomores who have a tremendous upside. We are excited to get this group in the gym and see what we can do. We did lose a lot, but the cupboard is not bare. We still think we can be a really good high school basketball team."