BAUXITE – The Bauxite Lady Miners swept the Malvern Lady Leopards 3-0 this past Thursday on the road for their second straight match win to improve to 2-0 in the 4A West Conference. Bauxite, off to a good start to the season at 3-1 overall, was off to a hot start Thursday taking the first set 25-13, handling the Lady Leopards 25-17 in the second and holding on to a 25-21 win in the third for the sweep. 
"A solid start to our season," Bauxite Coach Dave Carter said. "That is how I describe our first four games. We are not a senior-heavy team, yet we do have key players with experience and that has helped us come together and play with energy in spite of restricted summer and preseason preparation (due to COVID-19). We've got a lot of room to grow with many things to improve upon, but I like how the girls come to practice ready to work. Their approach to growth is showing up in games.
"We attacked Malvern aggressively from behind the serving line, at the net and from behind the attack line. We had them on their heels during the first two sets. Big credit to (Malvern) Coach (Patricia) Glover as her team never backed down and kept fighting. They pushed us strongly in the third set and made us earn every point. We were able to stay focused and pull out the win."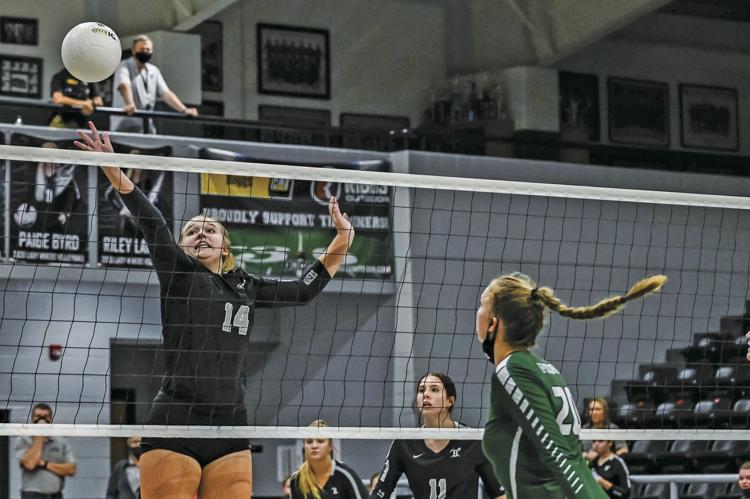 Bauxite sophomore setter Kayla Bubbas led the way with 21 assists in the match, with junior Lindsey Cross the main recipient of those sets with a team-leading 10 kills. Junior Jaylin Rhoades had three kills and two blocks, with junior Haley Howard adding three kills and a Lady Miner-leading six aces.  
"Bubbas moved the ball around the floor again very well," Carter said. "I'm pleased with her creativity and vision as our setter. Our twin towers of Cross and Rhoades again played power volleyball above the net. There is no letdown when we rotate out one middle and the other comes in. It seemed like Howard was everywhere on the court with kills at the net and from the back row, serving fiercely and passing with high accuracy."
Bauxite junior Victoria Lockhart was also big at the service line, netting five aces and four digs, with senior Riley Larkin adding four aces and three digs. Junior Olivia Shields added two kills, with senior Paige Byrd, sophomore Lexi Bright and junior Paige Shepard adding a kill apiece. 
"Larkin is settling into the libero role nicely and covered the back corners better tonight than she has all season," Carter said. "Lockhart again played defense as quickly as anyone I've coached."
Carter said he is happy with the teamwork his team has showed early on.  
"I was also quite pleased with our overall team contribution," he said. "We had players taking advantage of their moment and added positive things. Not everyone can be a star at the same time, so when players accept that and work to improve their skills to be ready when their number is called, real growth and team improvement can happen.  
"We've been working heavily on some details of the game in practices. I was thrilled to see some of those things show up (Thursday) in competition. But we need more of those improvements to translate from practice to competition if we hope to achieve at the level we expect to. We'll keep working and grinding."
Bauxite Jr. High would fall 2-0 (18-25, 21-25), while the Jr. High junior varsity won 2-1 (25-14, 17-25, 15-13). The Bauxite seventh-graders dominated with a 2-0 win (25-17, 25-7) as well. 
Bauxite is back in action Tuesday, hosting the Mills Lady Comets in West play at Fred Dawson Gym in Bauxite.