The Benton Lady Panthers erased all doubt early in their first return back to the state championship game since 2013 Thursday at Bank OZK Arena. Falling in an epic match to Jonesboro six years ago, the Lady Panthers are back in the state title game, again facing the defending champion Jonesboro Lady Hurricane after sweeping the Paragould Lady Rams 3-0 (25-14, 25-16, 25-21) Thursday in Hot Springs. 
After getting down 1-0 to start the first set Thursday, the Lady Panthers went to junior Hannah Brewer for a kill, assisted by senior Lydia Buchanan, to start a 5-0 run. The Buchanan to Brewer connection came twice more during a 3-0 run to put Benton up 8-3.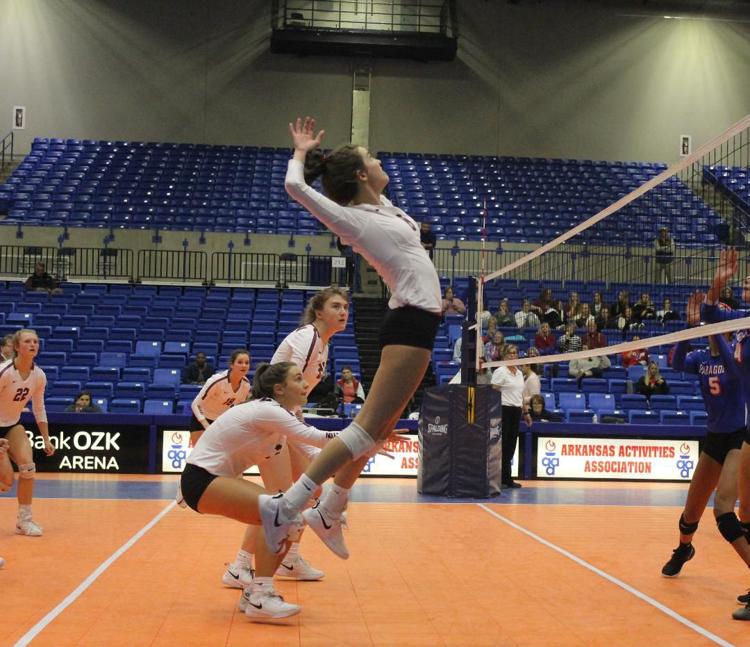 A 4-0 run started by sophomore Laci Bohannan's kill and capped by senior Riley Hathcote's kill made it a 15-8 advantage before Paragould responded with a 3-0 run to make it 15-11. But it was all Lady Panthers after that as a Bohannan and Buchanan double block for point started a 10-3 streak, which Brewer capped with a kill. 
"We jumped on them, as we tend to do, and we finished it," said Benton Head Coach Michelle Shoppach. "Then a little bit closer, 25-17, and that third set, Paragould didn't go away. It was point for point and we didn't separate until right there at the end."
It was all Benton in the second set as they jumped to a 14-5 lead after junior Katie Strickland's service ace, and the Lady Panthers would go up 20-8 highlighted by Hathcote, Brewer, Buchanan and freshman Abigail Lagemann kills, including an ace from senior Mary Grace Guerra. 
Paragould followed with a 7-2 run to get back in it, but Brewer and Hathcote kills stopped the run for the 25-17 win.
The Lady Rams took a 4-1 lead to start the third set, but the Lady Panthers fought back to tie it at 12-12 with a 4-0 run which included a Brewer block and kill. It was back and forth the rest of the way until Benton took control with a 4-1 run, capped by senior Katie Morrison's kill for the sweep.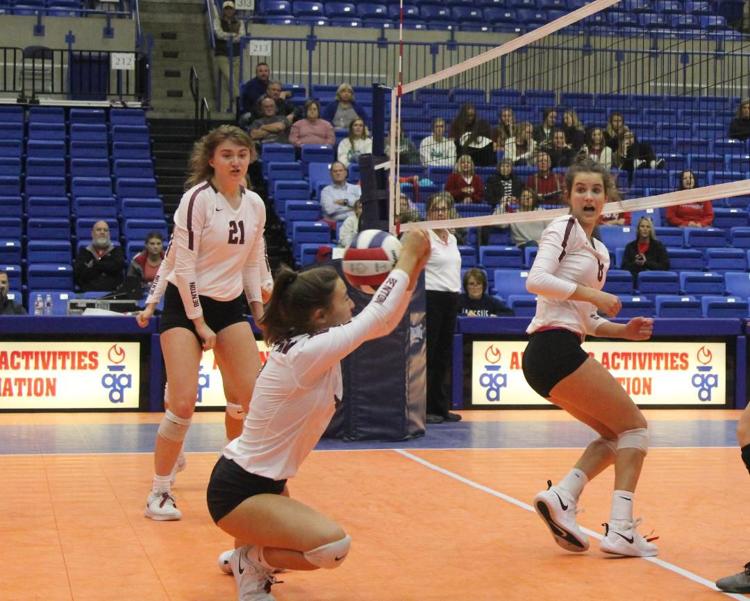 "We served better. I thought our blockers did a good job," Shoppach said. "We were trying to direct the ball to the defense. Mary Grace was overplaying a little bit from the get-go and my assistant coaches were able to get her back, making an adjustment where we needed to. By blocking the way we did, I think we forced Paragould to try to do some things they're not very good at."
"Their middle, 29 (Taylor Beasley), sprained her ankle Tuesday night and it caught up with her (Thursday). She wasn't able to play her regular dominating game, although I think we could have been prepared for it. When she did hit it well, I thought our kids were in the right spot and did what we wanted to do."
Benton assistant coach Rachel Dodson concurred with the blocking success at the net.  
"I thought we did a great job," Dodson said. "We had to adjust a little bit to this team because 29 is an awesome hitter. We adjusted and I felt like our kids did a good job being coachable and doing exactly what they needed to do, like they have all year round."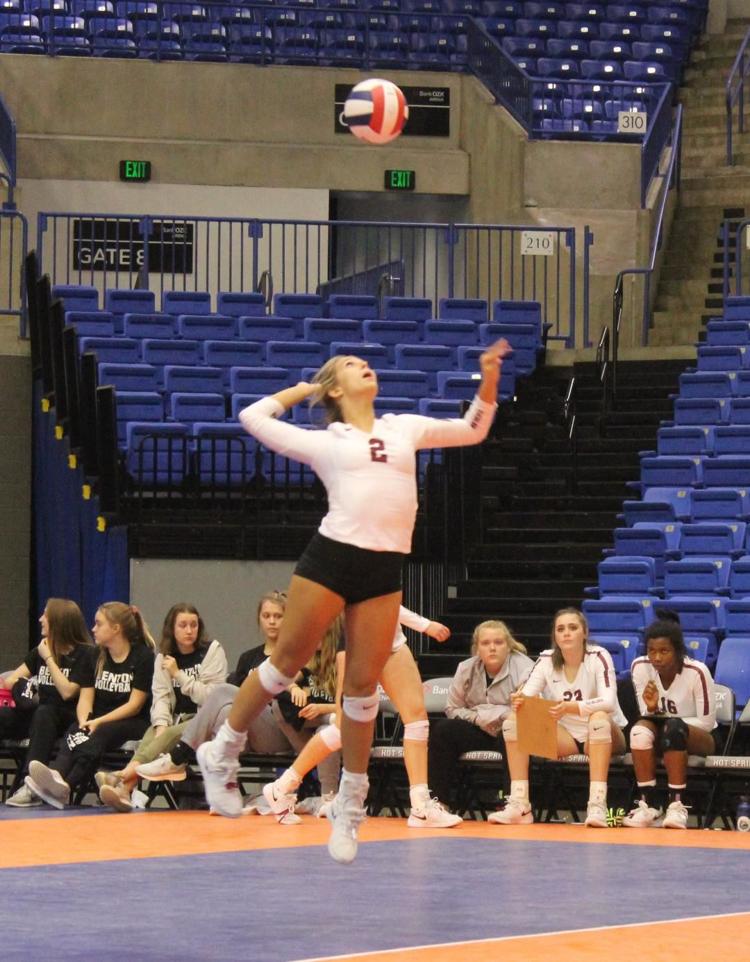 Dodson has some experience in the state title, being a part of the Lady Panthers last championship team in 2009. 
"We won state in 2009 and the last time we went has been several years so we are ecstatic," she said. "These kids have made this their goal since March. It's what they've wanted and they've shown a lot of grit, teamwork and they've made it work."
Brewer again led the Lady Panthers in kills, putting up 14 to go along with two blocks and an ace, while Buchanan had 24 assists, six kills and two double blocks. Bohannan had five kills and three double blocks, with Hathcote adding five kills and a double block as well. 
Freshman Abigail Lagemann had four kills and a double block, Morrison had three kills and senior Raeley Wilson, Strickland and Guerra each had an ace as the Lady Panthers didn't miss a serve all match.  
As for No. 1 in the state (maxpreps.com) Jonesboro in the title game Saturday, the Lady Hurricane (34-0) haven't lost a match all season, getting tested by Greenwood in the semis. Jonesboro edged Greenwood 3-2 to reach the championship. 
"Undefeated," Shoppach said of the Lady Hurricane. "Got to go five (sets) for probably the first time all year. He (Jonesboro Coach Craig Cummings) had to use some timeouts, he hasn't had to do that very much this year. Maybe they're doubting themselves a little bit and that's fine with me. 
"We played them one set where we didn't play well and we played one set (Conway tournament) where we played them really well. We need to come out and play some good sets."
Benton and Jonesboro will play for the 5A State Tournament title Saturday at 11 a.m. at Bank OZK Arena in Hot Springs.