The Benton girls track and field squad opened the season on the right foot, dominating the Benton Invitational on Thursday at Panther Stadium in Benton, while the Benton boys took third at the meet. The Bryant boys came away with a fifth-place finish, while the Bryant girls were eighth out of 14 teams competing. 
The Lady Panthers put up 143.50 points to earn the meet title, not to mention junior Hannah Brewer breaking a school record in the high jump, while runner-up Vilonia had 101. Conway (64), Jessieville (61.50) and Lake Hamilton (52) rounded out the top five. 
"We had a lot of good performances," Benton girls Coach Randy Shaw said. "It's a big accomplishment. It's always good to win your host meet. Brewer got high-point and had a great outing."
For the boys, Vilonia won the team title with 137 points, followed by runner-up Conway with 124. Benton (93), Lake Hamilton (70) and Bryant (64) rounded out the top five. 
The Lady Panthers took the top two spots in the long jump with junior Hannah Brewer, the high-point holder with 36 points, winning the event with a distance of 17-6.5 and junior teammate Emma Selph (25 points) taking second with a 16-6.50. Bryant's Amya Smith was sixth with a 15-7. 
Benton took the top three spots in the triple jump, with Selph taking the top spot this time with a jump of 34-2.5 and Brewer second with a 33-6.50. Benton's Erin Wade made it a trifecta with a third-place finish at 32-6. Benton Maroon's Anette Morales took fifth with a 32-even, while Bryant's Kourtney Scott (28-1.5) and Erin Ives (27-11) had eighth- and ninth-place finishes. 
Benton took the top spot again in the shot put, with Sakari Faulkner taking first with a toss of 37-9. Benton Maroon's Grace Bowling was ninth with a 28-9. 
The Lady Panthers wrapped up their final first place in a successful field events portion with a win by McKenzie Bowman in the discus, with her throw of 107-7 eking by Russellville's Kaziya Woods' 107-6. Faulkner was fifth with a 91-6, while Benton Maroon's Kelsey Fritzius (87-10) and Bowling (82-5.5) took spots six and eight, respectively. 
"We did really great in field events," Shaw said. "Coming out of the field events we had a pretty good lead and I'm really proud of those girls. Several first-place finishes and a lot of quality points." 
Benton's success in the field events carried over to the running portion as Dellesha Jones and Brianna Robinson took the top two spots in the 100-meter dash, with Jones winning it in 12.84 and Robinson a close second at 12.89.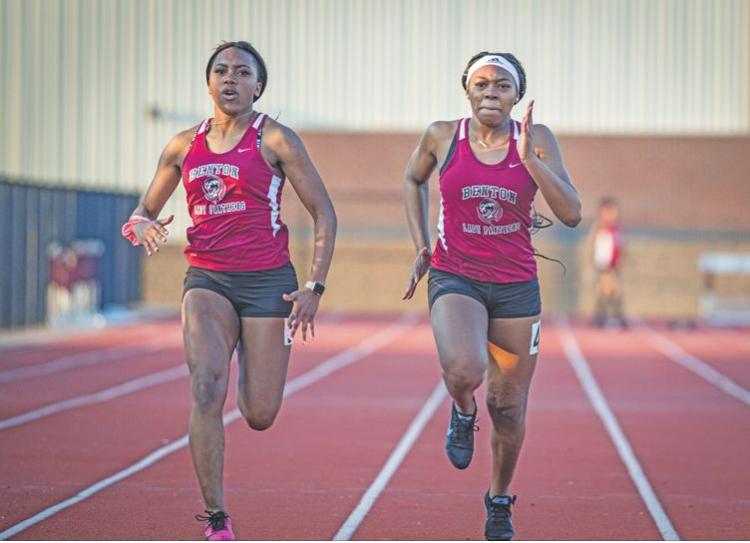 The Lady Panthers had three in the top 10 in the high jump, with Brewer taking second with a jump of 5-5 (breaking her own school record), just an inch away from winner Madison Holloway (Conway), while Lauren Baker set a personal record of 5-2 for fifth place. Benton's Kate Beard was eighth with a 4-10.
Brewer again was just short of a win in the 400-meter dash, taking second in 1:02.69, just .42 seconds off of Vilonia's Emma Buck's first-place pace. Bryant's Smith was third in 1:03.32, with Benton's Selph eighth in 1:05.35. 
The Benton foursome of Wade, Brewer, Robinson and Jones were just short of the top spot in the 4x100 relay with their time of 50.64 just shy of Sheridan's 50.56. 
"We were just a fraction of a second from breaking another school record in the 4x100," Shaw said. "I think we've got a pretty good group in that 4x100." 
The Lady Hornets would take second in the 4x400-meter relay in a time of 4:29.03, with the foursome of Amya Smith, Margo Gilliland, Brandy Jenkins and Jaiyah Jackson competing. 
Payton Fleeman took third in the pole vault for Benton, vaulting at 10-even, while Bryant's Madelyn Thomas was fourth with a 10-foot vault as well. Bryant's Haley Beenken was seventh in 8-6, with Benton's Emma Schlitz tied for eighth with an 8-foot vault. 
"Fleeman is a great competitor, really consistent and has really bought in to the pole vault event," Shaw said. 
Selph gave Benton a third place in the 3,200-meter run with a time of 12:48.85, while Bryant's Mackenzie Moore was fifth in 13:58.16. Bryant's Kennedy McGuire was ninth in 14:28.97. 
Bryant's Madison Dettmer was fourth in the 1,600-meter run in a time of 5:58.08, with Benton's Melina West eighth in a time of 6:06.84. Bryant's McKenzie Hicks was 10th in 6:20.05. 
Benton's Wade took fourth in the 300-meter hurdles in a time of 56.99, while teammate Jermara Williams took seventh in 59.74 and Emma Schlitz eighth in 1:01.24. Wade would also take fifth in the 100-meter hurdles with a time of 19.03, while Williams was seventh in 19.26. 
"Erin Wade had another good night with 17 points and Sakari Faulkner had 14 in two events," Shaw said. "We had a lot of girls get PRs." 
Lady Hornet Jaiyah Jackson was sixth in the 200 dash in a time of 28.09. 
Bryant's Olivia Orr was seventh in the 800 run in a time of 2:44.68, while teammate Aryn Stiles was 10th in 2:47.36. 
Panther senior Cade Clark got Benton's lone first-place finish on the day, taking the top spot in the 100-meter dash. Clark ran a 10.87, while teammate Omari Coats was third in 11.35. Bryant's Joseph Young was fifth in 11.37. 
Bryant took the top spot in the 4x100 relay, with the foursome of Tre'vun Herron, Christian Cane, Jaden Newburn and Joseph Young winning in a time of 43.79, less than a second better than runner-up Conway. 
"The 4x100-meter relay team picked up a nice win," Bryant Coach Steve Oury said. "They had a couple of handoffs that could have been better, but overall they did a great job. 
"Joseph Young and Jaden Newburn both had very good meets in the sprints and Tre'vun Herron also earned some nice points in the triple jump and long jump." 
Carter Hutchinson took second for the Panthers in the long jump with a distance of 21-2, while Bryant's Blake Everett (19-11) and Benton's Coleman Harris (19-10.50) got spots four and five. Bryant's Tre'vun Herron was seventh in a distance of 19-5. 
Hutchinson took another second place in the triple jump with a distance of 41-10.5, while teammate Harris was third in 41-1.50. Bryant's Herron was fourth with a 40-10 and his teammate Blake Everett was eighth with a 38-11.5. 
Kyree Watkins gave the Panthers another second place in the shot put, with his distance of 46-9 just short of Conway's Zaul Vences' 47-2. Benton senior Bret Barbaree took eighth in the shot with a toss of 41-11.5, while teammate Austin Jones was 10th with a 41-8. 
Benton's Garrett Davis and Watkins took second and third in the discus, with Davis' 126-5.5 just under a foot short of Maumelle's Alex Chamblee's first place. Watkins took third with 125-5, with teammate Hayden Purdy's 114-4 good for ninth. 
Benton's Preston Barker was just shy of a win in the 300 hurdles, settling for runner-up in a time of 42.52, just over a second from first place Tyler Kelley of Vilonia. Bryant's Keelon Henderson was fifth in 46.46.
Hornet Ammon Henderson would be just short of the top spot in the 800 run with his time of 2:02.06 just .17 seconds from Conway's Ethan Kailey's 2:01.89. Bryant's Ethan Ives took 10th in 2:09.50. 
Bryant's Bresner Austin was third in the 1,600 run in a time of 4:41.33, with teammate Chris Herrera sixth in 4:49.24. Benton's Samuel Morales was 10th in 4:54.38. 
"Ammon Henderson ran a heck of a race in the 800," Oury said, "and Bresner Austin held on for a nice third-place finish in the 1,600."
Benton's Dylan Burnham and Clark weren't far off from first in the 400 dash, with Burnham taking third in 51.83 and Clark fourth in 52.61. Bryant's Darrick Rose was sixth in 53.38. 
Bryant's Newburn was third in the 200 dash in a time of 23.27, while Benton's Coats was sixth in 23.86. 
The Panthers took fourth in the 4x800 relay in a time of 8:51.94, with Burnham, Tyler Smith and Nicholas Sample competing. 
Bryant put three in the top 10 in the 110 hurdles, with Everett taking seventh in 18.48, and Keelon Henderson (19.04) and Blake Synder (19.33) ninth and 10th, respectively. 
Bryant's Layton Dickerson was eighth in the high jump with a height of 5-4. Bryant's Luis Martinez was ninth in the 3,200 run in 10:46.61, with Benton's Morales 10th in 10:46.64.
"I wanted to get as many athletes competing as possible, so our team score may have taken a bit of a hit," Oury said, "but I was happy how our kids got after it. We had several boys running in their first track meets, so I thought they did a good job of handling the nerves that come along with it."
Both Benton and Bryant are back in action next week, competing at the Michael Tinsley Relays at Robinson High School in Little Rock on Thursday.