After a season-opening rout over the Riverview Raiders, the Bauxite Miners football team suffered their first loss of the season last week on the road against the Monticello Billies, a 26-21 decision in which the Miners had their chances. 
This week's game doesn't get any easier. The Miners (1-1) will hit the road once again to face a Newport Greyhounds team (2-0) which handled its first two opponents. The Greyhounds, finishing 10-3 last season, routed Mills 47-22 in the season-opener and took down Heber Springs 45-6 a week ago.
"They're a really good football team," Bauxite first-year Coach Caleb Perry said. "They run a great program. They've got a history of winning. We're going to have to play really well to beat them.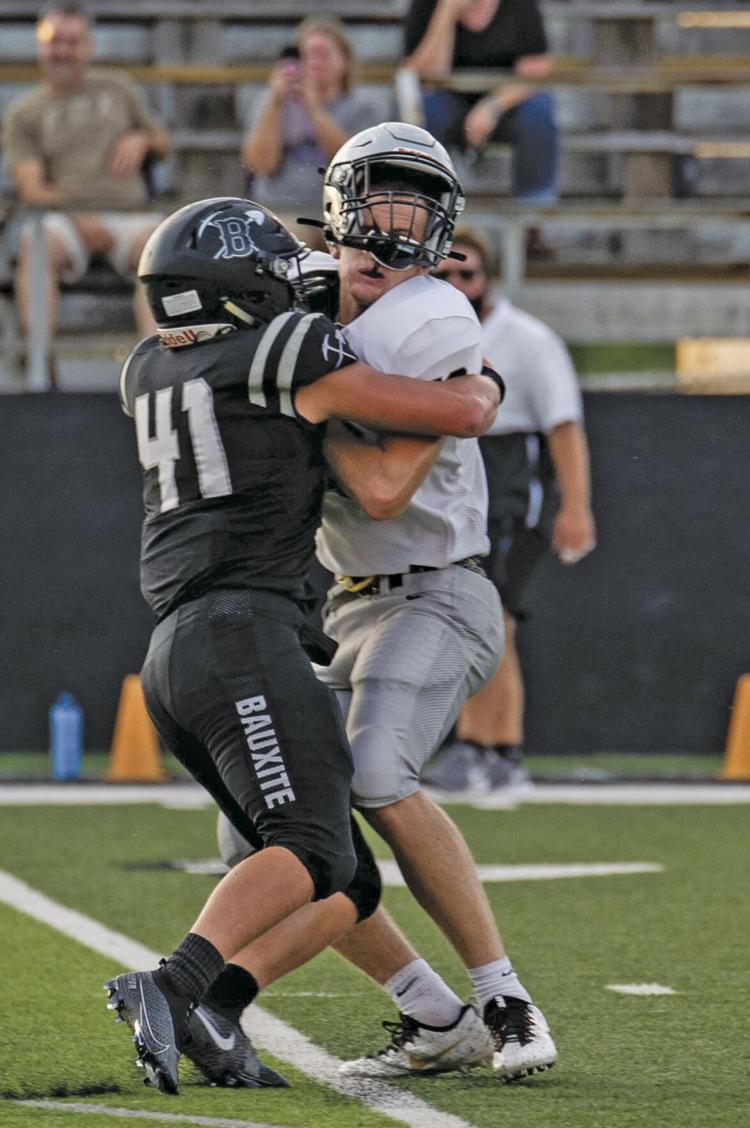 "They've got a lot of speed and they've blown out the two teams they've played, so we're going to have to play really well to beat them."
Perry said the Miners will definitely have to be on the lookout for Newport senior running back Tharon Davis, who has 4.4 speed and ran for 850 yards and 19 touchdowns a season ago.  
"I know we have to stop No. 2 (Davis)," Perry said. "He's really fast. He's a solid football player from my understanding. Their run is the better part of their game. They can throw the ball. Their tall receiver make it tough."
Newport also returns junior starting quarterback Eli Alcorn, who passed for over 1,500 yards and 14 TDs, and also led the Greyhounds on the ground with 992 yards and 16 TDs. 
Offensively for the Miners, Bauxite will have to stop a tough Newport defensive line. 
"They've got a couple big guys up front," Perry said. "Their ends really get after it. No. 60 in the middle gets after it. I don't see many weaknesses."
For Bauxite's tough loss a week ago, Perry said there are still some kinks the Miners have to work out offensively in a new system.  
"It's a whole offensive system that's new," he said. "I would say we struggled as a whole. There were a lot of missed assignments. We have to clean things up, and if we clean things up I think we'll be pretty good, but we have to make that happen. 
"There's no toughness problem. There's no effort problem. I think it's just the new system. We're still ironing things out and not really getting the practice over the long summer is still carrying over, especially having a new system."
Sophomore quarterback Hunter Ferrell had a decent game, throwing 14 of 31 for 192 yards and a TD and pick, while also leading the way on the ground with 70 yards and a TD on 11 carries. 
Ferrell's favorite receiver was senior receiver Braylon Walker, who had nine receptions for 135 yards.  
"He had a great game," Perry said of Walker. "He caught some balls. Obviously he's a guy we want to get the ball to." 
Defensively, senior Conner Stacy led the way with 15 tackles against Monticello, while Will Duncan had seven tackles, two for loss. Senior linebacker Malachi Eldridge had six tackles, two for loss, while junior Jae Pennington picked up a sack. 
Missing two starters a week ago, the Miners will still be without them Friday. 
"We still have the same guys that are out for personal reasons," Perry said. "That definitely affects us some, but we're going to be OK."
The Miners and Greyhounds will kick off at 7 p.m. Friday in Newport.