The Bauxite Miners (6-1, 4-0) are riding a six-game winning streak into Week 8 while sitting alone atop the 7-4A Conference standings.
After defeating Fountain Lake on the road in a rout last week, the Miners enter the toughest portion of their schedule as Robinson, defending 4A champion Arkadelphia and Nashville remain.
Last week, Bauxite kept to the ground, rushing for 339 yards and five scores with sophomore Fabian Torres leading the way with 110 yards and a score.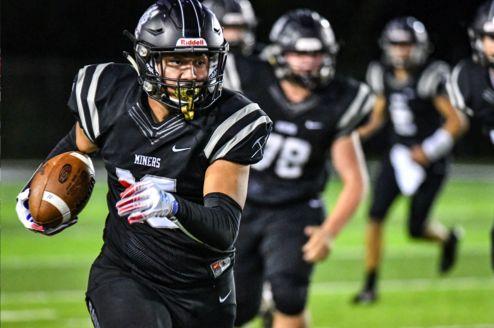 Quarterback Conner Stacy completed 6 of 7 attempts for 58 yards and an interception while also rushing for 94 yards and a score in the win.
On Friday, Bauxite will visit Robinson (6-1, 3-1). The Senators have won two straight after falling to Arkadelphia for their only loss this season. Bauxite defeated Robinson 41-35 at The Pit in 2018, scoring 20 fourth-quarter points in the process.
Like previous seasons, Robinson has been able to torch teams through the air and on the ground in 2019.
Quarterback Buddy Gaston leads the way with 1,412 yards and 18 touchdowns while completing 79 of 142 passing attempts. He has also suffered six interceptions through seven games.
In his last two games, Gaston is 22 for 37 with five touchdowns and 345 yards. Robinson won both contests by a combined 80-14 score.
The gunslinger's best game of the year came in Week 2 against Rogers when he completed 17 of 30 attempts for 437 yards and six touchdowns. The Senators would escape with a 66-58 victory.
On the ground, Gaston is no threat at all, rushing for only 48 yards on 22 keeps. In his last three games he has a combined minus-16 yards from scrimmage.
However, junior running back Hunter Smith is a different story.
On the year he has rushed for 1,018 yards on 106 carries and 10 TDs.
Against Malvern in Week 7 he trucked for 158 yards and two scores on only 14 touches. He has been held under 100 yards in a game only twice this season.
Smith has also returned two kickoffs back for touchdowns for Robinson in 2019.
Senior receivers PJ Hall and Martel Nunally have been the go-to targets thus far, combining for 49 catches and more than 950 yards on the year. Hall leads the team with nine scores, followed by Nunally with three.
Hall also averages 20.3 yards per reception while his fellow ball-catcher comes in at an even 19 yards per catch.
On defense, Hall has snatched two interceptions and has a blocked field goal on his resume.
Defensively, the Senators are artists when it comes to dropping opponents behind the line, having collected 146 tackles for loss this season.
Senior Chandler McIntosh leads the way with 26 TFLs while also leading the team with 91 total tackles.
JT Towers, a former Glen Rose product, follows with 48 total takedowns — 20 for loss.
Kickoff is set for 7 p.m. in Little Rock.