Benton Lady Panthers senior Katie Morrison took the next step in her athletic career recently, signing with the Cowley College Tigers, which is located in Arkansas City, Kansas. Though a signing ceremony with friends and family wasn't possible due to the coronavirus COVID-19, Morrison made it official. 
"I signed all the paperwork and I'm committed and all that," Morrison said. "I just haven't had the signing ceremony."
Morrison said she received an offer from Cottey College (Nevada, Missouri) and had interest from Hendrix College, but Morrison was sold on Cowley and she never wavered from her verbal commitment.  
"It's a two-year school and it just has a really good athletic program, training, and it was just the best decision," Morrison said of Cowley. 
Morrison said she got hooked up with Cowley through Bryant Lady Hornet Erin Thompson, who signed with the Tigers in January.  
"I heard about it through one of my friends, who's going there," Morrison said. "She told me they needed a middle blocker and that's my position. This club season I was on 501 Volley. She watched one of the highlight videos and we just started talking." 
Morrison finished with 202 career kills and 61 blocks during her Lady Panther career, earning All-Conference honors her junior season. She also played for 501 Volley and Saline County Chaos in club play.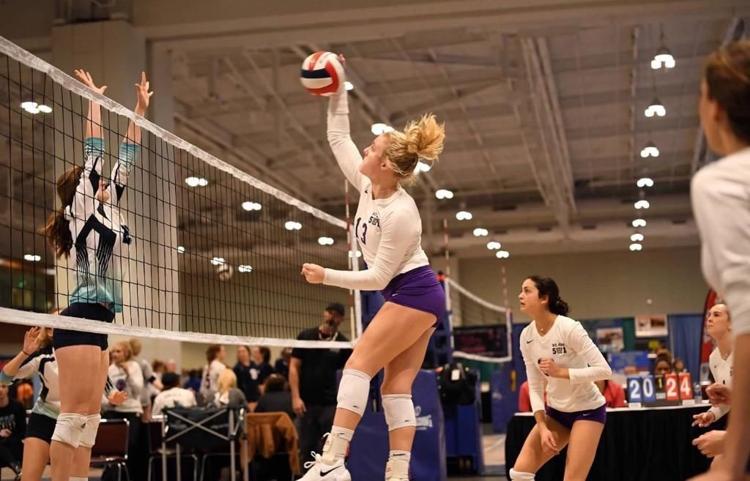 "Katie has been a large part of the Lady Panthers and the success we have had the last three years," Benton Coach Michelle Shoppach, who also coached Morrison in junior high, said. "I have worked with her and seen her develop since the eighth grade. What an outstanding young lady. She is a hard worker and an outstanding teammate.  
"Katie will take an infectious personality, an understanding of the game of volleyball – as a result of playing several different positions, her athleticism, and her competitiveness to one of the strongest junior college programs in the midwest. Coach (Steven) Gream runs their program like a four-year college program. It will be easy for her to take the next step after Cowley. Katie will excel in that environment." 
Benton assistant coach Rachel Dodson shared her thoughts on Morrison: "Forever when I hear the name 'Katie Morrison' I will smile and think of how many times she made me laugh and also reflect on how athletic and hardworking she was. She came to practice and games daily giving her best effort and always challenging herself to be better. You know an athlete is a great teammate when the entire team celebrates and explodes with excitement when she got a spike or block, and that's exactly what happened when she scored. Her joy, athleticism and passion will be greatly missed by the Lady Panthers, but Cowley College will be gaining not only an incredible player but also an incredible person."
Coaching Morrison during her sophomore and junior seasons before stepping down to take over the seventh-grade program, longtime Lady Panther Coach Brandy Chumley said Morrison's work ethic and personality stood out. 
"You could ask Katie to do something and she would give all her might to complete the task," Chumley said. "Katie amazed us with her jumping/athletic ability along with her big personality. We could always rely on Katie to tell it like it is (no matter what "it" is) and I could do the same with her. Katie's strong personality and desire to always do her best in all she does is going to make her successful in whatever she puts her mind to. Cowley College is getting a great kid and player."
Morrison, who plans to study nursing, is leaving one successful program for another. After helping the Lady Panthers to a 5A state runner-up finish, Morrison goes to a Cowley Tigers team which sports an .857 winning percentage (336-56) over the past 10 years, including two National Junior College Athletic Association titles.
"Katie brings a strong middle/opposite hitter presence to the team with her athleticism and excellent court vision that allows her to play strong at the net with her attacking and blocking abilities," Cowley Coach Gream said to cowleytigers.com. "She has the ability to do multiple things, run a variety of sets and gives us another weapon on both offense and defense. She will adjust to our fast-paced offense and run a variety of sets that our offensive system requires for a front-row hitter."
Morrison recalls making it to the state title game this past season, getting beaten by Jonesboro in the championship. 
"It was so uplifting to be able to get that far and so rewarding to get to play on that court through the tournament," Morrison said of Bank OZK Arena in Hot Springs. "We've played Jonesboro in tournaments before and the scores were never close. And then to finally play them in the state tournament one last time, it was just so rewarding being able to see them there. To play them and the scores were actually close, it was just hopeful. Of course, losing was heartbreaking, but we were still proud getting that far our last year."
But her fondest memory wasn't actually making the title game, it was the time spent with her teammates.  
"Probably my senior at the Missouri State camp," Morrison said of her most memorable moment. "We go there every year. We were in the dorm rooms, it was just all the seniors and we hung out for our last year there. We do it every year. It was just really fun to talk to them in the dorms one last time and hang out and joke around. We've been playing volleyball together since the eighth grade."