After a valiant effort in the first half when host Bryant Lady Hornets were down just three points at halftime, the Northside Lady Bears showed early in the third quarter in the quarterfinals of the 6A State Tournament why they went undefeated in a very tough 6A Central Conference and are ranked No. 1 in the state (maxpreps.com). 
The Lady Bears (26-3) started the third on a 10-2 run and never looked back on their way to a 66-44 rout over the Lady Hornets, which finish their season 17-11 overall after an 8-6 Central campaign, at Hornet Arena in Bryant. Northside advanced to face the Fayetteville Lady Bulldogs, which downed Cabot 53-37 on Friday, in the semis Saturday night in Bryant. The winner of the semis match will take on the winner of Bentonville, 62-45 victors over North Little Rock, and Conway, 73-56 winners over Har-Ber, in the 6A title game at Bank OZK Arena in Hot Springs on Saturday, March 14. 
"They're really good," Bryant Coach Brad Matthews said of the Lady Bears. "People watch one game and our kids gave great effort. There was a lot of good effort out there, but there's a reason they didn't lose a conference game, there's a reason they're the defending state champs, there's a reason they're the No. 1 team in the state. It just doesn't happen to us, it happens to everybody they play."
Down 14-11 after one on Friday, the Lady Hornets fought hard in the second quarter after getting down 16-11. Bryant senior India Atkins hit 1 of 2 free throws and senior Tierra Trotter had a steal and layup to get Bryant within 16-14 within the first minute.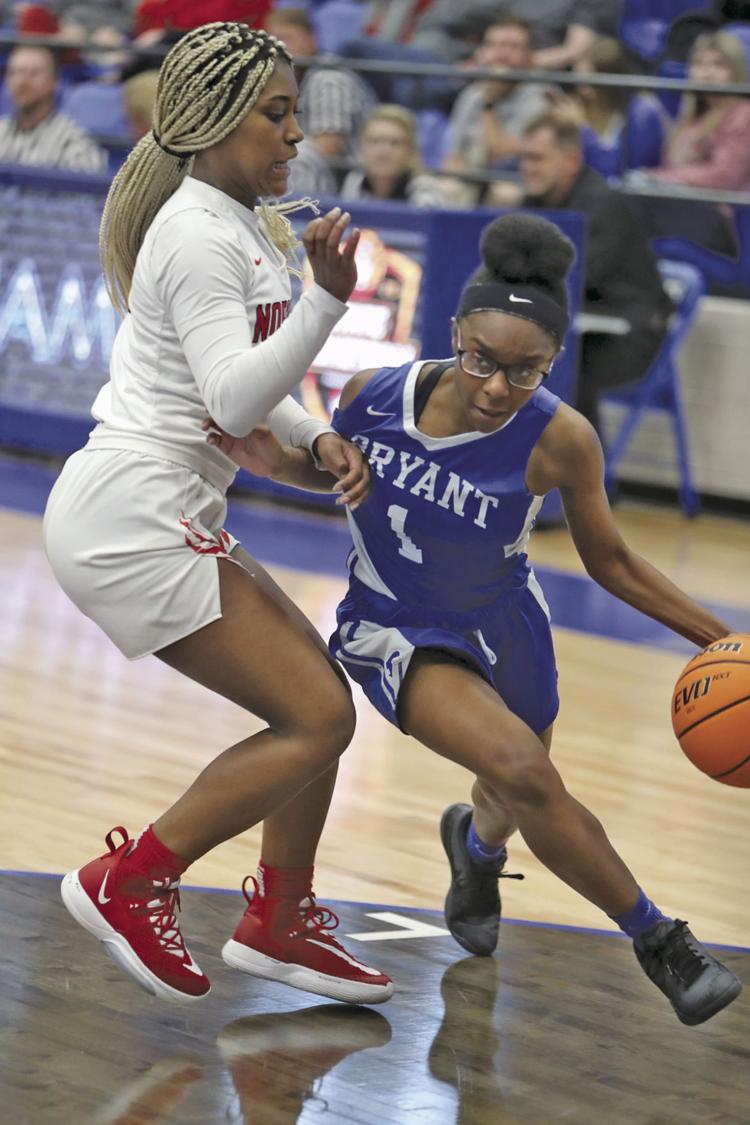 Northside senior Jazzlyn Coleman nailed a three assisted by junior Jersey Wolfenbarger to put the Lady Bears up five, but Trotter responded with a short jumper and an Atkins layup got Bryant back within one, 19-18, with 4:39 to go. 
Wolfenbarger, a 6-4 post player and 4-star recruit, had a layup assisted by junior Tracey Bershers to put Northside up 24-21, but Bryant senior McKenzie Muse had a big offensive rebound and put back, and another rebound and 8-foot jumper by senior Lexie Taylor gave the Lady Hornets their first lead of the game, 25-24, with 1:12 left to go in the half. But, Bershers had a bucket and hit 2 of 2 technical free throws, called on the Bryant bench, to put the Lady Bears up 28-25 at the half. 
"I was so proud of our kids in the first half," Matthews said. "To get it to halftime, in the game … they (Lady Bears) have so many great players. It's just one weapon after another. Our kids fought and scrapped to stay in there."
Wolfenbarger started the second half with a bucket that India Atkins matched to make it 30-27 early in the third, but the Lady Bears responded with an 8-0 run to take a 38-27 lead. Bryant sophomore Parris Atkins hit 1 of 2 free throws to stop the bleeding and get it within 10, but that's the closest the Lady Hornets would get as the Lady Bears finished the quarter on an 11-2 run to take a 49-30 advantage into the fourth. 
"We came out and missed a couple shots to start the third quarter, they made a couple and you could kind of feel the air go out of us," Matthews explained. "They're really good and they took advantage of some stuff we didn't do right. Give them credit, they're going to be a tough out." 
The Lady Hornets had their shots as they committed just six turnovers for the game, but Bryant could only hit 17 of 60 (28 percent) from the field, including just 5 of 31 (16 percent) from long range. On the other hand, Northside hit 23 of 41 (56 percent), and though they committed 18 turnovers (including 11 Lady Hornet steals), the Lady Bears dominated the boards, outrebounding Bryant 39-20 for the game. 
Trotter led the Lady Hornets with 17 points, four steals and two assists, while Muse added 11 points, seven rebounds and two blocks. India Atkins added eight points with Parris Atkins scoring six. 
For Northside, Wolfenbarger had a complete game with 20 points, 12 rebounds and five assists. Bershers had 18 points, six rebounds and four assists, sophomore Haitiana Releford had 10 points, six rebounds and four assists, and Coleman had nine points and nine rebounds. 
"I told our kids, 'Losing is no fun,'" Matthews said. "There's no way to sugar coat losing. But at the end of the day, there's only four teams further than we are, and three of them are going to get beat just like we did."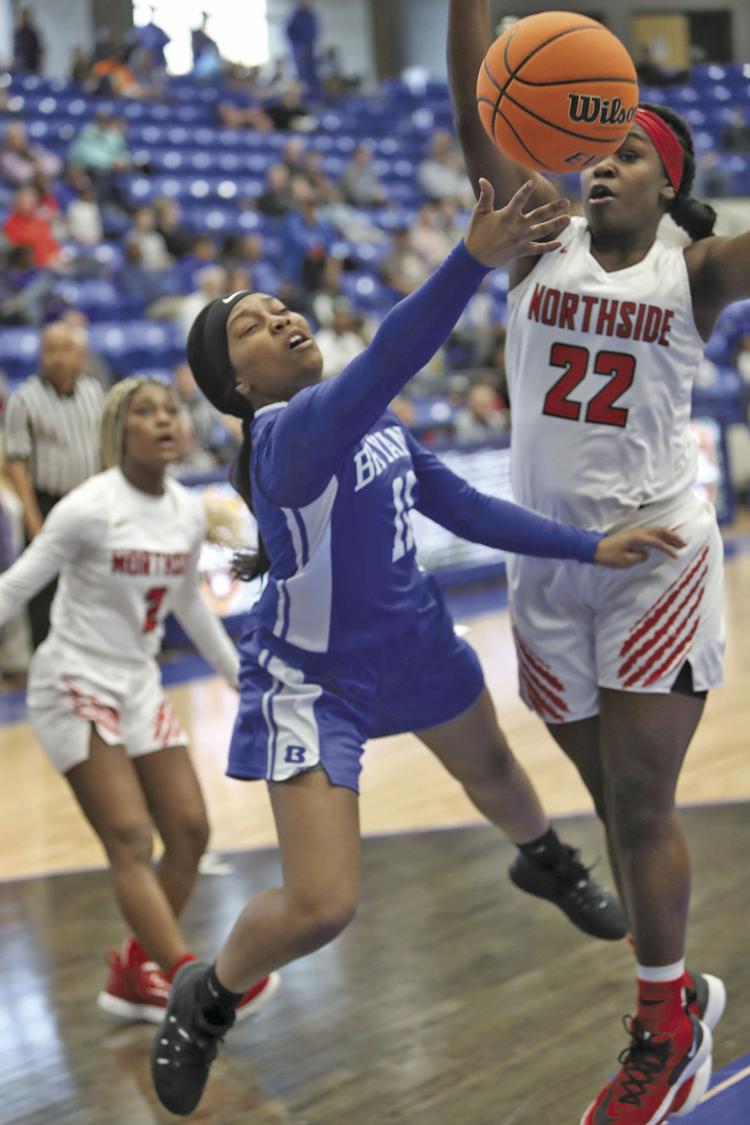 The Lady Hornets will say goodbye to eight seniors, including Celena Martin, Ivory Russ, Mady Scifres, Mekeycia Baker, Taylor, Muse, Trotter and India Atkins. 
"Our seniors really had a really good two-year run to win back-to-back games in the state tournament," Matthews said. "That's a tribute to them and all the work they put in to get to that point. Disappointed that we lost, but there was a lot of good things."