Enjoying a first-round bye in the 6A state playoffs after their seven-game win streak and undefeated 6A West Conference schedule, the Benton Panthers are back at it tonight on their quest for a consecutive title game appearance. 
Having home field throughout, the Panthers (7-3, 7-0 West) host the Jonesboro Hurricane at 7 p.m. at Panther Stadium in Benton after the Hurricane (8-3, 5-2 East) handled El Dorado 35-7 in last week's first round in Jonesboro. 
If tonight's matchup is anything like the two teams' matchups in the past, the game today should provide plenty of fireworks. Last year in these same quarterfinals, the Panthers were down 28-16 going into the final quarter before coming back to claim a 38-37 win for a trip to the semis. 
It was in 2016 when the Panthers faced the Hurricane in the quarterfinals again in Jonesboro as Benton came out on top, 56-52, in a back-and-forth affair to reach the semis before losing to eventual state champ Russellville. 
Tonight's game should be no different with a talented Hurricane coming to town. 
That begins with junior quarterback Cross Jumper coming off a career game against El Dorado, passing 22 of 27 for 291 yards and two TDs vs. no interceptions, while also running for two TDs and 59 yards. For the season, Jumper has thrown for 1,735 yards at a 58-percent clip, with 14 TDs and seven interceptions, while also second on the squad with 546 yards and six TDs on the ground.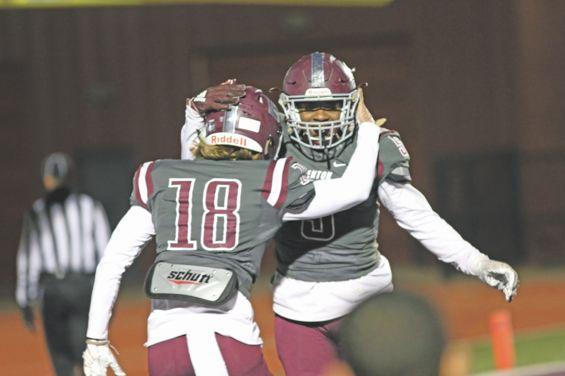 "He played last year as a sophomore and he's a year older," Benton Coach Brad Harris said of Jumper. "He does a really good job and also does a good job with his feet, and that's the thing that kind of scares you is he's a dual-threat guy. He's as good a runner as he is a passer, maybe even better. He throws the ball well." 
But, Jonesboro may be without their leading rusher, junior Albert George, who missed the El Dorado win after rushing for 1,023 yards and 11 TDs in 10 games prior. 
"He was on the sideline with an ankle injury so I don't know if he'll be back," Harris said. "He was in a brace and on crutches with no weight on it whatsoever. I don't know his status." 
If George is out, the Hurricane will rely on senior Dontarius McDonald (372 yards, four TDs for season) and junior Charlie Long (355, four TDs). 
"He (McDonald) ran the ball tough for them, too," Harris said. "They've got the weapons in the backfield and on the edge and Jumper does a really good job getting the football to them. 
Jumper's favorite target this season is senior receiver Dryden Bartels, who has 43 catches for 739 yards and eight TDs, while junior Connor Clark (21 catches, 241 yards, two TDs) and junior Will Barre (20, 321) are still key performers. 
"(Jumper's) go-to receiver the other night against El Dorado was his tight end Connor Clark," Harris said. "He did a really good job. He's a big-bodied kid, 6-3, 230. And then he's got two other solid guys. They do a really good job of spreading the ball around and getting it two their playmakers." 
While the Benton defense will have to deal with a talented Hurricane offense, the Panther offense will have to deal with a beast of a player in senior defensive end Jashaud Stewart, who leads Jonesboro in tackles (107), tackles for loss (21) and sacks (17). Senior end Jordan Flanigan adds 74 tackles, 13 for loss, and five sacks, with senior safety Jerrion Green leading the team with five interceptions. 
"The Stewart kid is really good. He's an Arkansas commit and he's probably one of the most explosive players we've played against in the last several years," Harris said. "He really wreaked some havoc on our backfield last year. We know we have to slow him down and try to neutralize him a little bit through the night. Guys like that are tough to block. We've got our hands full with him and they've got a couple of other guys up front that do a really good job, too. The defensive front is the strength of their defense."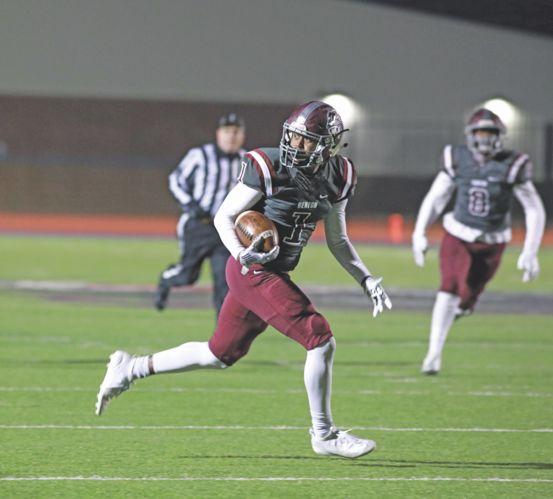 While the Hurricane's strength of their defense is the line, so is the Panthers with seniors Brett Barbaree, leading the county with 10 sacks, Caleb Coffman and Justin Walker manning the front, while senior linebacker Jaden Woolbright leads the county with 85 tackles and 27 tackles for loss. 
Junior quarterback Garrett Brown has followed up a great sophomore season with 2,269 yards with 18 touchdowns vs. nine interceptions, while being especially good in the second half the past three wins over Greenwood, Lake Hamilton and Sheridan, completing 26 of 32 passes (81 percent) for 474 yards and four TDs (no picks), after not so sharp first halves. 
"Garrett has played well at times. He's kind of gotten off to a slow start in a couple of those games with some interceptions, but the second half he's really played well," Harris said. "He's taken care of the football better in the second half." 
There may not be a better duo to throw to in the state with athletic senior receivers Gavin Wells and Peyton Hudgins combining for 87 receptions for 1,066 yards and seven TDs, while seniors Braxton Slaughter (30, 538, three TDs) and Braden Murdock (22, 245, four TDs) also greatly contributing.
The good news for the Panthers is they get offensive lineman Austin Jones back after missing an extended period of time.  
"We got some guys healthy and feel good about that," Harris said of the bye week. "We've got Austin Jones that's been out for like four weeks now. He's gone through some practices and we have him ready to go. Hopefully our offensive line is healthy and as close to full strength as it has been all year."
Cornerbacks Austin Drewry and Trevor Standridge are questionable for tonight's game. 
"This week we're going to have to come out in the first quarter and play well for four quarters," Harris said. "If you don't play for four quarters against Jonesboro, you're going to get beat. That's been the message to these guys all week, we've got to have a complete game."
The Benton Football Network will provide live radio on 106.7 FM The Ride, and live video streaming on YouTube at the Benton Football Network. Kickoff is 7 p.m.