Though mustering just five hits, the Benton Panthers were aided by 10 Pine Bluff walks to open the Benton Invitational Monday at Everett Field at Panther Stadium. The Panthers cruised to a 10-0 win as senior Dalton Pugh pitched four one-hit innings, allowing no runs and striking out seven with two walks.   
The Panthers (1-0) would get on the board early in this one as senior Kip Tracy reached on a one-out walk and went to third when senior Jaden Woolbright reached on an error. Junior Tristan Hawkins walked to load the bases before senior Adam Sims' infield single plated Tracy for the 1-0 lead. 
Woolbright would later score on a passed ball before Pugh helped his own cause with a 2-run double to left field for the 4-0 lead after one.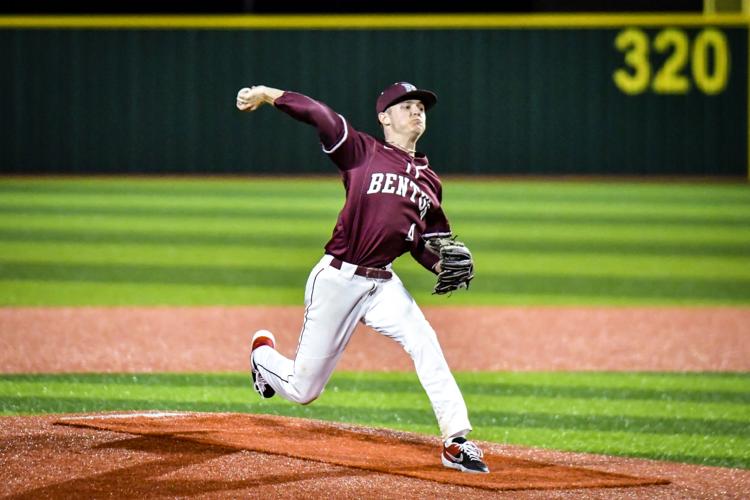 It remained a 4-0 game until the fourth inning when junior Aidan Garrett tripled in sophomore courtesy runner Jake Green and Garrett scored on Tracy's RBI ground out for the 6-0 lead after four.
Garrett relieved Pugh on the mound and struck out every batter he faced before the Panthers ended the game early in the bottom of the fifth. Five straight one-out walks, the final two by freshman Jake Jones and Garrett resulting in two runs, preceded Tracy's RBI single to right for the 9-0 lead. Woolbright ended it with a single to left field, driving in the 10th run and invoking the sportsmanship rule of being up 10 runs after five innings. 
Garrett, Tracy and Pugh all drove in two runs with a hit, while each also scored a run. Woolbright and Sims also had a hit, run and RBI in the win. 
The Panthers will play next in the semifinals of the Benton Invitational on Thursday vs. the Catholic Rockets, which defeated the Searcy Lions 11-3 Monday in the first round. Searcy plays Pine Bluff in the loser's bracket today at 7 p.m. at Everett Field at Panther Stadium.