Taking their first two games of the Benton Classic at home at Benton Arena Thursday and Friday, the Benton Panthers would drop their first game of the season in the Classic finale Saturday. Benton fell to Greene County Tech 54-47.
The Panthers would make it a four-point game with about a minute and a half remaining, but a missed layup stopped that momentum and Greene County Tech was able to hit free throws down the stretch to stop Benton's hot start to the season. 
"We felt like we just ran out of time," Benton Coach Dexter Hendrix said. "We had a lot of momentum going and felt like that was a big possession (missed layup)."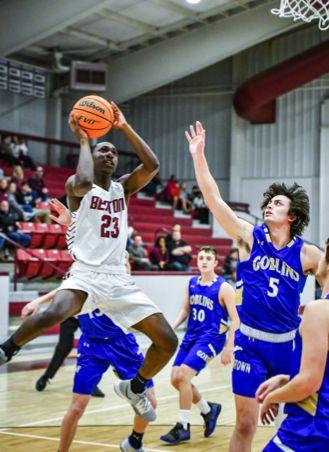 But despite the loss, the Panthers (7-1) got some good competition heading into the Spa City Shootout Thursday, Dec. 26, against the Fountain Lake Cobras at Bank OZK Arena in Hot Springs. Tipoff is 11:20 a.m.
"These were some of the best three teams we've played this early in the season," Hendrix said of opening with Harrison and Texarkana (Texas). "Greene County Tech was a very veteran, seasoned team that played really, really well. They shoot the ball extremely well. They put four guys on the floor at all times that really shoot the 3-ball really well. It was a great challenge for us. We were fortunate to get three games against really good competition."
The Panthers got off to a slow start Saturday against GCT, trailing 15-5 after one before being down 30-20 at the half. Benton outscored GCT 15-9 in the third for the 39-35 deficit, but couldn't complete the comeback. 
Benton senior Jalen Cox again led the Panthers, scoring 14 points, with fellow senior Ethan Hilkert adding seven. Junior Russ Hooks had six and sophomore Gabe George five, while junior Jaylen Bell and Kolby Payne had four points apiece. 
"I thought Jalen Cox played really well again," Hendrix said. "These past three days of the Classic, I thought Gabe George and Russ Hooks played really well, gave us a spark off the bench. They got better the last three days. Ethan Hilkert did some good things as well."