The Benton Panthers are back at it tonight after a much-needed off week and 0-2 start to the season. Benton heads to Cabot (2-0) to face the Panthers from the north at 7 p.m.
"I felt we got better, trying to get some guys healed up," Benton Coach Brad Harris said. "This week we've had solid practices all week. We haven't had a bad one. They've been pretty focused and we feel like we've got a chance to win this week against a good Cabot team. We know we have to play well."
Not only has Benton started 0-2 this year, they lost many players due to injuries through the first two games, losses to defending 7A champion Bryant in the Salt Bowl and 4A defending champion Arkadelphia two weeks ago. But, Benton returns the majority helped by the bye. 
"We've got Garrett Brown (bruised sternum) back at quarterback," Harris said. "He actually practiced the off week, too. We'll have Peyton Hudgins (concussion) back, we'll have D'Anthony Harper back (concussion). Those are three guys to give us a huge shot in the arm offensively. 
"Also, Braxton Slaughter (cramps), he didn't play the second half of the Arkadelphia game, we've got him back."
The Panthers also return some key defensive starters, including cornerbacks Trevor Standridge (concussion) and Cade Clark (shoulder), and linebacker Gavin Davis (ankle), tentatively, but are likely without senior cornerback Austin Drewry, who leads Saline County with three interceptions, and senior linebacker Trae Maxwell.   
"The two guys we don't think we'll have is cornerback Austin Drewry because of a groin issue, and Trae Maxwell, a linebacker, has a deep quad bruise and is having a tough time with that," Harris said. "We're probably going to keep him out another week and get him ready for conference play."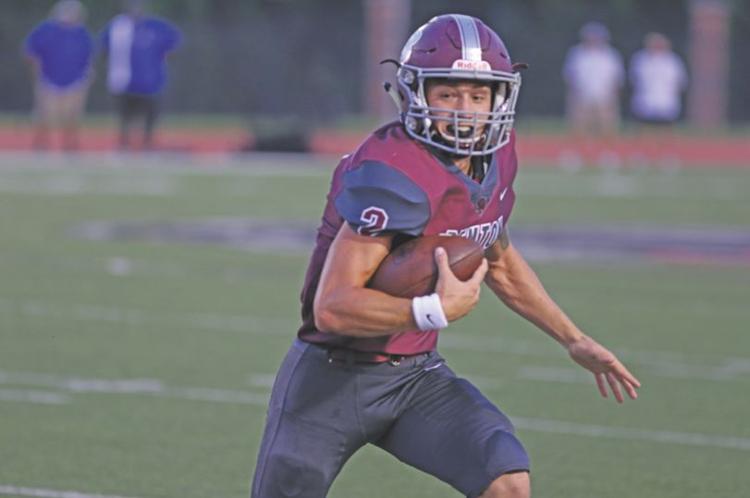 That Benton defense will have to contend with a Cabot offense that has seen some success this season (43-19 win over Pine Bluff, 35-14 win over El Dorado) with junior quarterback Tyler Gee, who has passed for 263 yards and three touchdowns, leading the offense. 
"He's very solid," Harris said of Gee. "He's very comparable to a Garrett Brown type player. He throws the ball well. I think Garrett has a (more live) arm than he does, but he's a headsy kid, throws it around."
Gee's favorite target by far is senior receiver De'Kairo Rudolph, a 6-2, 185-pounder who leads Cabot with 13 catches, 208 yards and three TDs. 
"They've got one receiver, Rudolph, he's their guy they're going to go to," Harris said. "When you look at their stat line, all of their other receivers combined, he's got more catches than them. They're going to go to him and we know that. He's their big-play guy. 
"They've made some plays. They've been very fortunate, very opportunistic. Field position has been great for them. They're taking advantage of that offensively and put up some points."
Though Cabot senior running back Graham Turner has gotten off to a semi-slow start with 123 yards rushing (2.7 yards per carry), he has rushed for five TDs this season and rushed for over 100 yards in Benton's 56-41 victory over Cabot last year. 
"Their running back is a solid little guy," Harris said of Turner. "They don't have big-time rush stats, but they do a solid job in the run game and they like to hit the big play with Rudolph."
For Benton, Hudgins started against Bryant at quarterback before getting injured, but will focus more at receiver against Cabot with Brown taking the starting quarterback reins against a stout front seven for Cabot.  
"Their two interior defensive linemen, 59 (Hayden Matthews) and 98 (Hunter Horka), are really good, and No. 30 (Justin Underwood), their middle linebacker, they're real strong in the middle of their defense," Harris said. "They get downhill and do a really good job. They're physical up front and they do a good job with their front seven and try not to get beat over the top. We've got to do a good job of throwing the football around and execute plays on the perimeter. Perimeter blocking is going to be a big key this week." 
With a week off to heal, Benton looks for its first victory before hitting 6A West Conference play. 
"I really like where we're at at getting our guys back this week," Harris said. "I feel like we're probably as healthy as we've been this year. Even going into the Bryant game we had a couple guys banged up. Getting Peyton back, getting D'Anthony back is huge." 
The Benton Football Network will provide live radio on 106.7 FM The Ride, and live video streaming on YouTube at the Benton Football Network. Kickoff is 7 p.m.