The Benton Panthers had a huge win last week against the top 6A squad in the state, not to mention two-time defending champion Greenwood Bulldogs last week. Benton's 45-38 victory at Panther Stadium snapped Greenwood's 19-game win streak and gave the Panthers their first win over the Bulldogs, previously 0-5.
"It's a huge win for our football program," Benton Coach Brad Harris said. "Greenwood came in with a 19-game win streak. We were 0-5 against them over the last five years, but to get a win over those guys was huge. Since I've been at Benton, you talk about 6A football, you talk about Greenwood. You have to go through Greenwood, regardless if it's a regular-season game or a playoff game. You beat them you feel like you've accomplished something. 
"It's probably the biggest win for our program since we beat Pine Bluff at Pine Bluff in 2014. It's just a big win for us. We've had some big wins with the one over West Memphis last year in the semis, 2016 at Jonesboro upsetting the No. 1 seed. We've had some good wins, but when you beat Greenwood, not a lot of people can say that. A lot of people can't say that over Rick Jones' tenure since 2003, he hasn't lost a whole lot of games. Any time you can beat them, it's a big win."
But, the Panthers (5-3, 5-0 West) don't have time to pat themselves on the back as they face another tough test at Lake Hamilton tonight against the undefeated Wolves (8-0, 5-0). Whoever wins tonight will get a least a share for the 6A West Conference crown.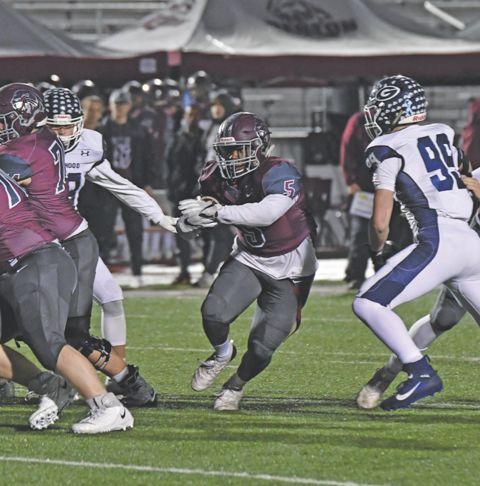 "We've had a good week of practice," Harris said. "You kind of worry about having that hangover after a big win like that. The guys have come in and practiced well this week. They kind of understand what's at stake. I think we'll be ready. They know if we win, we win the conference championship or a share of it at least. We win we get the No. 1 seed and that's huge to have home field throughout the playoffs."
The Wolves edged a very much-improved Sheridan Yellowjackets team, Benton's season-finale next week, 17-10 last week as sophomore running back Owen Miller rushed for 178 yards and a touchdown on 16 carries, with fellow sophomore Tevin Woodley going for 82 and a TD as well. Lake Hamilton didn't attempt a pass last week. 
"They like to run the football," Harris said. "They're a really good team with the Wing-T and that's what's kind of concerning to us. We haven't seen an offense like theirs all year. It's hard to prepare for, to simulate in practice." 
For the season, Miller has gone for 1,268 yards on 134 carries (9.5 yards per carry) and 16 touchdowns, while Woodley is almost at the 1,000-yard mark with 963 (7.3 average) and 18 TDs. 
"They're good. The thing about it is they're sophomores that do a really good job," Harris said of the running back duo. "Last year we played them in junior high and they were really good backs and they're both starting for the varsity team this year. They've done a really good job with them. 
"They run the ball with two different styles. Miller is kind of the tailback and gets on the edge a lot. Woodley is a big fullback, kind of bruiser. They run him with the fullback trap. He does a good job. He's a bigger-bodied kid. Two different styles and they both run it really well, and they get a lot of opportunities. With the misdirection of the Wing-T, if you don't do a good job with eye discipline it can give you problems. You have to do your job and not too much, making sure your eyes are in the right place pre-snap."
Junior quarterback Layne Warrick manages the game well, passing 26 of 42 for 539 yards and three TDs vs. one interception. Warrick is third on the squad with 485 yards on the ground, including eight TDs. 
With injuries to the offense limited, the Panthers are hitting their stride at the right time as senior D'Anthony Harper rushed for 122 yards and four TDs, matching his season TD total, while also catching a 55-yard pass last week, bruising Bulldogs  defenders to get to the red zone, eventually leading to a score. 
Junior quarterback Garrett Brown also had a solid game, throwing for 277 yards and a TD (one pick) on 16 of 25 passing, including 8 for 10 and 209 yards in the second half. Senior receiver Gavin Wells had a nice return after a three-game absence with seven catches for 74 yards and a TD. 
But, the injury bug hasn't totally gone away as their will be a couple starters out against the Wolves tonight.  
"Defensively we will be without Austin Drewry, a corner," Harris said. "Last week against Greenwood he got a small fracture in his foot. He's in a cast right now for two weeks. If we're going to lose a corner, this week and next week is probably not a bad time to lose him because we're playing teams that don't throw it around as much. 
"We're still going to be without Austin Jones, an offensive lineman. We were hoping to get him back this week, but he's just not quite healed enough. We feel like we can get him back for a playoff run." 
The Benton Football Network will provide live radio on 106.7 FM The Ride, and live video streaming on YouTube at the Benton Football Network. Kickoff is 7 p.m.