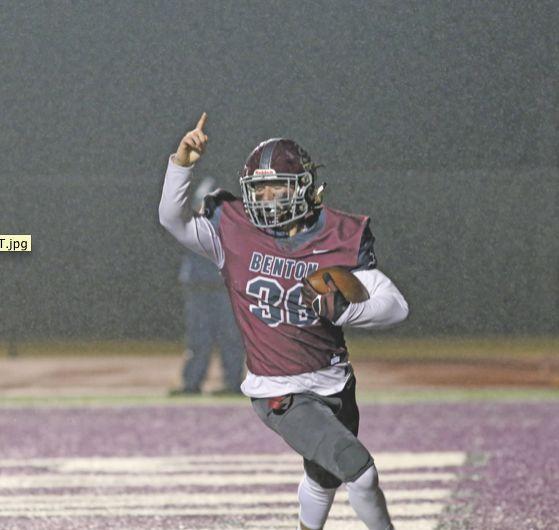 Just like the weather, Friday night's 6A state quarterfinals game between the South No. 1 seed Benton Panthers and East No. 4 seed Jonesboro Hurricane wasn't pretty, but the Panthers would hold a shutout most of the game in an eventual 18-7 victory over the Hurricane during a steady mist at Panther Stadium in Benton. 
The victory, Benton's eighth straight, sets up a semifinals rematch with the West Memphis Blue Devils, which eked by the Lake Hamilton Wolves 33-28 on Friday, but this time the Panthers won't be traveling to east Arkansas. Benton and West Memphis will kick off at 7 p.m. at Panther Stadium the Friday after Thanksgiving. 
"Real proud of our guys," Benton Coach Brad Harris said. "We played a really good Jonesboro team. I thought our defense played great. We had a shutout going into the last five minutes of the ballgame and we gave up a play. Good teams are going to find a way to score and they did, but I was proud of our guys for hanging on."
Read the rest in Saturday's edition of The Saline Courier.