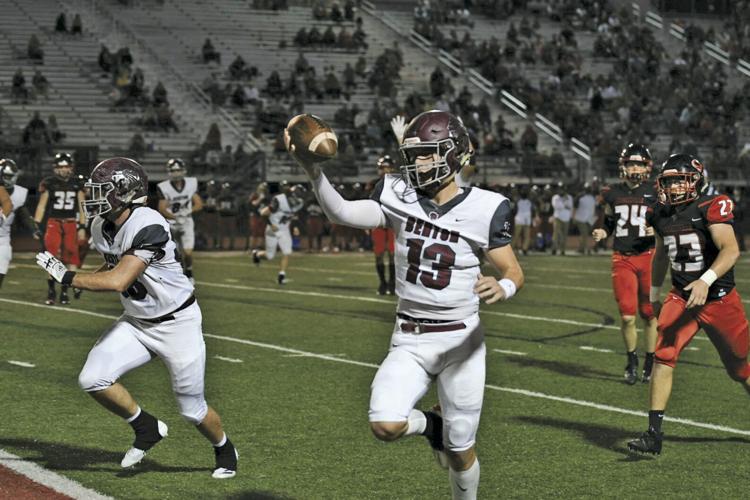 It was a classic Benton Panthers vs. Russellville Cyclones game. With both squads 1-2 entering play in the 6A West Conference, the Panthers picked up a huge road win, recovering an onside kick late to quell the Cyclones comeback attempt in a 47-40 victory Friday night in Russellville. 
"Both teams played hard, both teams made a lot of mistakes," Benton Coach Brad Harris said. "At times, it seemed like nobody wanted to win because they were letting the other team take advantage of them. The guys made some big plays when we needed and we hung on for the win. That's what I was proud of in the fourth quarter and it's good to see." 
Benton senior quarterback Garrett Brown broke the Panthers all-time touchdown record in the process, giving him every major passing record in Benton history, and junior running back Casey Johnson was a workhorse, rushing 36 times for 250 yards and two TDs in the victory. 
"We needed to do that with Casey," Harris said. "They had a hard time tackling late in the game and that's Casey's game right there. We have to continue to do that. That's a heck of night. He had a big night for us and those are the kind of football games we need to win. We made some plays in the passing game, but we don't need to live and die with that." 
The Panthers (2-2, 1-0 West) would claim victory despite four turnovers to the Cyclones zero, and that turnover bug started early for Benton. After Brown hit senior receiver Jordan Parham for a 16-yard gain, Parham fumbled it away and it didn't take long for Russellville (1-3, 0-1) to get on the board.
Read the rest in Saturday's The Saline Courier.