After making it to the 6A title game last year, only to fall to powerhouse Greenwood 45-14 at War Memorial Stadium in Little Rock, the Benton Panthers began this season with three straight losses, making it four consecutive including 2018's championship game loss. 
Since a 37-28 defeat at Cabot in Week 3, the Panthers have won nine straight games, including avenging the title game loss against Greenwood (45-38) in Week 8, and have returned to the championship game in back-to-back seasons for the first time in school history. Also making the title game in 2014, the Panthers will be looking for their first state championship since 1977. 
"I think it's very special to do that two years in a row," Benton Coach Brad Harris said. "It's tough to get to one, but to be able to do it in back-to-back years when a lot of people had us counted out when we started 0-3 … for our guys to pull it together, our coaching staff has done a great job of continuing to come to work every day like our players did." 
But, the Panthers will not be facing Greenwood in the title game this year. The Searcy Lions would avenge last season's 35-0 quarterfinals loss to Greenwood two Fridays ago, outgunning the Bulldogs 50-38 to reach the championship vs. Benton, set to kick off tonight at 6:30 at War Memorial.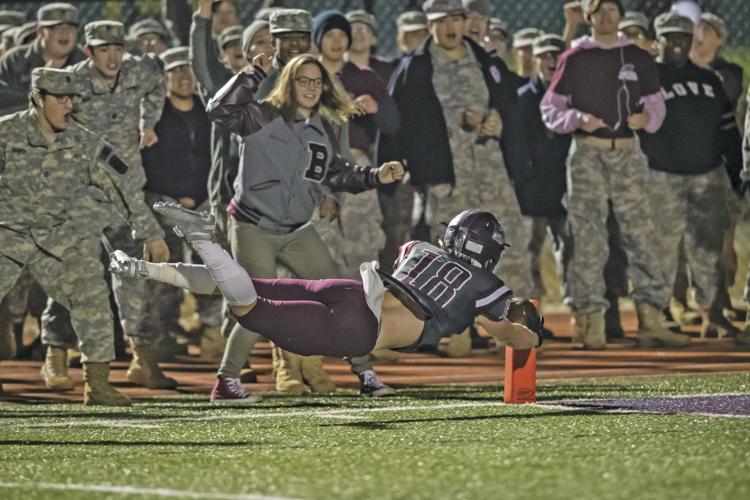 The Lions are used to outgunning their opponents this year with an 11-1 record with their lone loss coming against the Jonesboro Hurricane (44-34) in Week 8. Since that loss, the Lions have won four straight, including a 55-15 rout over Pine Bluff in the quarterfinals and held on in the semis vs. Greenwood. For the season, Searcy has averaged 45.3 points per game, while giving up 23.7.
For Benton, the Panthers are averaging 36.3 PPG, giving up 27.3, but have been very similar to Searcy during their nine-game win streak, averaging 41.4 and giving up 24.0, including beating Jonesboro 18-7 in the quarterfinals and whipping West Memphis 63-35 last week in a semis rematch in Benton. 
The main reason the Lions have been winning shootouts all season is senior quarterback Bryce Dixon. Dixon has thrown for 3,648 yards (258 of 435 for 59 percent) with 41 touchdowns vs. nine interceptions, including throwing for 10 TDs the past two playoff games, including 30 of 43 for 449 yards and five TDs against Greenwood in the semis. 
"They're very dynamic on offense and it all starts with their quarterback," Harris said. "He's very good with his feet. He's always looking to throw the football. He keeps the play alive, able to scramble around, quick in the pocket. That's what makes him dangerous."
Dixon has plenty to throw to as the Lions have five players with at least 24 catches, led by senior Tanner Leonard's 81 receptions for 1,295 yards and 11 TDs. Junior Marlon Crockett leads the way with 13 TDs on 59 receptions for 941 yards, while senior Griffin Love has 55 catches for 800 yards and nine TDs. 
"They've got four really good receivers," Harris said. "No. 1 (Crockett) is kind of their big-play, over-the-top guy. No. 7 (Leonard) is their slot receiver has like 1,200 yards receiving on the year, so they've got two guys right around that 1,000-yard mark. He's (Leonard) kind of their go-to guy, he's their underneath guy who can get over the top on you if you're not careful. Then they've got two guys to go with them. No. 11 (Dallas Loftis) and No. 20 (Love) both do a really good job."
And if the Searcy passing game wasn't potent enough, the rushing game has rushed for over 2,000 yards with senior Johnson Guthrie leading the way with 1,089 yards and 15 TDs, and senior Damien Young going for 640 and eight TDs, catching 24 for 271 and five TDs. Dixon also has ran for 283 and six TDs. 
"They play two running backs," Harris said. "No. 42 (Guthrie) is kind of their hammer, runs the ball real well, and then No. 5 (Young) comes in and he's kind of a dual-threat guy. You've got a lot of weapons out there and their offensive line does a pretty good job." 
It will definitely be a tough test for a Benton secondary, which has been prone to giving up the big play this season, but has been much improved of late. It helps that the Panther defensive front has been dynamic all season getting to the quarterback with senior defensive end Brett Barbaree leading Saline County with 12 sacks and is second in tackles for loss to fellow senior linebacker Jaden Woolbright's 29 with 21 TFLs of his own. It's Woolbright who leads the county with 105 tackles, while sophomore safety Cain Simmons has 99 on the year and has been huge in the playoffs. 
In fact, five Panthers are in the top five in TFLs with senior linebackers Bryce Golleher and Monterio Mack downing 11 each behind the line of scrimmage, and senior lineman Caleb Coffman dropping 10, not to mention junior nose guard Justin Walker providing an anchor in the middle, oftentimes taking on two offensive linemen himself and freeing his teammates to make plays. 
"We're going to have to play really good defense," Harris said. "One of our weaknesses this year has been giving up big plays, so hopefully we can protect against that. Make them earn some things and let them make some mistakes. We think our defensive front is as good as anybody they've seen and we're going to try to do a great job putting a lot of pressure on the quarterback." 
As for the Benton offense, the Panthers haven't been too shabby either. Junior quarterback Garrett Brown, The Saline Courier Athlete of the Week after passing for a career-high 471 yards and six TDs in last week's semifinals, has thrown for 2,828 yards on 204 of 342 passing (60 percent) with 25 TDs vs. 10 interceptions on the season. 
Brown has a plethora of Panther receivers to throw to in senior Peyton Hudgins, who has 48 receptions for 673 and two TDs. Seniors Braxton Slaughter (39, 625, 4 TDs) and Braden Murdock (27, 296, 5 TDs) have also been very key in the passing game as well. 
"We've got Peyton Hudgins, Andre Lane, Braxton Slaughter, (Jaden) Nash, Murdock and Cameron Harris, still," Coach Harris said. "We had eight different receivers catch balls last week and five of them scored touchdowns. We're going to have to count on some guys to step up."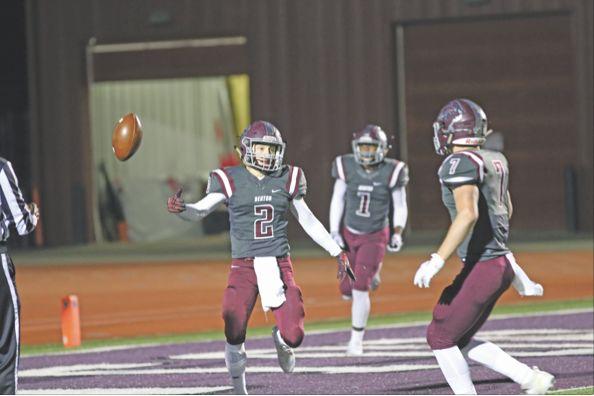 Still without senior running back D'Anthony Harper, the Panthers will again rely on sophomore running back Casey Johnson to take the lead in the run game after going for 733 yards and 11 TDs on the ground this year. And with the Benton offensive line healthy for the first time last week, it showed as the Panthers tied a season high with 63 points against West Memphis, also putting up 63 against Sheridan in the regular-season finale. Defensive back Dylan Burnham will also miss due to a hamstring injury. 
"We're down two starters and still missing (running back) D'Anthony (Harper) but it's been like that all year for us and we've had guys step up during this nine-game stretch," Harris said. "We like our matchup even with the guys we got going into this. We feel like we can move the football. The one thing I do like is we have all our offensive line guys healthy."
The Benton offense will go against a couple of tackling machines in Searcy senior linebackers Hayden Miles (130 tackles, 11 TFLs) and Branden Benson (129 tackles), with senior end Braden Dodds adding 78 tackles and 10 for loss. Sophomore Daniel Perry leads the way with five picks, adding 56 tackles, with sophomore safety Reid Miles intercepting four. 
"We really had a good week," Harris said of practice. "I've been real pleased with our effort this week, the mental focus we've had. We've really backed off of some contact this week and try to get some guys completely 100 percent ready to play physically. We feel like we're ready to play. We've got to hold their offense down and score some points with them." 
Fans can listen to the final at War Memorial on 106.7 The Ride, with pre-game beginning at 6 p.m.
"We've gotten a ton of community support," Harris said. "Our school supports us fully and you just can't say enough about everything we've had given to us this year and all of the support we've got. It's just been a great experience and hopefully we can bring the big title back to Benton this year."