With a 47-40 win in a classic match against the Cyclones in Russellville to kick off 6A West Conference action, the Benton Panthers return home to host a team brimming with confidence. The Siloam Springs Panthers stand at 3-1 overall, 1-0 in the West after edging Van Buren 43-42 last week, and are winners of three straight. 
Since a season-opening loss to Rogers, Siloam Springs defeated Pea Ridge 55-21 and Harrison 34-14 before last week's victory over the Pointers. It's been the offense which has led Siloam to success as the Panthers from the northwest average 43.5 points per game. That potent offense begins with junior quarterback Hunter Talley, who has thrown for 675 yards and seven touchdowns, vs. just one interception, at a 69-percent clip, and also leads Siloam with 335 yards and eight TDs on the ground.  
"He is the key to get them started and get them going," Benton Coach Brad Harris said. "He's a big kid, 6-4, 215, runs the ball really tough. If you hit him before he gets going, you can have some success, but once he gets downhill you're in trouble. He's a really good player for them. 
"Last year he played some defensive end for them. That should tell you he likes the physicality of the game."
Though Talley is efficient under center and a tough runner on the ground, he's not the only Siloam player to have success on the ground, the NW Panthers' strength on the offensive side.  
"We're going to have to do really well in the run game," Harris said. "That seems to be their strength, trying to run the football with a lot of gap run game and getting those big linemen out on you. We're going to have our hands full trying to stop them.
"They don't try to throw it a ton, but they're very effective when they do throw it because their run game is really good. They'll get you down heavy in the run game and they'll take their shots over the top of you."
Other than Talley on the ground, senior Camden Collins (6-2, 180) averages 8.6 yards per carry for his 327 yards and four TDs, and junior Zachary Gunneman (5-7, 165) has ran for 301 and three TDs at 7.2 YPC.  
"Collins starts for them at linebacker also," Harris said. "He brings that physicality. Gunneman is a little shorter and they use him a little different. They flex him a little and try to get him on the edge. Two different styles of run game, but they both run the ball solid."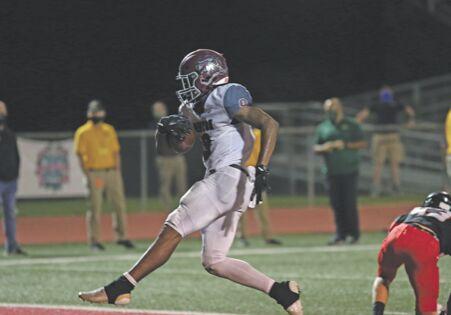 Collins leads the Siloam defense, too, with 38 tackles, four for loss and two sacks.  
"He's probably their best defensive player, linebacker-wise," Harris said. "Their defensive line is solid. They're not real flashy, they're not stunting and blitzing a lot, but they do a really good job of making plays. They're good-sized kids. They're trying to play gap control defense and make you bounce everything to the outside if they can."
With Siloam Springs averaging a lot on offense, it also gives up a lot of points on defense per game (32.3), so Benton (2-2, 1-0), averaging 31.5 PPG, could take advantage. The Panthers got a shot in the arm last week as junior Casey Johnson was a workhorse rushing 36 times for 250 yards and two TDs, jumping from seventh to first in Saline County in rushing yards with 442. 
"We want to run the football every game," Harris said. "We were fortunate last week that we found some things that were really working for us. We stayed with it. We had a lot of run/pass option in the game plan last week and it worked out real well. 
"(Quarterback) Garrett (Brown) did a really good job of reading that. You're going to see a lot of that this week, too. We feel like we have some matchups in the run game, but also we feel like we have some matchups on the back end of their defense. We're a lot more successful as a team when we're balanced and able to run the football more."
Speaking of Brown, the senior quarterback finished his quest of breaking every major Panther passing record with his two passing TDs against the Cyclones. Brown surpassed former Panther Cason Maertens' career record of 52 TDs, now with 53, and also holds the career record in completions (435), attempts (742) and passing yards (6,164), all previously held by Maertens, and has over half a season to add on to those numbers. 
"That's great for our football program and Garrett Brown," Harris said of the records. "It shows we've had a lot of success. We want to be a program that's playing deep into the playoffs every year. Garrett's been a part of that playing in two state championship games. Hopefully we can get him back to that and add on to those records. That's going to be tough to break. 
"We've been fortunate to have good receivers and he's been fortunate to have good receivers every year. This year we've got some guys we think we can throw it to."
Without junior safety Cain Simmons and senior linebacker Gavin Davis last week due to COVID-19 protocols, Benton will return Simmons tonight, but will be without Davis again, with Davis' return day Monday. Davis said no new Panther will be out due to the protocols.
Benton and Siloam Springs kick off at 7 tonight at Panther Stadium in Benton. For those who cannot make the game, it will be available with Jim Gardner and Terry Benham calling on 106.7 The Ride, and also on a $20 pay-per-view basis at mmproductions.net/bentonlive. Tickets will not be sold at the stadium, but can be purchased at Big Red on 620 Military Drive in Benton up until game time.