As per Gov. Asa Hutchinson's order for the Directive for Community and School Sponsored Team Sports, Saline County schools were able to return to school for weight training and workouts this past Monday, with limited capabilities during this Phase 1 opening. 
Benton Athletic Director Scott Neathery said the Panthers are going "by the book" with this initial opening, as all spring sports seasons were canceled since March 12 due to the coronavirus COVID-19, which is still ravaging Arkansas and the United States. 
"Whatever the health department guidelines are to return to team sports through the AAA (Arkansas Activities Association), that's what we're doing," Neathery said. "We're going by the book with the guidelines. Right now it's baby steps. I've talked to several ADs around the state and I think everybody is going by the book and take baby steps and get it done. Hopefully by July we can get to Phase 2 and it will look a little more normal."
There are plenty of general requirements located on the Arkansas Dept. of Health website, which Benton plans on following to a T, but Neathery and Benton coaches are just happy to see some familiar faces after almost three months of no contact, other than via phone, Google Classroom, Zoom, FaceTime, etc.
"Right now, all of our coaches are glad just to be able to see the kids again," Neathery said. "Let's get them in here, get them acclimated and get them back in shape. Get going. I know our coaches didn't know what the attendance would be like. Didn't know if some parents would still be a little scared to send them, or whatever, but I know all the attendance for all the sports has been very good. It's been better than what we thought it would be."
That good attendance for the opening week is encouraging.
"I think people are ready to get back to normal," Neathery said. "I think the kids are ready to be part of a team and that type of stuff. The bottom line is sports and being involved with a team is important to the development of a kid, a student. It's super important to be a part of something. I just think it was important for us to go ahead and open up and start Phase 1. Even though it's baby steps, it's still an important phase for us to get the athletes going and back involved."
Of course, with the spring sports seasons lost, Benton and the rest of Saline County schools are focused more on getting back in shape for the fall sports, which basically begin just before or after school starts.  
"The ones that are normally getting going right now," Neathery said. "Volleyball, football, tennis, (golf) and cross country because those are the fall sports. Those are the ones we've really been focusing on. These are the ones that are going to have priority in Benton right now. Basketball is also big and they need to get some summer work as well. You can't go full bore, but you can do something and that's better than sitting at the house."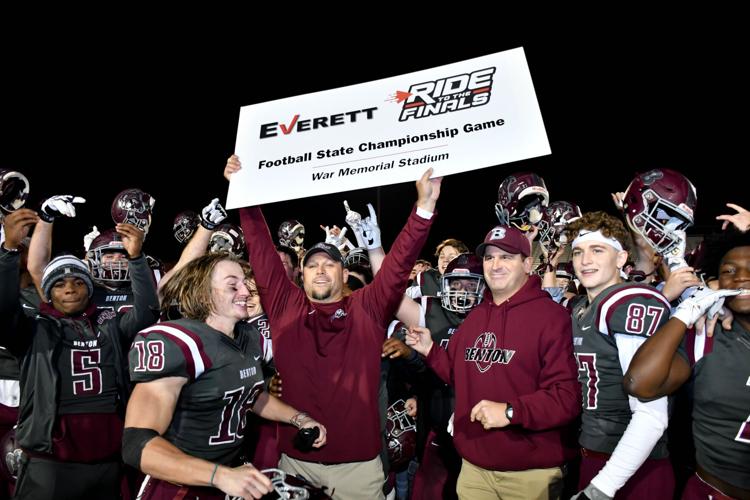 Panther football Coach Brad Harris has been pleased with the turnout and explained what limited activities Benton has been doing since Monday's opening of Phase 1.  
"It's been going good," Harris said. "We've been bringing our guys in in different shifts. This week we've stayed on an hour rotation. We did 30 minutes of turf work which consisted of flexibility, change of direction movement, some speed work. Then they rotated in the weight room for 30 minutes. When that group rotated from turf to weight room, we brought another group to the turf. Then we dismissed them."
And Harris was surprised by the attendance of athletes. 
"It's worked out real well," he said. "I was really pleased. I didn't really know what to expect Monday. We have like 106 on our roster and that's with every ninth-grader that's going to be a sophomore. We had 94 on Monday, 92 Tuesday and 91 on Wednesday. We were probably around 85 (Thursday) and I had several baseball kids that were leaving to go to a tournament. We've been upper 80s and 90 every day. Great numbers. I was expecting hopefully maybe 60 to 70 kids because I didn't really know what to expect, so numbers were good."
But as can be expected, there were plenty of Panthers out of shape with the long layoff, so this Phase 1 of no contact should be helpful with the football season starting less than three months away.  
"We had four good days," Harris said. "A bunch of kids were out of shape. We've got some in really good shape and then we've got some you can tell they haven't done much in 11 weeks. It's been good just getting them back on campus, getting to see some faces and everything."
Harris said it's been an all-out group effort in the Phase 1 return and explained the process of receiving athletes and coaches. 
"The first thing we do as coaches is we check each other with temperatures and document everything," he said. "We've got a page where we document every coach that works each day. What we've been doing is having all of our coaching staff, seventh through 12th grade, come in and help. So we get our high school kids out, and then our ninth-graders come in and then our eighth-graders so all of us are helping each other, documenting our times and workouts. 
"The kids basically come in and go underneath the big scoreboard at the garage door. We get them in lines and we've got certain coaches asking questions and some coaches popping thermometers and then some that are documenting. We're spread out and got them working. We've got them going in an assembly line type thing. We get them checked in and they go to a spot on the turf. That way they're distanced from each other.
"We ordered each kid little masks they can wear around their necks and pull up. All of our coaches have been wearing them, which is awkward for us, but we're willing to do that if that's what it takes for us to get back to our guys."
Harris said Monday was tough to get acclimated, but Tuesday through Thursday went "real smooth."  "I think we got a little better this week after having 11 weeks off," he said. 
And Harris noted not one Panther had a temperature over 100.4 degrees, the ADH mandated temperature to go through Phase 1 drills.  
"Nobody has had a high temperature," he said. "We've been fortunate with that. We had one kid call in who said he wasn't feeling well that morning, so I just had him stay home. He came back the next day and his temperature was good and everything. We told them, 'We want to get you back, but it's not do or die time right now.' Now is not the time to be a tough guy, it's a time to take care of your body and take care of your teammates."