The bad news for the Benton Panthers tonight is the two-time 6A defending champion Greenwood Bulldogs come to town on a 19-game win streak, with their last loss coming in last season's season-opener. The good news for the Panthers is they are on a win streak of their own, a four-gamer, and are also at home in the friendly confines of Panther Stadium in Benton. 
"They're second-best team we've played all year behind Bryant," Benton Coach Brad Harris said of Greenwood. "I don't think they're at that level, but they're a really good team and we'll have our hands full. A solid Greenwood team just like every year. They're solid in all phases of the game, they play the game like it's supposed to be played, they're relentless and play every play."
The Bulldogs (7-0, 4-0 West) most recently handled Russellville on the road 42-20 last week, while Benton outplayed the Wildcats 41-31 in El Dorado. Benton fell twice to Greenwood last year: 62-33 at Greenwood, and 45-14 in the 6A title game.
Tonight, the Panthers (4-3, 4-0 West) will have to contend with a very potent Greenwood offense which just seems to reload each and every year.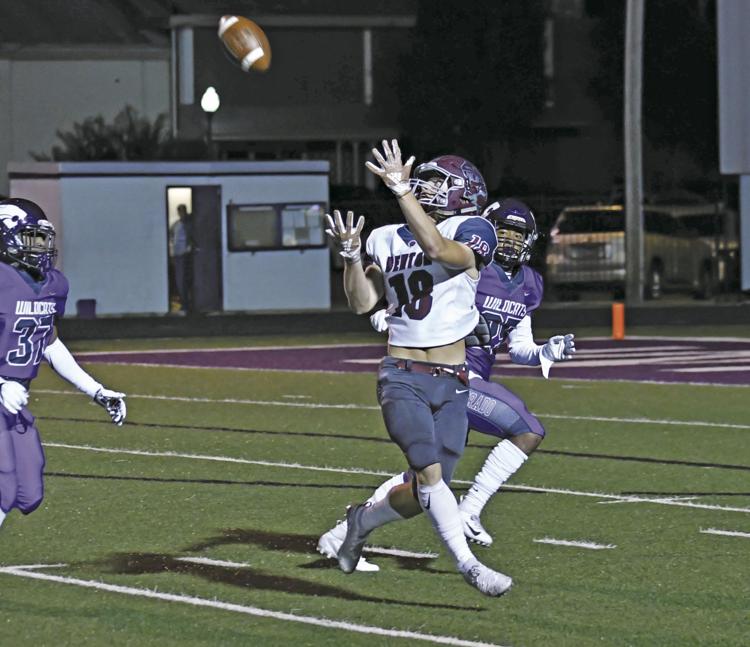 From the duo of quarterbacks Lucas Hales and Connor Noland in 2015 and 2016, to Noland alone in 2017 and to receiver turned All-State quarterback Peyton Holt last season, the Bulldogs have another dandy under center this year as well. 
Senior quarterback Jace Presley has thrown for almost 2,000 yards through seven games at a 73-percent clip, while connecting for 24 touchdowns vs. just three interceptions. 
"They find a quarterback every year that can either be a great distributor of the ball or a leader and runner, everything," Harris said of Presley. "This kid is a great pocket passer for them. He's not a run threat at all, but he does a really good job of distributing the ball."
Presley also has a plethora of receivers to throw to as four have at least 19 catches, with juniors Caden Brown (35 receptions, 333 yards, five TDs) and Peyton Carter (32, 450, four) leading the way. Senior Treyton Dawson leads with eight TDs on 27 catches for 410 yards, not to mention Panther killer, junior Hunter Wilkinson, adding 19 receptions for 149 yards and a TD. 
"He's got a really solid receiving corps," Harris said. "The four guys they put out there are as solid as any four they've had. They usually have one or two, but these guys, there's four of them capable of catching the football and making plays. They do a good job of keeping everybody involved."
It's Wilkinson who leads the Bulldogs on the ground with 497 yards and 11 TDs on 94 carries, with senior Aaron Ligon adding 261 yards and three TDs. 
"He gave us a lot of issues," Harris spoke of Wilkinson. "We kind of overlooked him as a sophomore last year. I think he kind of had a breakout game against us. He's a good solid running back, does a good job of finding the hole and running tough." 
Defensively, junior lineman Jordan Hanna leads the Bulldogs in tackles (57), tackles for loss (nine) and sacks (7.5). 
If there is a weakness to this Bulldogs team, it may be the offensive line which the Panthers' strong defensive line could expose, especially with senior lineman Brett Barberee's 14 tackles for loss and team-leading seven sacks. 
"Brett has done a tremendous job for us at defensive end all year," Harris said. "He's done a really good job of putting pressure on quarterbacks and getting sacks and hurries, and making plays. We're hoping he has a monster night and gets some pressure on that Greenwood quarterback."
Senior linebacker Jaden Woolbright leads Saline County with 17 tackles for loss, including 55 total tackles to lead Benton. 
"I would say two things they're a little weaker in this year is offensive line play is definitely not quite as solid as it has been," Harris started, "and I would think the back end of their defense is probably not as good as it's been the last couple years. That's good for us. Hopefully we can take some shots on them. Our defensive line play will be a good matchup with their O-Line play." 
The Panthers may have found an offensive weapon in Woolbright, who also had two punt blocks last week, as well, as he rushed for three touchdowns in Benton's "heavy" packages, not to mention another stellar defensive showing. 
"It's just something we've been searching for to get a little oomph in our run game, goal-line and short-yardage stuff," Harris said. "We did the same thing two years ago with Brayden (linebacker), my youngest son, and it really kind of opened our offense up, and we've grown that package each week trying to put a little more on Jaden and he's accepted that role and done a good job for us. Jaden is a good football player and does a really good job on defense." 
The Benton run game got back on track as well last week as senior D'Anthony Harper, who is now second in the county with 507 yards, rushed for a season-high 129 yards and a TD, and sophomore running back Casey Johnson rushed 11 times for 55 yards and a TD. 
"That's the thing we like right now is D'Anthony has been banged up a little bit with that hand and that cast on, and he got that off this week," Harris said. "He'll be back full-speed. He's had two good weeks of practice." 
But, the Benton defense, strong up front, has been hindered by the big play all season. Granted, Cade Clark has five interceptions and safety Austin Drewry four, but the Panther secondary has been beat numerous times on the year. Also improving thoughout the year, that back end must be stingy against a very potent Bulldog offense tonight. 
Offensive lineman Austin Jones and cornerback Trevor Standridge will miss tonight's game due to injury, but the Panthers will get offensive lineman Tristan Red back, as well as senior receiver Gavin Wells, who has missed the previous two games. 
"We're going to be probably as healthy as we've been since Week 1," Harris said. "It's been awhile since we've had Gavin and Peyton (Hudgins, playing together at the same time)." 
The Benton Football Network will provide live radio on 106.7 FM The Ride, and live video streaming on YouTube at the Benton Football Network. Kickoff is 7 p.m.