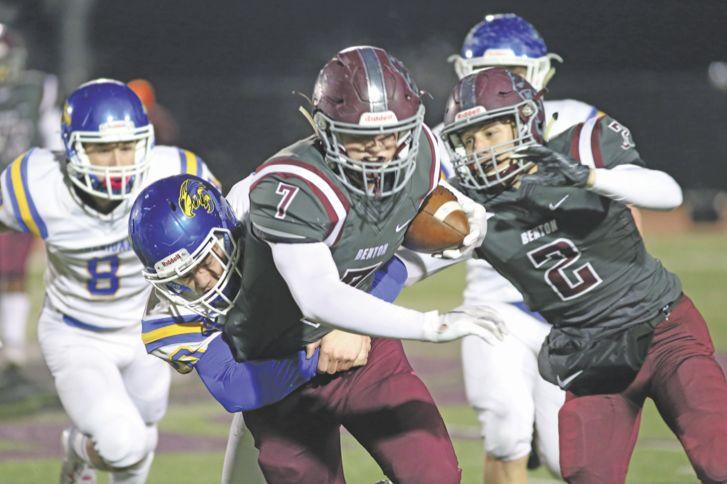 Already sewing up the 6A West No. 1 seed and a first-round bye for the 6A state playoffs, the Benton Panthers were looking for their first outright conference championship since 2014 Friday on senior night at Panther Stadium against the Sheridan Yellowjackets. The Panthers accomplished that, making it look easy with a 63-28 rout over the Yellowjackets for their seventh straight victory and momentum heading into the playoffs. 
Starting 0-3 to start the season against some very good competition including the 7A and 4A defending champs, not to mention a very good Cabot Panthers squad, things weren't looking great for Benton heading into the West conference. Though it wasn't easy playing some close games throughout league play, the Panthers claimed that West title with huge wins against the top 6A team in the state (45-38 over Greenwood) in Week 8 and downing the previously undefeated Lake Hamilton Wolves 31-20 on the road in Week 9. 
"These guys have come a long way since 0-3," Benton Coach Brad Harris said of his Panthers. "A lot of people counted us out when we were 0-3, but we know the heart and the character of these guys and they've continued to battle for us through a lot of adversity. They just continued to plug away each day at practice for us and we won with guys when some of our better players were off the field (due to injury) and then we slowly got them back and it's paid off the last three weeks.
"There's a lot of teams 0-3 that are folding the lawn chair and going to the house. Extremely proud of these guys. The seniors have done a great job. We've got 25 guys we got to honor with a big win."
Read the rest in Saturday's The Saline Courier.