Though the Benton Lady Panthers had one of their toughest seasons at 6-19 overall and missed out on the state tournament, Benton senior post player Rhema Riley brought home All-State honors, as well as All-Conference accolades.
"She was a warrior this year as far as filling up stat sheet for us night in and night out," Benton Coach Jerry Chumley said. "Rhema was pretty consistent scoring and rebounding for us."
Riley was a double-double machine for the Lady Panthers, averaging 12.5 points per game and 11.5 rebounds for the season, including a career-high 23 points against Pine Bluff. Riley had four total 20-point performances and finishes her career with over 600 points.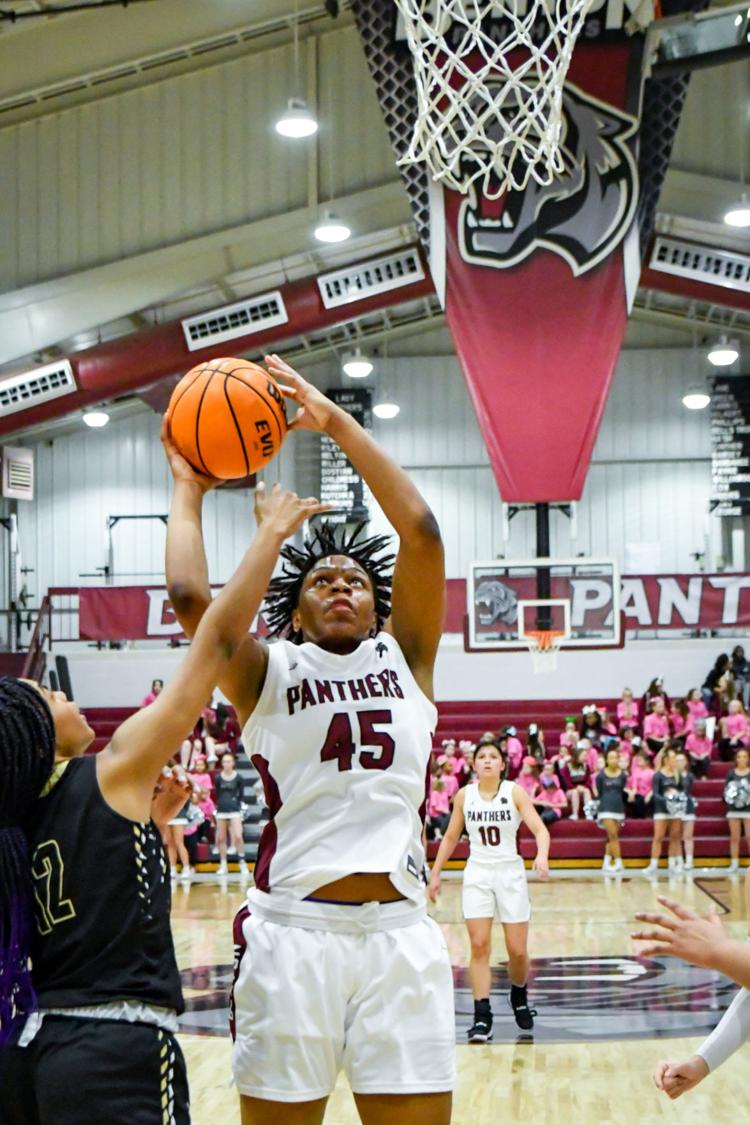 "Those are good numbers, we just didn't give her a whole lot of help from the perimeter," Chumley said. "We were very inconsistent with our scoring from the perimeter, but Rhema got us 12 and 12."
The Lady Panthers will also be saying goodbye to four other seniors in Emily Hopper, Cayla Clayton, Lexie Newman and Lauren Howell. 
Hopper averaged 3.7 points per game for the Lady Panthers, scoring a career-high 10 vs. Sheridan.  
"Emily Hopper had her best year as a Lady Panther," Chumley said. "She got more mature this year as a basketball player. She was so much better in practice and coaching than she ever was. She started most games for us. She turned out being a solid hand for us — got better defensively, rebounding and most all of her stats."
Despite a lingering injury from last season, Clayton provide hustle for the Lady Panthers while averaging 3.5 PPG, including a career-high 11 points against Fair.  
"If Cayla Clayton hadn't of gotten hurt, she probably would have played at a high level," Chumley said. "She played with back pain all year long. She had that disc problem in her back which started her junior year. She was solid for us all year. 
"Cayla was a hard worker. She knew it was coming to an end so she put in extra this year. She stepped up and had some good games for us. Tough kid. We're going to miss her toughness as an on-the-ball defender."
Though the senior duo didn't fill up the stat sheet, they provided more than their play on the floor. 
"They didn't put up great numbers, but they made plays a lot of the times," Chumley said. "I was really proud of how they hung in there and fought through a difficult year. As seniors, that's tough. You want to go out in a good way. Even though we didn't win a bunch of games, they hung in there for us; led us in practice and led us in games, in the locker room. They'll always be remembered."
Injuries would shelve Newman and Howell, but they provided leadership throughout the season.  
"Lexie Newman was hurt all year," Chumley said. "Great kid, great leader. When she was on the sidelines in practice and games, you could hear her voice. The team loved her leadership and her attitude, she couldn't get going because of that leg injury. 
"Lauren Howell was a great leader for us. You hear Lauren's voice every day in practice. Great kid. All these kids are going to be remembered; 4.0 students. We're going to miss them."
But the future does look brighter for the Lady Panthers as they will return starting juniors Tuesday Melton (4.1 PPG) and Jordan Miller (3.5), not to mention many talented freshman moving up which led the Jr. Lady Panthers to the Central Arkansas Junior High Conference title. 
"As far as what junior high has sent us year in and year out, what's coming in for next season is the deepest and most talented group of freshmen we've ever had," Chumley said. "We're excited and it's definitely a bright future for Benton girls' basketball."