A former Benton native will be running in the 125th Boston Marathon this October. While running a marathon is far from an easy task, running without sight no doubt makes that feat much harder. Born blind, Everett Elam will be doing just that, running with Team with a Vision for the charity Massachusetts Association for the Blind and Visually Impaired. 
Born in Memphis, Elam and his mother moved to Little Rock when he was young before mom decided Benton was safer than the capital city. But, Benton was still close enough for Elam to go to the Arkansas School for the Blind & Visually Impaired located in Little Rock. 
"I would take the busses from Benton to Little Rock on West Markham Street," Elam explained. "It became a residential school so I moved there when I got a little older. I was on the track team a little bit. Then I went to college at UALR, got really fat eating Starbucks and Taco Bell."
Elam, 33, has come a long way since his struggles during his early 20s, which included a tough breakup and lost job at National Public Radio, where he was a production assistant.
"I really hit a tailspin, got fat, had a nervous breakdown," Elam said. "It wasn't good, but I came back and met someone else and got married because of the fiddle. We had seven great years together. We went across the world, went to three different countries and played in all kinds of places. Got to play at a wedding."
Though ultimately divorcing but still on good terms with his ex wife, it was during that experience where Elam found running again, participating in a Couch to 5K and never looking back. It wasn't long after before Elam caught the marathon itch.  
"What we had was a Couch to 5K," he said. "It was out there on Taylor Street. We'd meet at the front steps. We had a running club one of our directors started back in the day. 
"I hit it off with someone and we ran the Little Rock Marathon (twice), lots of 5Ks, and then we were, 'Well, I guess we should do national marathons.' We went to California and ran the Sacramento marathon."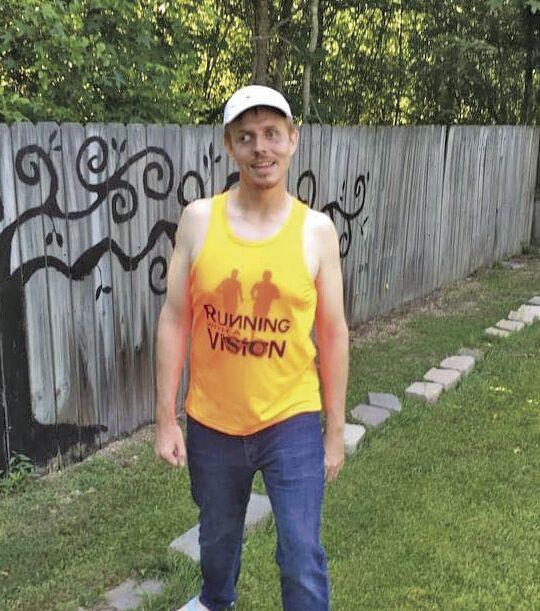 With three marathons under his belt, the Boston Marathon will make it No. 4 before No. 5 comes in December with the California International Marathon in Sacramento.  
"I'm no star," Elam said. "My times are all above 5 hours. I hope to break that this year, but it's that discomfort that keeps bringing me back. It's really a hard thing to do. I always tell blind people when I'm teaching them, 'You have to stay 150 percent ahead of sighted people. The only reason someone is going to hire a blind person is they kick you know what at what they do. We have to be better than sighted people at whatever we choose to put our minds to. There's no choice."
Now living in St. Louis since November, Elam still works for the World Services for the Blind in Little Rock, and still comes home at least once a month for his profession (online assistive technology instructor) and family.
"WSB is an amazing place where individuals who have lost their eyesight come to gain their vision," Elam explained. "We have so many programs and our staff is on the cutting edge of access/inclusion, tech and training. We staff our facility with housekeepers and social workers and our employment rate for graduates is 80 percent. The unemployment rate among the blind is a staggering 70 percent, so we intend to stomp a hole in that barrier ASAP!"
Elam told of how he was "lucky" to be born blind, rather than have sight and lose it.  
"I was one of the lucky ones," he said. "You roam around here enough and you'll see … there are some people who have lost it because of diabetic retinopathy. It's the No. 1 thing we see on our reports. I call vending machines employment insurance because people are eating themselves stupid. Whenever diabetes takes your eyes, it will also take your hands."
As far as the Boston Marathon, Elam talked about the squad he is running with, Team with a Vision. 
"It is a group of 24 blind individuals who get together to raise funds for MABVI," Elam said. "They (MABVI) have five satellite campuses all around the areas of Boston. They do what we do here (World Services for the Blind), but primarily with older adults with blindness. It's a great cause and it's one as a sister agency to support."
Elam explained his training regimen leading up to the Boston Marathon. 
"I run every day except for one, and some days I'll have a taper-off day where I just spin on the bike really low," he said. "My weekends are the long days. Saturdays are my 10-mile days and Sundays are typically 12 to 15. Monday is 7 to 9 miles and Tuesday is 6 to 8. Wednesday is like a tempo run."
While most of his running comes on his treadmill, there is an excellent resource to find sighted guides, called United in Stride.  
"It's a great website created by the team that I'm running with," Elam said. "You punch in your zip code and it will find you people who have signed up and they're your sighted guide. You just need a pair of shoes and a willing arm and some demons to get rid of."
Though he admits it is unlikely, Elam said he is holding off on applying for a guide for the Boston Marathon, instead waiting on a response from an ultra-marathoner and retired Navy SEAL.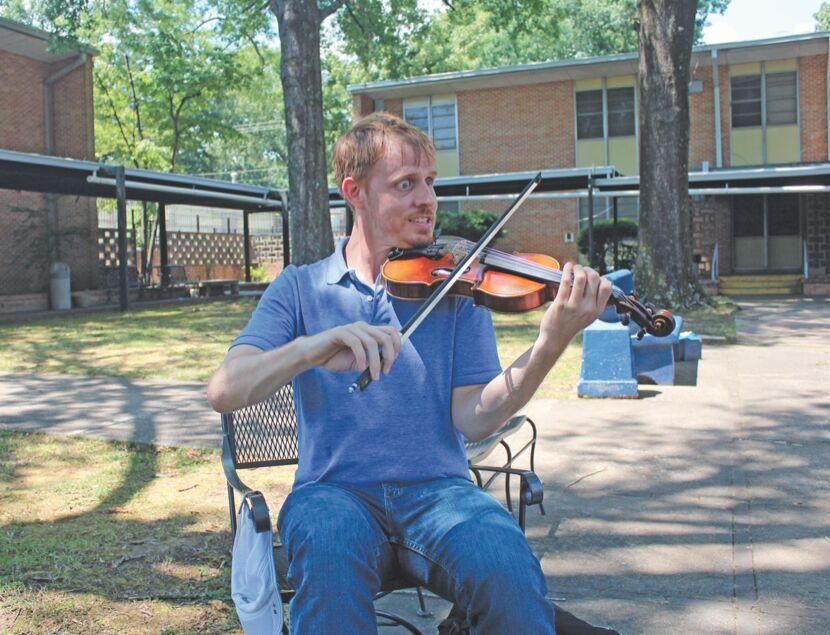 "What I want to do, David Goggins, who was nothing when he was growing up. Spraying for cockroaches, just a real underdog. I've listened to his book about 200 times and it has gotten me through a lot of those demons. So I wrote him a letter and posted on Instagram, 'Please run the marathon with me.'
"I wouldn't be able to keep up with him. He's an ultra-marathoner, elite. I have some showoff in me, but who cares, he can always say no. The guides are also facilitated by Delta Gamma in Boston, so they can get you one. I haven't put in an application for a guide yet because I'm still holding out. Doubtful, but there's always a chance."
So far, Elam has raised almost $1,500 for the Massachusetts Association of Blind and Visually Impaired. One can go to givengain.com and search for "Everett Elam" to donate.
"This isn't about me, this is about the charity and getting people out of the COVID funk where I was," Elam said. "I found my way out and I know a lot of people haven't. I just want to help people."