The Arkansas Razorbacks would have opened the College World Series today if their season would not have been cut short due to the coronavirus COVID-19 pandemic, which swept across the country in mid-March and the world even earlier. Granted, it was possible the Razorbacks might not have made it to the CWS this year, but with the talent and pitching the Hogs had which remained intact the previous two seasons Arkansas had made it, there was a good chance the Razorbacks would have made it a three-peat. 
The Hogs started the season on a seven-game win streak before going through a tough slide in late February and early March in which they lost five straight, but Arkansas won its next four games heading into the SEC series opener in Starkville against the Mississippi State Bulldogs. That series never came as the pandemic began and it wasn't much later the season was officially canceled because of COVID-19. 
Two Saline County kids, Bryant Hornets pitcher Will McEntire, and Benton Panthers pitcher Peyton Pallette, were used to pitching against each other in high school but found themselves as Razorbacks freshmen for the 2020 campaign. It was a time they'll never forget, but also a time which was cut way too short.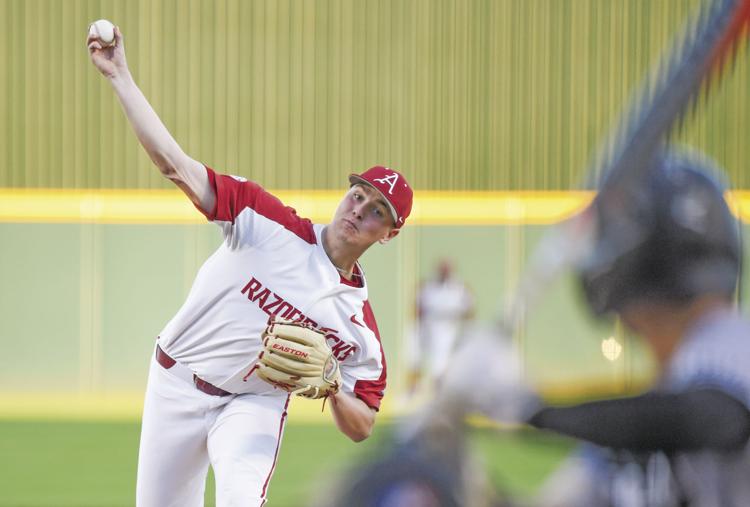 "We had a bad skid right there, but I feel like we were starting to get rolling and get everything to going good," McEntire said. "We were about to head to Mississippi State and it just got cut short. You can't really do anything about it, it is what it is, you just have to prepare for next season."
"It was devastating at first and I feel like the team was getting warmed up and getting ready to get after it in SEC play," Pallette added. "My time as a freshman, it was good. I loved it. I enjoyed every second of it. It sucks it got cut short, but stuff happens."
The Saline County duo took the shortened season in stride despite both getting off to really good starts in their freshman campaigns. 
It was Pallette who saw the first action out of the two as he came in on relief in the second game of the season against Eastern Illinois. Though he gave up a run in his one inning, he struck out the final batter he faced, a moment he will never forget. Pallette would have three more outings before COVID shut things down and didn't give up an earned run the rest of the way.
"It was definitely an experience," Pallette said. "A lot of hard work and preparation into every outing I had. The first time against Eastern Illinois, it was pretty blurry to remember some things, but I remember that last pitch and striking that guy out. It was a really cool moment. Same thing with all the other outings. They were all special moments that I'll remember for the rest of my life."
Pallette also pitched a perfect inning against the Oklahoma Sooners in Houston in his second outing.  
"After that first one (outing) I kind of got dialed-in and a little more comfortable on the mound since it wasn't my very first time," Pallette said, "but Oklahoma was a little different, too, because I was pitching at Minute Maid Park in a big-league stadium, so it was definitely something to see as well."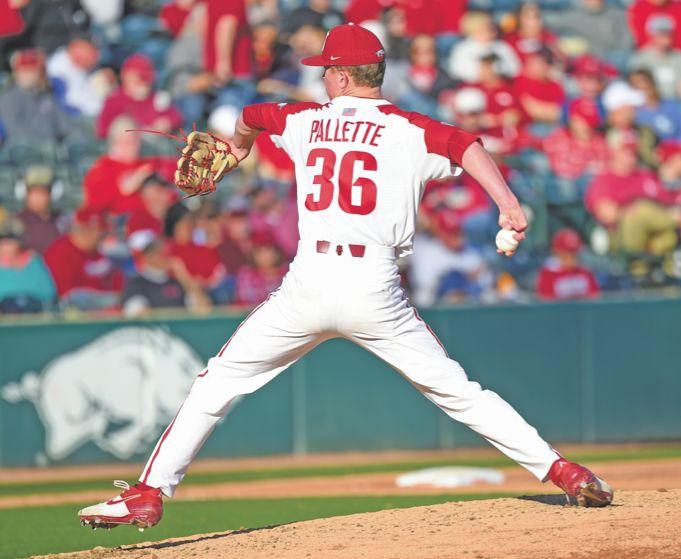 It would be three weeks after Pallette's first performance before McEntire saw his first action as a Razorback, but he took advantage of his short time on the mound. 
Coming on in relief against South Alabama, McEntire made his presence known as he faced the minimum in pitching two perfect innings while striking out four Jaguars. Like Pallette, that first outing was a blur for the former Hornet, who credits his impressive first outing to adrenaline and nervousness. 
"I had been waiting so long to get my chance," McEntire said. "I had been sent down to the bullpen two or three times and didn't get in, warmed up a couple times and didn't get in. Finally, someone in the bullpen said I was going in that inning. It kind of hit me and all of the pitchers say it happened to them their first time … I kind of blacked out. After that first inning, I was so excited I really don't remember much of it."
His perfect performance opened some eyes, especially Arkansas Coach Dave Van Horn, who gave McEntire a chance to start.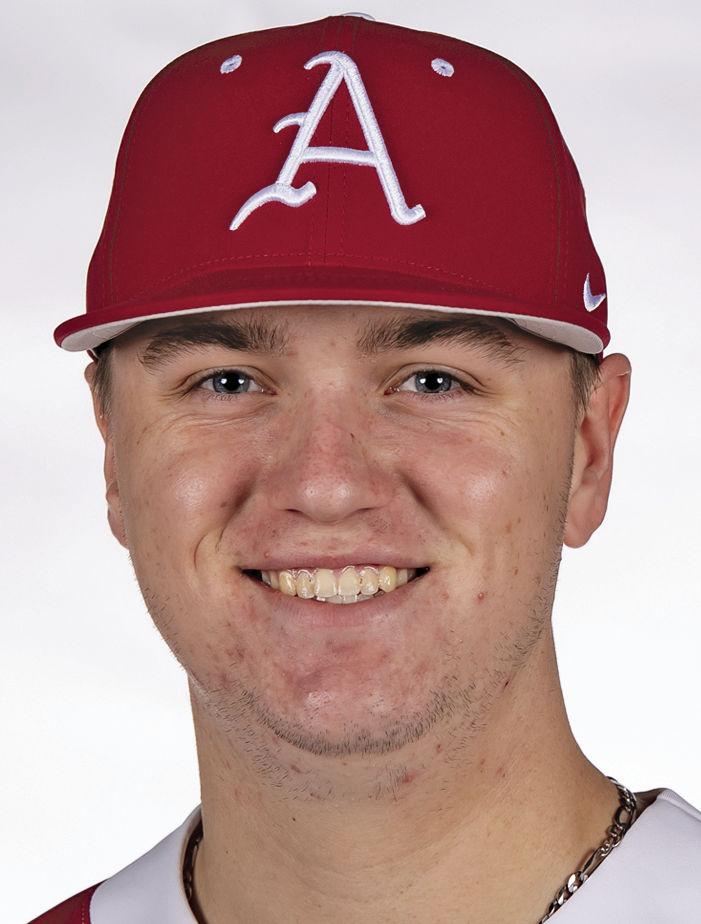 "At the beginning of the season they always give the veterans first chance, but once you get your opportunity you just have to roll with it, do your best and show them what you've got," McEntire said. "I feel like I showed them what I had and I got in a situation where I could start. It just went my way."
That may have been an understatement as McEntire was very efficient in a win over Grand Canyon University on March 10, two days before the season was suspended by the coronavirus. 
McEntire picked up the victory in a 6-1 win over the Lopes giving up one run on seven hits while striking out three without a walk in six innings. He needed just 68 pitches in those six innings, throwing 48 for strikes. 
"I was just very fortunate to have that opportunity," he said. "I went out the Saturday the series before for my first opportunity to show the coaches what I could do in that setting.
"I had really good control of my fastball, but at the same time I threw a ton of cutters. I was just keying in on throwing cutters and throwing in a curveball every now and then to throw them off."
But there was one pitch he wish he could have had back, a homer from David Avitia for the lone run.  
"It was supposed to be a cutter," McEntire said of the home run. "I was going to start it at the middle of the plate and end up outside. It was the cutter I threw all game and it didn't move, so it was pretty much a belt-high fastball in the middle of the plate. He just took advantage of it and teed off on the one bad pitch I threw." 
But, with the 2020 season finished, the Saline County duo have to look to the future. After spending time at home since mid-March, they are now both playing back in northwest Arkansas in a Perfect Timing collegiate league with some fellow teammates. 
The duo did their best to stay in shape during the layoff. 
"I've been working out the best I can," McEntire, who finished 1-0 with a 1.13 ERA in his rookie campaign, said. "I came back to Fayetteville because I got invited to play in a league up here. Just trying to get some reps in and stay sharp and ready for fall ball back with my team."
Pallette, who had a 1.59 ERA in his four relief appearances, said,"I kind of made my own workout station at my house and did that for a little bit. I threw up against a wall or anything I could find to throw up against. It was definitely difficult to stay on the grind and staying on top of things."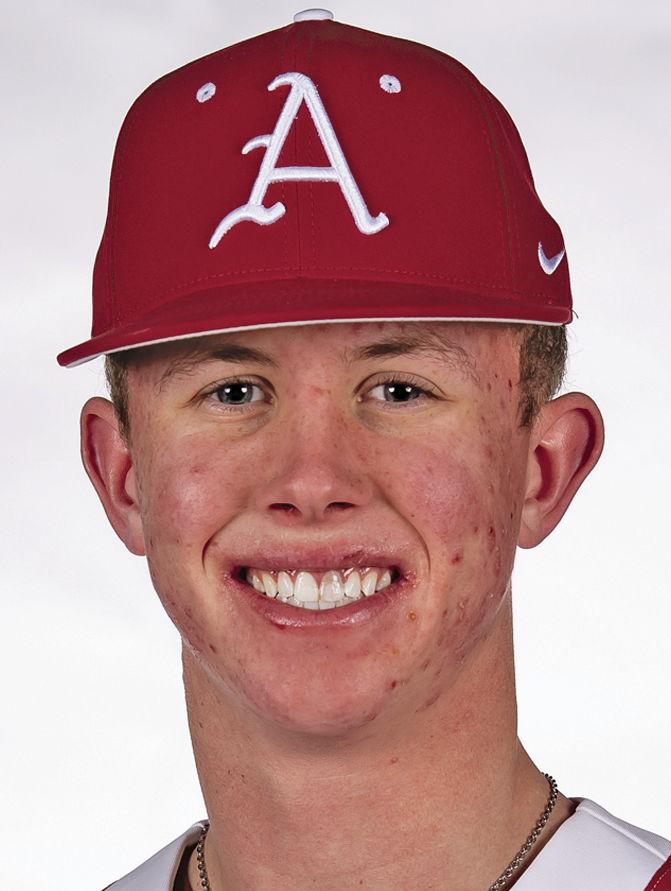 Pallette will do a little traveling at the end of the month, too, as he will be playing in a league in California.  
"At the end of June I'm heading to California to play in a league over there, so all throughout July I'll be in California," he said.  
While currently playing in a collegiate league, the Razorbacks won't be back in action until next month for strength and conditioning. 
"We don't get to work out in our facilities until July 8," McEntire said. "From what I've heard you have to wear a face mask and schedule a certain workout time. Only a certain amount of people can be in that weight room in a certain amount of time. They take your temperature before you go in. It'll be a weird situation, but I'm ready to have those tools opened to us again and be with all my teammates. That's what I really miss out of all of this is being with the guys. 
"I was ready to spend the whole season with the guys and it got cut short so I didn't really get that experience. I'm going to miss the guys leaving and there are some that transferred, but I'm really looking forward to spending the whole season with them next year."
"It'll look like a different team, but I feel like there's players coming in with just as much talent as some of the guys on the field now," he said. "I'm excited to see what's going to happen. I'm ready to get after it for this next season."