The Harmony Grove Cardinals suffered a hard-fought loss in Week 7, slipping 19-0 to defending 4A champion Arkadelphia on homecoming at Sykes Stadium.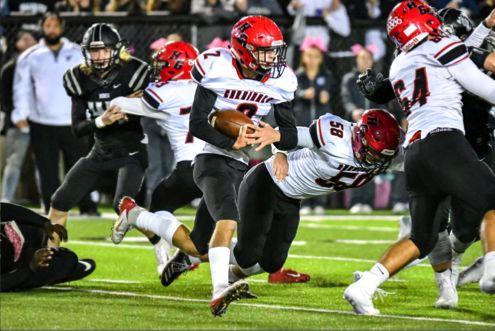 In Week 8, the Cardinals head south to Nashville to battle another strong opponent.
The Scrappers sit at 3-1 in 7-4A action, tied in a three-way showing with Arkadelphia and Robinson for second behind Bauxite.
Nashville dominated Ashdown 55-20 last week.
Nashville has used three quarterbacks throughout the season. Junior Ty Gordon leads the way with 539 yards and five scores on 34 for 51 passing. Junior Keyshawn Stewart followed with 338 yards and five touchdowns while completing 23 of 40 attempts.
Keeping to its regular attack, the ground game is strong once more with senior Carmillias Morrison trucking for 670 yards and seven scores on 62 touches.
Stewart follows with 579 yards and a team-high nine TDs on 84 carries.
Nashville has rushed for 1,808 yards and 24 scores as a team in 2019.
In Week 7, Harmony Grove was held to 156 yards from scrimmage with 136 coming on the ground.
Jayce Harrison trucked for 42 yards on nine carries against the Badgers to lead the Cardinals.
Canyon Clifton followed with 38 yards on a team-high 13 carries.
The Cardinals defensive line was put to the test last week, allowing 373 yards on the ground, including a near 200-yard performance by Arkadelphia's Kyren Harrison.
Kickoff is set for 7 p.m. under the lights Friday.