Originally scheduled for tonight, the Benton Lady Panthers had their game with the Lakeside Lady Rams moved to Monday due to parent-teacher conferences. Getting routed 54-20 in Hot Springs in their first meeting, the Lady Panthers held much closer on Monday, falling 47-34 to the Lady Rams in 5A South Conference action. 
The loss moves Benton to 5-15 overall, 2-7 in league play, while Lakeside is 19-4 overall, 7-3 in the South. 
"They jumped on us," Benton Coach Jerry Chumley said. "They hit three threes in the first quarter and added another one early in the second quarter."
The Lady Rams pulled out to a 15-6 lead after one quarter, but Benton played much closer in the second quarter to go into the half trailing 27-15. But it was shooting woes from deep which kept the Lady Panthers from pulling off the upset.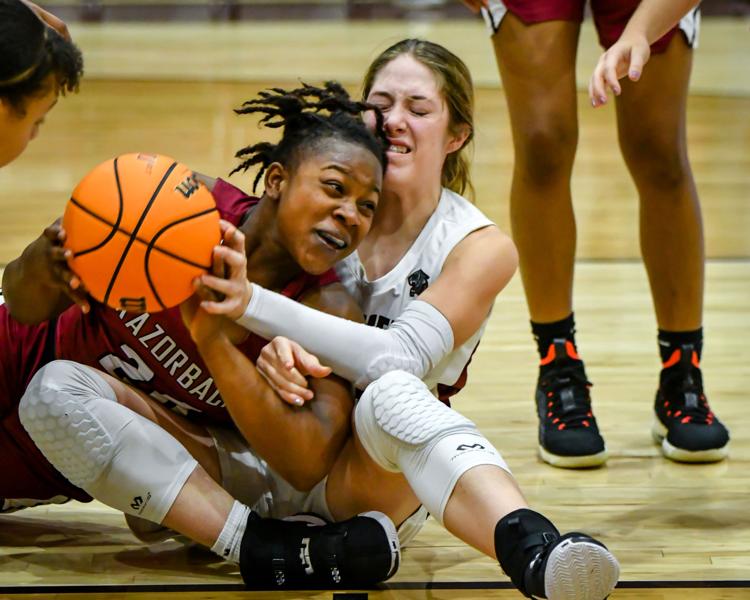 "We played them much better than we did last time, but we're 1 for 16 from 3-point range," Chumley said. "We didn't take a bad three all night. They were all pretty much in rhythm, no forced threes, we just went 1 for 16."
Benton shot well from inside the arc, going 11 for 14 for two-point field goals, but 17 turnovers and 9 of 15 from the free-throw line.
After a low-scoring affair in the third quarter, which Benton was down 32-19, the Lady Panthers made a little run in the fourth to get within eight.  
"In the middle of the fourth quarter we were just down eight, 39-31, but they went 17 for 20 from the free-throw line," Chumley said of Lakeside in the game. We were never out of the game, but we could never make a run to get close to them." 
Benton senior post player Rhema Riley led the Lady Panthers with nine points and five rebounds, while junior Tuesday Melton scored eight with five rebounds, and was also good on the defensive end adding three steals. 
"Tuesday Melton probably had one of her better games defensively," Chumley said. "We've been after her about playing a little grittier on both ends and she stepped up and made some plays for us."
Senior Cayla Clayton, junior Jordan Miller and sophomore Reagan Swindle all had five points apiece.  
The Lady Panthers will try to regroup on Friday when they travel to Little Rock to face the Fair War Eagle (1-18, 0-9 South). 
"A chance to bounce back and get back to playing good," Chumley said. "I thought we played much better (Monday). Lakeside blew us out at their place. We didn't play bad, we just didn't shoot it well. And turned it over a handful too much. 
"Fair is at the bottom of the league so it's a chance to bounce back and have a good game over there."