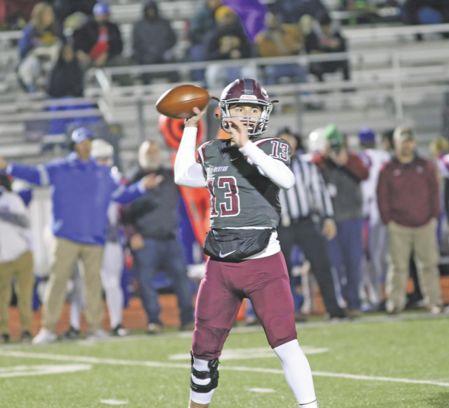 It definitely didn't start well for the Benton Panthers in Friday's 6A state semifinals match against the West Memphis Blue Devils at Panthers Stadium, but it ended about as well as anyone could have imagined. Down 14-0 after one quarter and trailing 21-7 early in the second, the Panthers would score 35 unanswered points on their way to a 63-35 shellacking over West Memphis in a rematch of last year's semifinals game, which Benton also won to send the Panthers to their second straight title game appearance for the first time in school history.
"First time in Benton history," Benton Coach Brad Harris said of the back-to-back title game appearances. "Hopefully we can make some more Benton history this next week. I'm just so proud of these guys. We talked about before the game just wanting to be greedy and have one more win. They deserve that. They were down and out early and getting back to the state championship game, regardless of what happens, we want to win it for sure, but we were going to play football as long as we can with this football team." 
The West No. 1 seed Panthers (9-3), which won their ninth straight game after an 0-3 start to the season, will face the East No. 1 Searcy Lions in the 6A championship at War Memorial Stadium in Little Rock Saturday at 6:30 p.m. Searcy upended Greenwood 50-38 on Friday. 
Read the rest in Saturday's The Saline Courier.