The Bryant Black Sox senior American Legion squad's journey for its fourth straight AAA state championship came to an end late Monday night as the Sox fell 5-3 to Sheridan, which will take on Russellville tonight at 6 with a shot to play Fort Smith at 8 for the state title.
After a 2-9 start to the season, the Sox finish the year at 20-13-1. Unfortunately for Bryant, the Sox started the state tournament like they started the season to get behind the 8-ball. Bryant fell 13-6 to Cabot to start the state tournament, and after that 2-9 start to begin the season, the Sox turned it around with a 10-game win streak. They did the same out of the loser's bracket of the state tournament, routing its next three opponents (14-0 over Mountain Home, 19-0 vs. Crossett and 15-1 over El Dorado) before getting rematched with Cabot. This time, the Sox prevailed with a 4-1 win before ending their season with the 5-3 defeat to host Sheridan.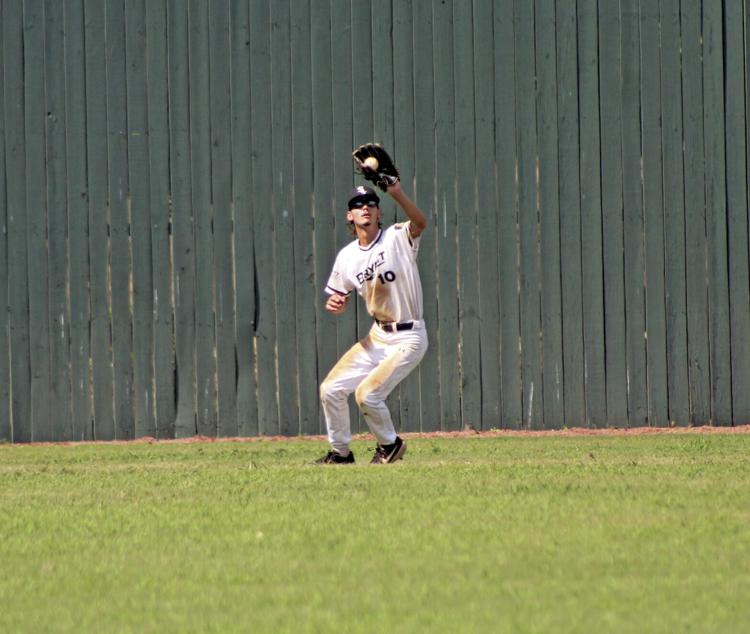 A scoreless game after three innings on Monday, Sheridan pushed a run across in the top of the fourth when Hayden Finley singled, went to second on a passed ball and third on Tyler Cacciatori's ground out. Finley scored on Lawson Guthrie's RBI single for the 1-0 lead after four.
It would be the sixth inning which led to Bryant's unraveling. Brandon Arledge doubled and Finley singled to put runners on the corners before an error made it a 2-0 game. After Bryant relief pitcher Coby Greiner struck out the next man, Hayden Vaughn singled, but another Bryant error led to two more runs and a 4-0 Sheridan lead. It became a 5-0 game two batters later on RJ Stinson's RBI single.
Bryant didn't give up, though, as Cade Drennan reached on a one-out double to left field and courtesy runner Jordan Knox scored on Greiner's two-out triple to make it a 5-1 Bryant deficit.
The Black Sox would load the bases with one out in their last at-bat when Connor Martin reached on an error, Blaine Sears walked and Ryan Riggs was hit by a pitch. After a pop out for the second out, Drennan singled in Martin and Sears scored on a passed ball to make it a 5-3 game. Peyton Dillon walked to reload the bases, but Greiner would strike out on a 3-2 count, a controversial ball/strike call, to end the game and season for the Sox.
Sheridan outhit Bryant 11-6 in the game as Drennan, who was huge all tourney, went 2 for 4 with an RBI. Greiner also went 2 for 4 with an RBI, with Aaron Morgan and Martin both adding a knock in the loss.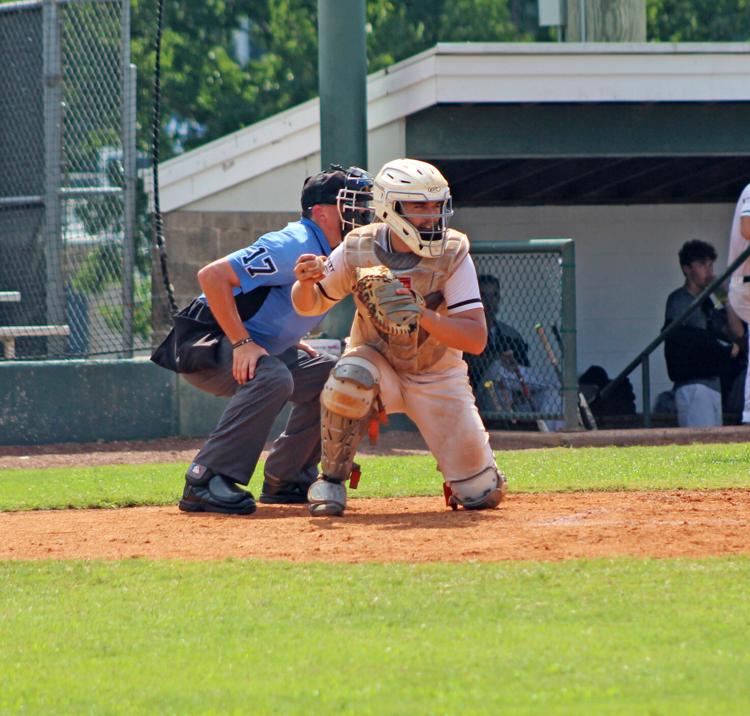 Slade Renfrow started in the defeat giving up three runs (two earned) on six hits and a walk, striking out three in five innings. Greiner gave up two runs (one earned) on five hits, striking out three in two innings of relief.
Bryant 4, Cabot 1 (Sunday)
The Black Sox scored all the runs they would need in the bottom of the first inning of their 4-1 victory over Cabot in the rematch win.
Leadoff man Noah Davis was hit by a pitch to start and Riggs singled before both runners moved to second and third on a botched pickoff attempt. Both runners would score when Logan Catton's ground ball was booted by the shortstop for the 2-0 lead. Catton scored on Drennan's RBI double for the 3-0 lead after the first half inning.
Cabot would get its lone run in the bottom of the inning on Austin Scritchfield's solo homer as Bryant starter Will Hathcote didn't allow another run the rest of the way.
Hathcote picked up the win giving up one run on two hits and four walks, striking out seven in 5.2 innings. Lefty Tyler Bates struck out the only man he faced in a third of an inning of relief, while Greiner picked up the save despite two walks (no hits), while striking out one.
Bryant picked up its final run in the bottom of the fourth when Morgan reached on a one-out single, went to third on Martin's double and scored on a sacrifice fly by Sears for the 4-1 final.
Drennan finished 2 for 2 with an RBI, while Riggs, Morgan and Martin added a hit in victory.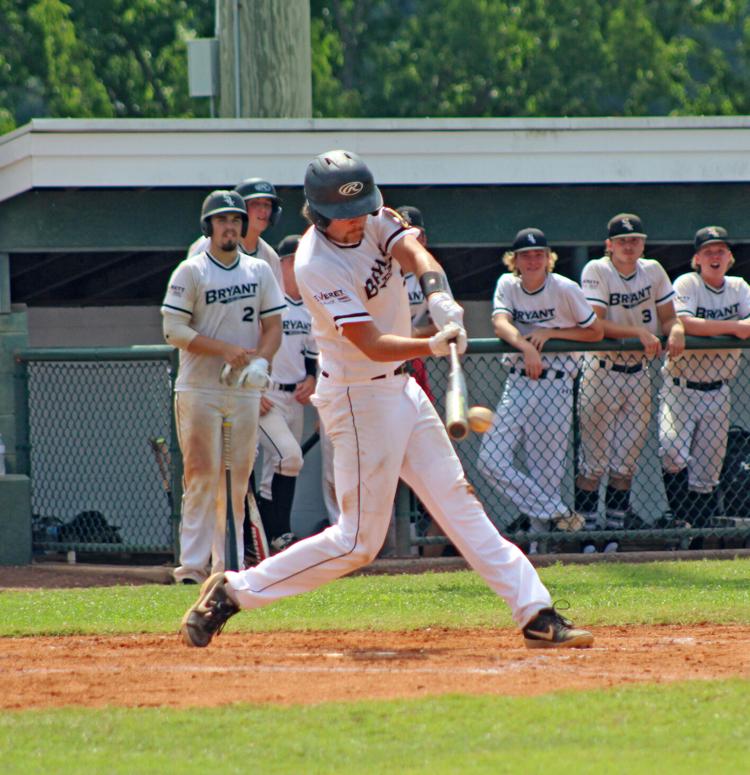 Bryant 15, El Dorado 1 (Sunday)
Down 1-0 after two innings, the Black Sox brought out the bats in the third and fourth innings, putting up an 8-spot in the third and 7-spot in the fourth to score its runs and invoking the sportsmanship rule after five innings.
The Sox pounded out 14 hits as Catton went 4 for 4 with a double, two runs and four RBIs. Dillon followed with a 3-for-4 day, adding a double, two runs and two RBIs, with Davis and Sears adding two hits and RBI apiece. Martin went 1 for 2 with two runs and two RBIs, Greiner 1 for 4 with two RBIs and Drennan was 1 for 3 with an RBI.
It was a win by committee against El Dorado as Logan White started giving up one run on three hits and two walks while striking out one in two innings. Renfrow walked two and struck out two without giving up a hit in one inning of relief, with Colby Morrow walking just one without a hit, while striking out three in two innings.
Bryant 19, Crossett 0 (Saturday)
It was all Sox in their 19-0 win over Crossett. Davis, Martin, Riggs and Drennan, who did it for the second straight game, all went deep in the rout as Bryant pounded out 18 hits.
Riggs finished 3 for 5 with three runs and three RBIs, Drennan 3 for 4 with two RBIs and Dillon was 3 for 4 with a double, three runs and an RBI. Davis added a triple with his dinger going 2 for 4 with a game-high four RBIs, Catton was 2 for 4 with two runs and Braydan Lester went 2 for 2 with a run and RBI. Greiner added a hit with three RBIs, while Martin homered and walked, with Ethan Andrews adding a 1-for-1 day with a run and RBI.
Joshua Turner started in another by committe win, giving up four hits and a walk while striking out two in two innings. Brandon Thomisee walked one with a strikeout in 1.2 innings and Morrow pitched a perfect inning to finish out the rout.
For Bryant's six games of the state tourney, Drennan had a least one hit and one RBI in each game, finishing 12 for 19 (.632) with four doubles, two home runs and 11 RBIs. For the season, Drennan led the team with a .431 average, 44 hits, 14 doubles, two home runs and 38 RBIs.