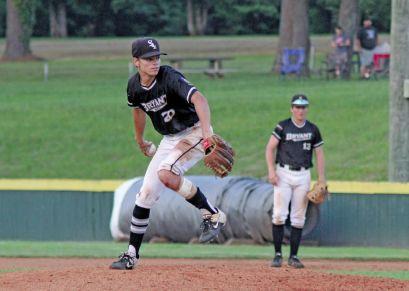 SPRINGFIELD, Mo. — The Bryant Black Sox were cruising through the Mid-America Premier Showcase and held a 4-1 lead heading into the final inning of a semifinals match against Willard Baseball on Sunday in Springfield, Missouri. After starting the tourney with a 5-5 tie in the first game of pool play, the Black Sox had three pitchers combine for a no-hitter in a 16-0 win over the MidWest Prospects, again threw another shutout in an 8-0 victory over the Hillcrest Merchants and eked by 417 Baseball 3-2 to reach the semis. 
But, with that 4-1 lead after six innings, Willard would score four runs in the top of the seventh to take a 5-4 lead, and despite a one-out walk taken by Logan Catton, who also got in scoring position stealing second with two outs, the Sox couldn't get it done in a 5-4 loss to Willard. The defeat dropped Bryant to 15-11-1 overall on the season. 
Sox starter Blaine Sears would give up a run in the top of the first on a one-out walk and run-scoring double, but wouldn't give up another run until that final inning. Bryant would get on the board in the bottom of the first, scoring two runs with two outs. A strikeout and ground began the inning, but Catton reached on a two-out single before Cade Drennan doubled him in for the 1-1 game. Like they've done many times this season, Peyton Dillon switched places with Drennan with a run-scoring double of his own to give the Sox a 2-1 lead after one. 
Bryant scratched another run across in the second when Braydan Lester, who reached via walk, scored on a steal of home for the 3-1 lead and Noah Davis' two-out RBI single in the fourth plated Lawson Speer, who tripled the previous at-bat, to put the Sox up 4-1, which held until the final inning. 
Sears gave up a leadoff double in the seventh and was relieved by Tyler Bates, who gave up a single and hit a man to load the bases. Bates had a 3-0 count on the next man before getting relieved by Coby Greiner, who threw one pitch to walk a runner in. Greiner gave up a 2-run single to the next batter before Willard took the lead on a sacrifice fly. A 1-6-3 double play ensued to get Bryant out of the inning. 
It was a clean game as neither team committed an error and both had six hits each. Drennan finished 2 for 4 with an RBI, Davis and Dillon both went 1 for 3 with an RBI, and Catton and Speer had a hit each in the tough loss. 
Sears gave up four hits and four walks, striking out eight while giving up two runs in six innings for the no-decision. 
In the 3-2 win over 417, Bryant trailed 2-1 after two and a half, tied it in the bottom of the third and took the lead for good in the fourth when Ryan Riggs scored Connor Martin with a sacrifice fly to right field. 
Slade Renfrow was excellent in his start as the two runs he gave up were unearned. He gave up just one hit and one walk, striking out five in six innings pitched, though he did hit three batters. Greiner got the save striking out one in his perfect inning. 
Drennan went 1 for 3 with an RBI, Riggs 1 for 1 with an RBI and Catton, Davis, Sears, Martin and Speer all had a hit each in the win. 
In the 8-0 victory over the Hillcrest Merchants, Catton and Davis combined for a two-hit shutout. Catton started giving up the two hits without a walk, striking out five in three innings to earn the win. Davis walked one but was otherwise perfect in his two innings, striking out five. 
Four Bryant batters had multi-hit games with Martin going 2 for 3 with two runs and two RBIs, Catton 2 for 3 with an RBI, Drennan 2 for 3 and Davis 2 for 4 with a run and RBI. Dillon Greiner and Speer (RBI) all added a hit in the win. 
Bryant is set to host Russellville today in a doubleheader with first pitch coming at 5 p.m. before beginning play in the Senior State Tournament on Friday.