BRYANT – After an 0-3 start to the season, it looked as if the Bryant Lady Hornets volleyball team was on its way to a fourth straight loss after the first set against the Central Lady Tigers in 6A Central Conference action Thursday night at the Hornet's Nest in Bryant. The Lady Hornets dropped a 28-26 hard-fought match in the first set and Bryant Coach Leigh Ann Back was looking for some leadership out of her squad. 
"We've been struggling all year with a little bit of no real leaders stepping out and setting the course for us," Back said. "On top of that, I've been playing some sophomores that have very limited experience at that level, that speed of the game. I ended up putting together a lineup and crossing my fingers that it would work."
And work it did. The Lady Hornets (1-3, 1-2) came back with a 25-17 win in the second set and consecutive 25-21 victories over Central to pick up their first win of the season, and also the first conference win of the year.  
"I had four different sophomores that played on varsity," Back explained. "Nobody played fixed rotations. We were all struggling to see if we could figure it all out. There was some leadership that came out of it. There were some sophomores that stepped up big and they kind of decided they were going to play a little bit more as teammates (rather) than individual volleyball players. Those were a couple things that made a huge difference."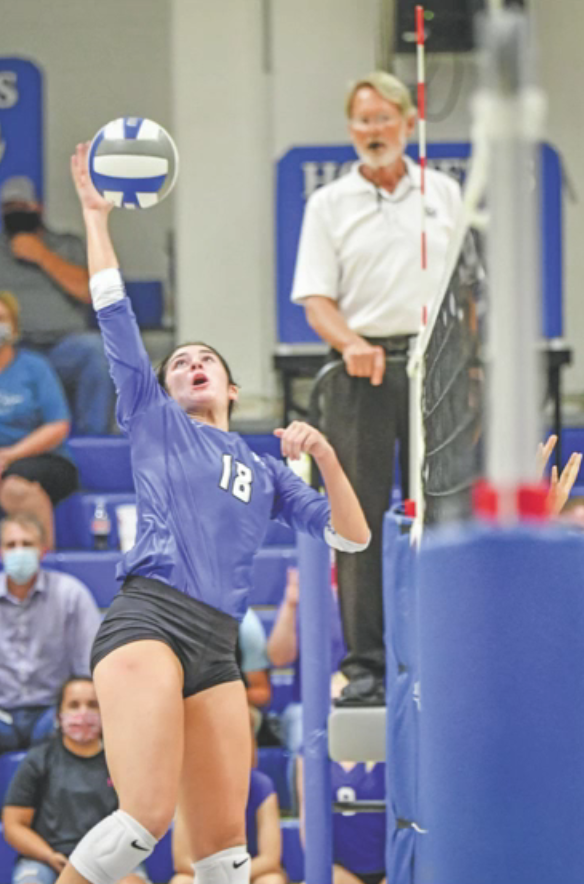 Also coming up big on the night was senior Sammie Jo Ferguson, who led the way with 19 kills and two blocks on the night. Senior Ella Reynolds had 10 kills, with senior Madelyn Hoskins coming away with six. Those sophomores also contributed greatly as Jacia Gilbert, Lily Settle and Camryn Martin added four kills each, with sophomore Kinsey Gregory putting down three. 
"I had to move Hoskins back into the middle from the outside and a lot of players were playing different roles," Back said. "They stepped up as teammates and decided to do what was best for the team. It worked out for us. We're on the right path now. Hopefully we don't fall off."
Senior Sam Still led the Lady Hornets with 26 digs, with seniors Alyssa Hernandez (17) and Jaiyah Jackson (16) following. Junior Lily Studdard led Bryant with 26 assists and four service aces, with senior Shaylee Carver right behind with 25 assists. Reynolds added three aces, with Hernandez, Hoskins and Carver adding two each. 
Bryant seeks its second win of the season on Tuesday when the Lady Hornets travel to Little Rock to take on Little Rock Southwest Lady Gryphons before hosting Cabot on Thursday.