After a successful run in one of the toughest conferences in the state and a season which ended in the quarterfinals of the 6A State Tournament to No. 1 Northside, the defending state champs, the Bryant Lady Hornets had several honored after a 17-11 season, including 8-6 in an always tough 6A Central. 
Senior Tierra Trotter brought home several honors, earning All-State, including being named to the All-State Tournament Team, and All-Conference. It was Trotter's second All-State honor, also getting it as a sophomore, and third All-Conference selection. 
Averaging a Saline County-leading 16.5 points per game, including 3.8 rebounds, 2.7 assists and 2.2 steals per game, Trotter really turned it on late in the season. For her last eight games of the year, Trotter averaged 22.1 points per game, including a career-high 31 in the first round of the state tournament at Hornet Arena in Bryant. She averaged 24.0 in the two state tourney games.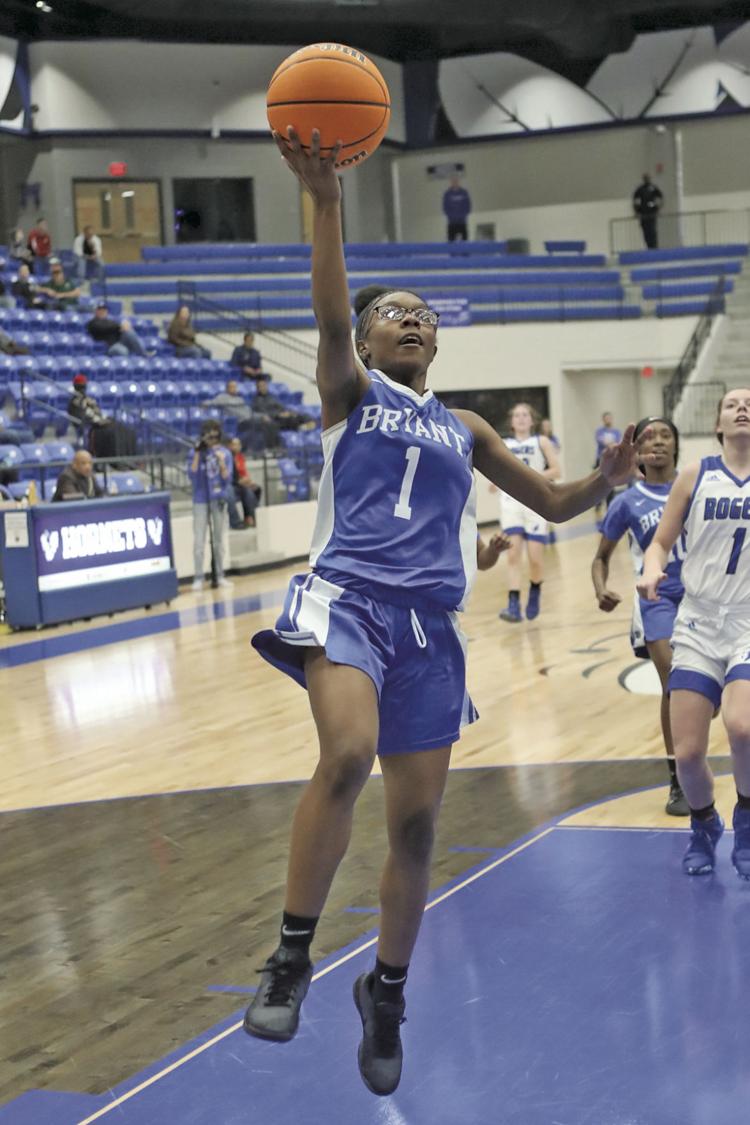 "Tierra got better and better as the season went along," Bryant Head Coach Brad Matthews said. "Her play the last eight to 10 games of the season was really impressive from an offensive standpoint, definitely playing her best basketball at the end of the year."
Trotter finished her Lady Hornet career with 922 total points. 
Earning All-Conference for Bryant were seniors McKenzie Muse and India Atkins, as well as sophomore Parris Atkins. 
Muse, who will be playing basketball at West Point Academy, averaged 8.2 points per game, shooting 35 percent from the 3-point line, and added 7.7 rebounds per game.  
"McKenzie has been a rock for our team and program," Matthews said. "She has been so reliable in every aspect of our team both on and off the floor. She has consistently produced offensively and defensively.  
"She took her rebounding to another level this year while always playing great on the defensive end."
India Atkins has been a consistent piece to the Lady Hornets success the past three seasons, finishing her senior year up averaging 7.4 points per game and 3.6 rebounds. 
"India played and competed at a high level vs. some of the best teams and players in the state," Matthews said. "Her competitive nature was impressive to watch this season."
Though the aforementioned are seniors, the Lady Hornets will get an All-Conference gem back next year as sophomore Parris Atkins burst onto the seen to average 11.2 points and 3.9 rebounds per game, despite having to miss six games early in the year. 
"Parris had a great sophomore season," Matthews said. "Her defense and ability to get out in transition made her a great threat each game."
The Lady Hornets will also say goodbye to seniors Lexie Taylor, Mady Scifres, Celena Martin, Ivory Russ and McKeycia Baker. 
"This season was so special," Matthews said. "Opening the new arena with the win over Benton. Beating Cabot and NLR in the new arena and then being able to win a state tournament game in the new arena was very special, something that we will remember for a long time.
"We have a had a really good last two seasons and all these seniors have had a big hand in that success. Back-to-back years winning a game in the state tournament. We will definitely miss this group and the impact that they had on our program."