With the biggest game of the high school football season just over a month away, there are more questions than answers right now if whether the Salt Bowl — the annual game between rivals Bryant Hornets and Benton Panthers played at War Memorial Stadium in Little Rock — will be played on the scheduled date Saturday, Aug. 29.
With the COVID-19 pandemic sweeping across the state, which has taken 380 Arkansas lives to date, and country, which has killed over 143,000 people, this has been no normal football offseason. March Madness was canceled due to the virus in March, not to mention Arkansas state tournament championship games, with Major League Baseball just beginning its abbreviated 60-game season today. The virus also eliminated the spring sports season as well.
The Salt Bowl Committee, which has been meeting since February to prepare for the big game attracting more than 30,000 fans each year, had its monthly meeting Wednesday to address those questions, but is still unsure of the future of the game.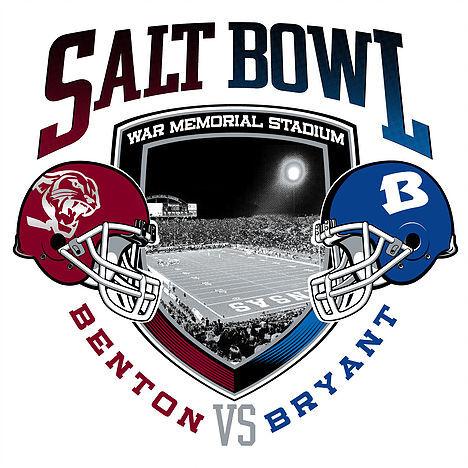 "We're just trying to make plans if we get to play the first game," said Shane Broadway, a Saline County native and Salt Bowl organizer. "You've got to be prepared so we're going through our normal routine of everything that has to be done. There are so many logistics to it that most people never see. We have to start months out for the logistics of putting the game together.
"With everything going on, first and foremost we're following the guidance of the governor and health department and that will guide everything in terms of when we play, if we play, all those kinds of things. In the meantime, you can't just sit around and wait for that guidance. You have to be prepared when they say you can play or we're going to move it a few weeks down the road, or we're going to move it to the spring."
Broadway mentioned Texas high school football delaying its season by a month as a possible alternative for Arkansas, but is still hopeful for the Salt Bowl to be played on its scheduled date, if not just to lead the way going into the fall football season.
"We've been in contact with the health department," Broadway said. "Early on, I've had conversations with both athletic directors (Bryant's Mike Lee and Benton's Scott Neathery). If it helps everybody else get back to playing and you guys want to try out some things, whether it's taking temperatures, distancing in the stadium, the health department may have other ideas and their main headquarters is right across the street from the stadium. If it helps get everybody else to where they can play, colleges and all the high schools, then we'll volunteer to be the test. Use us as the opportunity to test anything you want to test. We've made that offer to them and they were very appreciative of that offer. We're just trying to make plans and wait for guidance and direction.
"I talked to Lance Taylor with the AAA (Arkansas Activities Association) and we're constantly in contact with them seeing if there are any updates, seeing what's happening around the country and trying to make plans when we do get some guidance for what the plan is for football."
And then there's the fact that Arkansas high schools are not yet cleared to practice by the AAA as they have been limited to weight training and drills done via social distancing. Broadway said practicing in pads will be the first benchmark before any other questions can be answered.  
"You've got the angle of the logistics of the game, but also the angle the teams haven't been given clearance yet to have practice," he said. "Obviously you've got to give enough time for those kids to practice in pads so you don't put them at risk of injury. First and foremost is the safety of the student athletes and then obviously our band, cheer, drill, students who are normal participants, and our fans. And who knows when they're going to get clearance to have practice. That's really the key to when the clock starts. Then we have a better idea of what football is going to look like in the fall, if there's going to be football."
But until then, there are still many questions remaining for the Salt Bowl itself. Broadway gave some hypotheticals.
"If you're limited in the number of fans, what does that look like? If you've got to social distance, what does that look like? Tailgate parties, press box, how does that work in broadcasting the game? What options do we have there? Tickets, T-shirts, all the logistics of what you've got to do regardless of when we play. If we don't play at all, we'll be ready for next year.
"With the mask mandate, I think that will go on until there is a vaccine. Because of a mask mandate, will that allow you to have more people if you play because everybody will be required to wear a mask, or will they still limit it? We've looked at all the numbers. We know how many people we can put in the stadium at one third, at half, 66 percent … we would open up both end zones to spread people out. Families would be able to sit together. Just trying to think through all the possible scenarios. We just don't know right now, but we're planning as if."
But for now, there are too many unknowns to give a solid answer.
"It's kind of like being in a holding pattern," Broadway said. "We normally would have started selling tickets next Monday if it was a normal year, rolling out team T-shirts and everything, but obviously that's not going to occur. We just don't know yet. You've got to make the plans. Instead of Plan A and most of the time Plan B, you've got C, D, E, F, G, all the way down the alphabet."
Regardless of what the answer will be as to the Salt Bowl, Broadway said the committee and War Memorial Stadium will be ready to roll when a decision is made.  
"I think we'll know more in the next couple of weeks," Broadway said. "We're prepared the day they say ... if the health department says we can play during Zero Week, we'll be ready to go. We can start selling tickets and T-shirts the next week. If they say we're going to push it back a few weeks ... that's the upside of this game is we've done it enough years to know everything that has to be done to pull it off. The stadium has been a great partner and they'll be ready at a moment's notice. Whenever we get some kind of indication or guidance from the health department, we'll be ready either way."